Prostitution in Tokyo is a huge topic. Although I have written about Tokyo's sex industry for over a decade I have not really scratched the surface. The city's fuzoku scene is massive with an estimated annual revenue in the trillions of Yen.
There are countless sex shops of various sorts in Tokyo. They range from places specializing in public blowjobs to full service soaplands. Many of these business styles are exclusive to the land of the rising sun.
The most notable thing about Japan's sex industry may be how closed off it remains to foreigners. The vast majority of adult entertainment venues in Japan will not accept customers who are not Japanese. Especially if they do not speak the Japanese language. The seem is even true of many love hotels.
My work has covered most of the more popular and well known foreigner friendly shops. I have also written about several venues that are not necessarily foreigner friendly of course. Together it helps paint a picture of the commercial sex industry in Japan's capital city. Here I bring it all together in an overview of all the prostitution in Tokyo.
Pink salon blowjob bars
"Pink salons" or pinsaro are the Japanese variant of the blowjob bar. These open air facilities are filled with booths. Customers pay a set fee to get sucked off to completion in sight of whoever else happens to be there.
Japanese law officially prohibits the sale of vaginal intercourse. Pinsaros function by offering oral instead of vaginal sex. Since there are no private rooms the authorities cannot argue that guys are actually getting full service behind closed doors. All they have to do is look around during business hours to see what is happening.
The BJ bar model arguably started in Japan. Tokyo is filled with suck shops where guys can drop a few yen to drop their pants and a load in a willing mouth. The prices are surprisingly low for such a developed country. Oral can be had for as little as 1500 Yen ($12 USD) and these places even run two-girl specials at times!
Some Tokyo pink salons known to accept foreigners include:
Pink salons are popular places. During special promotions guys will sometimes line up to get sucked off in these shops. The process is simple: pay a fee, sit down, remove pants, meet lady, receive oral. Things like kissing, touching and even 69 go down in these shops too. But no full sex.
You may wonder why a woman would choose to work in a place like this. I published a translation of an interview with a pink salon employee that gives a lot of insight into her mindset.
In the interview she also explains a lot about how her shop and others like it work. It is definitely worth the read for anyone curious about this particular form of prostitution in Tokyo.
Oppai pubs
"Oppai pub" literally translates to titty bar. But unlike the mostly hands-off American strip clubs these places are based on complete and total interaction.
Customers wait in private booths. Ladies show up and introduce themselves. Then they drop top and let customers touch, squeeze and suck their tits. Things like kissing is also common. But no touching below the waste is allowed for either party.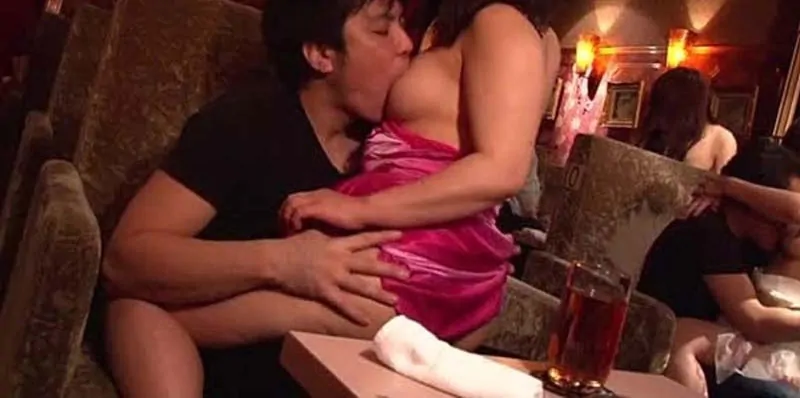 Most oppai pubs will not accept foreigner customers. Especially if they cannot understand Japanese. They appear to be worried foreigners will misunderstand the situation and go in for more than just a titty squeeze.
A couple of oppai bars are known to accept gaijin. They are:
Oppai pubs ask customers to pay up front. They also require customers to brush their teeth before service. After that it is smooth sailing. Some shops have a rotation of several ladies. They save the best looking babes for last so they can better push an "extension" of time for an additional cost.
All in all these are not very expensive places. They do not offer any sort of release. But they are still popular. Especially since they tend to employee good looking bust Japanese women.
Pink salons aren't really "bars" since they don't serve alcohol. But oppai pubs will often give an ice cold mug of beer to customers. So these are bars in the literal sense.
Tokyo strip clubs
There are of course strip clubs in Japan. A few like Tantra Tokyo are sort of like the strip clubs you find in the US. But most are much different.
Strip theaters have seats organized in a semi-circle around an elevated stage. Strippers come out one by one and do choreographed shows that last quite a long time. All shows end with the women spreading their legs and giving everyone in attendance a very intimate view. After the show customers can take picture with the dancers.
Then there are the peep shows like Madonna. Customers watch fully nude dancers from private booths. For an extra fee one of the dancers will give them either a handjob or blowjob after the show.
Most strip clubs in Tokyo accept foreigner. Some popular strip clubs in the city are:
Japanese strip clubs aren't nearly as popular as they used to be. Nor as adventurous. Years ago it was normal for dancers to suck guys off right on stage. This came to an end after a crackdown led to major ripple effects.
Strip clubs in Japan are truly something different. The theater show clubs can even attract couples who want to watch acrobatic performances from totally nude women. It all comes with a set fee and there is no tipping required at all.
Delivery Health
Delivery health is a unique local take on escorting. As mentioned the exchange of money for vaginal intercourse is technically illegal in Japan. Delivery health agencies provide non-vaginal services like massage, hand jobs, blow jobs, rimming, and a popular simulated sex act known as sumata.
Behind closed doors some providers actually offer vaginal intercourse, usually for an extra fee. But at legal and licensed places like Tokyo Style customers can be banned for even asking for such illegal services.
Delivery health services "deliver" ladies to private homes and hotel rooms. The drivers double as security for the ladies though adverse incidents are uncommon. Tokyo is one of the safest cities in the world after all.
Some of the most beautiful and talented sex workers in all of Japan can be found at delivery health agencies. Some prefer the work since it does not require them to have "actual sex" with their customers. I published an interview with a deli helu employee that goes into her motivations.
Gaijin friendly delivery health agencies in Tokyo include:
Some delivery health agencies offer "AF" as one of their services. This stands for "anal fuck". The specifics of Japanese law only prohibit trading money for vaginal sex. So women can take money for anal sex.
In reality some of the women who officially offer "AF" actually do straight vaginal sex in private. It would be difficult for anyone to prove which hole they were putting to work behind closed doors.
That said places like Tokyo Style that focus strictly on therapeutic massage and happy ending tend to have better looking women offering superior levels of service.
Prices for delivery health range from 6,000 Yen ($45 USD) for short sessions from low end venues to 35,000 Yen ($264 USD) for top end providers.
Fashion Health
Fashion health shops skip the delivery. While some do offer outcall they tend to have their own rooms on premises too.
Fashion health shops are like happy ending massage parlors with themes. Many also skip any pretense of actual massage and just go right into the "play".
These kinds of shops are found all over Tokyo. They are moderately popular and often offer service at a relatively reasonable price.
Since the action happens right in the shop things are usually limited to the legal. That again means touching, licking, sucking but no fucking.
Some foreigner friendly fashion health shops in Tokyo are:
Super attractive service providers can be found in some fashion health shops like Strawberry Jam. But that is definitely not always the case.
Places like New York New York and Secret Touch staff middle aged women who are average looking at best. Still these gals provide a valuable service to the community and their work cannot be easy. So they deserve as much respect as anyone.
Fashion health prices range from 10,000 to 20,000 Yen ($75 to $150 USD).
Happy ending massage
Happy ending massage shops are pretty straight forward. Except when they are not. These are massage parlors where hand jobs are included with service.
At places like Asian Feeling and Asian Relax the hand job service is mentioned openly and up front. At some other more discreet shops it is more commonly offered privately during massage sessions.
Happy ending massage parlors can be found throughout Tokyo. It's not like Bangkok or Pattaya with massage parlors on nearly every street. But if you start looking up at upper floors you will see them in a lot of buildings around major train stations.
The list of foreigner friendly happy ending massage parlors in Tokyo includes:
As the name might suggest Sukhumvit Thai Massage is staffed by Thai ladies. The same goes for both Asian Feeling and Asian Relax.
The two "Asian" shops are more focused on the erotic. They staff attractive young women in sexy clothes who perform expert erotic massage.
In many other happy ending massage shops like Moon Love the happy ending is often included almost as an after thought.
The price of a happy ending massage in Tokyo can be anywhere between 6,000 and 10,000¥.
Escorts
Escort agencies in Japan operate as they do in most of the world. These centralized businesses send women out to meet customers in homes or hotels.
One thing that sets Japan apart is that some of their escort agencies are legal and licensed. This of course means they cannot offer full service. Though they can sell hand jobs, blowjobs, anal and intercrural sex.
The unlicensed places aren't always so limited. The same goes for some of the employees of licensed escort agencies who accept pay for use of their pussies in private. This is not always the case though. And customers who even request "P in V" sex can be banned from some businesses.
Escort agencies tend to be more westernized. So they also tend to be more accepting of foreigners. Some even have non-Japanese people on staff.
Foreigner friendly escort agencies in Tokyo include:
Escorts tend to charge more than many other sex workers in Japan. A Tokyo escort working for an agency might expect anywhere from 20,000 to 50,000 Yen for a session. Independent escorts working on their own sometimes ask for even more.
Still these prices are not really out of line with the market. They are also a lot lower than what escorts in some other major cities around the world charge.
There are even Japanese porn stars working at some agencies like Shady Motion and Tokyo Hentai Club. They tend to charge a little more than their counterparts. But the prices are still in line with the normal price of prostitution in Tokyo.
Tokyo soaplands
Soaplands are the most famous and legendary type of sex shop in Japan. Tokyo's soaplands date back to at least the end of World War II. Many are located in the Yoshiwara district of Tokyo which has been home to brothels for hundreds of years.
Remember what I wrote about Japanese law prohibiting the exchange of money for vaginal sex? Well that doesn't apply at soaplands. Full service is normal service at any Japanese soap.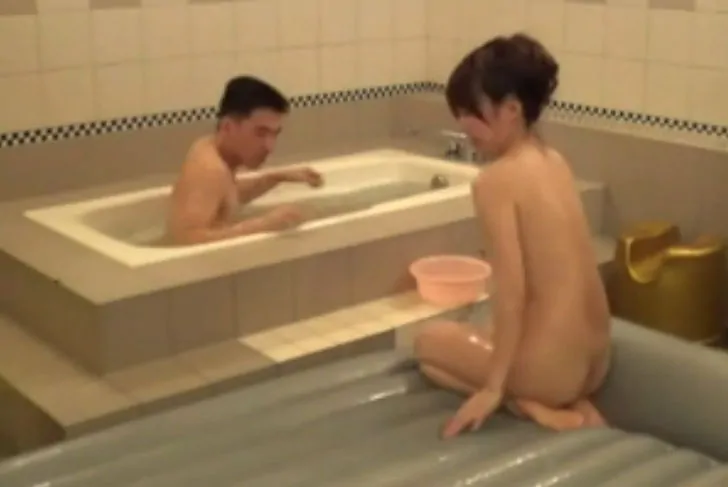 Why is that? Some claim that soaplands have been around so long they are grandfathered in. Others say customers only pay to rent a room in a soapland and since the additional services are provided privately and voluntarily they do not constitute prostitution.
Since I am not a legal scholar with a mastery of Japanese law I can't confirm any of this. All I can say is that customers have sex in Japanese soaplands.
Most soaplands will not accept foreigner customers. Some will accept foreigners but then limit their choices of available providers. Still other soapies charge a "gaijin tax" by increasing prices for foreign customers.
Paradise is the only soapland in Japan that is oriented specifically to foreigners. It has an English speaking front staff and English-language website.
Gaijin friendly soaplands in Tokyo today include:
Soapland service is typically some of the best in the world. Customers are washed top to bottom in a wet area. Then they lay on a specially designed inflatable mat so the soaped up service provider can slide all over them in a masterful act of pure ecstasy. Finally customers are carefully dried and moved to a dry area with a bed where they enjoy kissing, touching, licking and a good shag in multiple positions.
This all comes at a cost. The more expensive soaplands like Don Juan can charge up to 85,000 Yen ($640 USD) a session. Other places like Darling harbour charge less than half that.
As dangerous as it sounds, some soaplands do not require customers to use condoms and conclude services with creampies. These places are some of the least likely to accept non Japanese customers.
Hostess pubs
Hostess bars can be found in many parts of the world. Especially in Asia. The model of the hostess bar found throughout Cambodia, Thailand, Korea, Vietnam and the Philippines tends to differ from the Japanese model.
Regardless, the hostess pub is a staple of adult entertainment in the land of the rising sun. Tokyo is filled with bars where women entertain and pour drinks for their male customers. Many of these places are no-touch talking shops where guys can have a good time and blow off steam. Others allow for some interaction, snuggling, and even partial stripping and fondling.
Foreigner friendly hostess pubs in Tokyo include:
Places like Gira Gira are purely show bars. They have hot ladies who dance around and drink with customers. But things really go no further than that.
On the other end of the spectrum stands places like the more intimate Club Reina. There guys can play drinking games with prizes like "30 seconds of titty play". But the costs can run up quickly.
Some guys drop tends of thousands of dollars in hostess bars without ever getting as much as a kiss. But there are times when guys actually bed a hostess, usually after putting in a lot of time and energy.
Compensated dating
Would you pay for a date? The "sugar dating" concept has recently grown in popularity around the world. But compensated dating has been big in Japan for many years.
Compensated dating is just what it sounds like. Guys with money give cash and gifts to ladies who agree to date them. Often the dating comes with regular sex. But that is not always the case.
Why would anyone do this? Guys with extra cash and little free time may find it worth their while. It can also allow older men to date younger women, everyday guys to date models or actresses, and socially awkward guys just to date.
Some compensated dating businesses that accept foreigners are:
These businesses vary in their modes of operation. Some are clubs or bars where guys and gals can meet. Others are services that arrange dates between men and women.
Oriental Lounge Eve is a large nightclub where guys are sat with women by the staff. This allows for easy introductions. Though either party can make a change if they'd like.
Kirari Community Cafe is a dating center with multiple locations. Available women show up and sit on seats behind two way glass. Guys select ladies they like. The parties then meet in small private booths and try to make an arrangement. Some guys will pay to take lady out for a night on the town. But most just ask to go right to a love hotel for instant sex.
Universe club is more involved. It is a very large service with a full staff and thousands of members. Guys can browse through a huge database of ladies. The membership website including photos, videos, physical attributes, and even lists likeliness to have sex on the first date. It's unlike anything I've seen elsewhere.
Fetish clubs
There are all sorts of fetish clubs in Japan. They range in orientation and quality. There are of course BDSM shops but it doesn't end there. Everything from shops featuring women in micro bikinis to places with pregnant women are available in Tokyo.
A shop like the foreigner-friendly Kiwami Dendoushi specializes in rimming and sperm play. Their ladies "attack" customers in the room. They immediately rip of guys pants and start licking ass and sucking dick without a shower or even a wet wipe!
A well-known foreigner friendly shop in Ikebukuro is:
Milky Baby specializes in pregnant play. They have pregnant women who give massages, hand jobs, blow jobs and simulated sex. They also have lactating ladies who breast feed clients on top of offering the same services.
The types of "play" available in Tokyo's fetish clubs boggle the human imagination. A lot of creativity and innovation goes into these shops. Though most will not even entertain the idea of accepting foreign customers. This mainly seems to be due to their reluctance or inability to explain the way their shops work to people who don't speak Japanese.
Nude photo clubs
Nude photo clubs are places where customers can photograph Japanese models. They set regular schedules with different ladies coming in all the time. Some of the models are Japanese porn stars. Others specialize in taking off their clothes for horny guys with cameras.
Is this prostitution? We can have a debate over what that actually entails. But if we equate "prostitution" with sex work then these places definitely fit the bill. The women are offering sexual services in exchange for payment after all. It just so happens that the services are nude modeling rather than massage or cock sucking.
There are several nude photo clubs in Tokyo. Most seem open to foreign customers who can understand and accept the rules. The rules include basic common sense measures like not touching the models.
I have reviewed two nude photo clubs in Tokyo:
Most nude photo clubs operate along the same lines as these places. They offer private modeling sessions in their studios along with other styles like group photography.
Photo clubs do ask for ID and advanced booking. So guys cannot just rock up to the shop and start shooting. Instead they have to sign up beforehand to take out a membership. Then appointments can be made on the basis of available time slots. A private photo session with a porn star can run around 22000 Yen ($167 USD).
These sorts of clubs can be especially possible for some Japanese punters. Japanese porn famously blurs vaginas. But a guy can take his own uncensored picture of a porn star at a photo club. It is no wonder that the most popular poses requested of the model include spread legs and open holes!