Academy is a blowjob bar in the Sugamo section of Tokyo located only steps away from the previously reviewed and well known Jan Jan. Academy has the same foreigner friendly policy as Jan Jan though it is not quite the same otherwise. It's possible that most foreigners who wind up in Academy actually intended to visit Jan Jan but got disoriented as it is difficult to believe many people would seek out a place like this.
Japan is home to all sorts of sexual services and the places that offer them. The country has an international reputation as a home for the weird and wild though the validity of that stereotype can be debated. While some may think places like Kirari Community Cafe are strange others may think that it is bizarre to outlaw the sale of sex where selling and sex are both otherwise legal.
Japanese law forbids the sale of vaginal intercourse in most cases but other services are usually permitted. One of the most well known and widespread sort of sex shop in Japan is the pink salon or pinsaro. These blow job bars can be found all over the country and in some areas are very common. Most of them are off limits to foreigners even though they rarely if ever visit. The reasons for this are many and could best be covered in another article. Suffice it to say that most blow and gos are a no go for people who don't at least speak Nihongo. There are some exceptions including a few that have been reported on here.
Academy pink salon
As mentioned, the Academy shop is on the same street as Jan Jan. Located outside of the south exit of Sugamo Station. This street is home to a few suck shops. At least three accept foreigners. Academy is the smallest pinsaro on the street and possibly in the entire city. The sign for Academy is in Japanese and reads "アカデミー".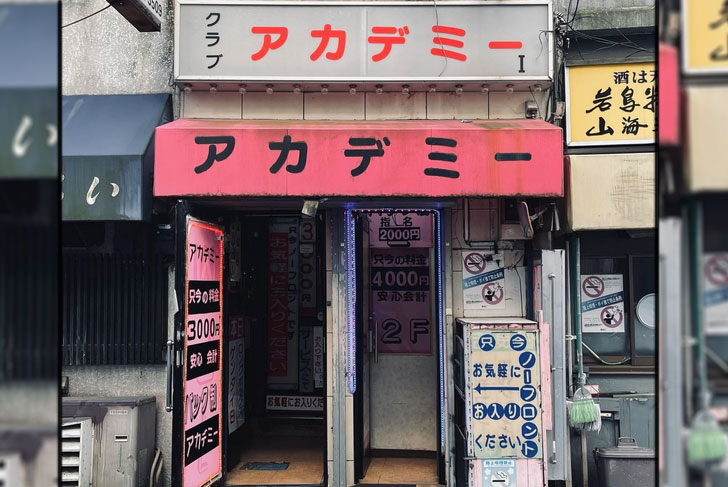 Just inside the door there is a small window to the left. It looks like a ticket window in an old movie theater. This is where customers pay their entrance fee of 3000 Yen ($26 USD). That is if they can find someone. Many times the window is empty as the manager is away doing something else. Since the place isn't very busy it is possible that they simply just get bored and wander off. They can't go far however as the entire place is smaller than many living rooms in the United States.
After customers pay their fee they are led inside to one of three booths. These booths have the standard blowjob bar benches which are padded. The floor is checkered and there is a small disco ball hanging from the ceiling. None of this builds a party atmosphere however. The place looks more dead than alive. The staff doesn't necessarily help with that perception either.
Women and service
There are a few women who work at Academy. Many times there is only one on staff however. The women can only be described as old or in some cases perhaps elderly. It is no exaggeration to say that some of the women working in this place are around 70 years old. One or two may be younger but if so not by much. The staff is decidedly skewed toward the golden years. Perhaps the customer base is too. Despite several passes I have not yet seen any customers going in or out of the place so I cannot report on the average customer age with any accuracy.
The women working Academy wear the kind of clothes one might expect from an old lady. Sometimes they make attempts to look a little sexier but the closest thing to a uniform that exists at Academy is a house dress. Most of the women also wear old style stockings that are often rolled down around their calves in what looks like something out of a Japanese version of Mama's Family. The women work as women in any similar place do and they seem to put effort in but there is only so much an older lady can do. At least in this case. To the shop's credit sessions at Academy run the full twenty minutes allotted. There is no effort to rip anyone off.
Customers are asked to pull off their pants and relax. They are then wiped down with a cloth and asked to put on a condom. Service is then provided there on the couch. Some of the service providers get at least partially nude. Others do not.
As mentioned the room is small. It is also well lit. So there is not much privacy inside even though the booths all point in the same direct. The booth to the right which points directly at the wall is probably the most private. In any event the shop is not busy at all so it is unlikely any customer will see or be seen by another customer unless there is a sudden influx of people with a Japanese GILF fetish.
Academy is an old and worn out place. Most of the women who work there share its characteristics. Still it is open to people from around the world and the staff provides the services promised for a reasonable rate. One star.
---
Academy. 1-chome−10−10-10 Toho Industrial Building, 1st floor, Sugamo, Toshima City, Tokyo, Japan. Click here for a map. Open every day from 10:00 AM until 12:00 AM.