In some parts of the world blowjob bars in one form or another are a standard part of the pay for play scene. Though they share some commonalities that stretch across borders, there also differences between suck shops at both the individual and national levels. I will try to explain how blowjob bars work in different places.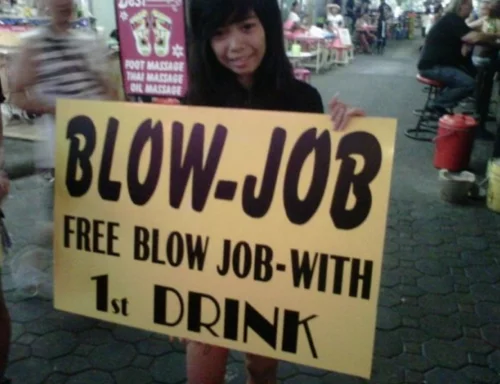 I first published this post at the end of 2012. It seems fitting to update the post now at the end of 2017 as so much information on blowjob bars has been published here over the last five years. This entry consists of a condensed version of the information available in the book "Blow Job Bars: The Complete Report" Those interested interested in the subject should refer to that book.
Blowjob bars
A blowjob bar is exactly what it sounds like. It's a bar where guys can go to get a blowjob for a set fee. In some places this happens in a private or semi-private booth. In others services are rendered in a private room. And there are still other places where oral sex is performed right out in the open in plain view of whoever might be around.
Theoretically the women who work at blowjob bars should be better at sucking cock than most others. This is often the case but there are many exceptions. Blowjob bars sometimes act as a place of last refuge for women too unattractive or old to work elsewhere in the sex industry. It can also attract those in need of a quick buck. Surprisingly the women working at these places regardless of country tend to be quite friendly. As a general role they are even more – and more genuinely – genial than a lot of strippers in countries like the United States.
Bangkok, Thailand
Both Pattaya and Bangkok are infamous for their pay for play scenes. Accordingly there are plenty of places in both cities where guys can get their swords swallowed with little to no hassle. There are at least 1,000 Thai blowjob bar workers.
In Bangkok the most accessible blowjob bar in existence today is probably Wood Bar which was formerly and famously known as Dr BJ's. The shop is set up a bit like a dentist's office. Customers walk in and chose a service provider from the lineup. Then they follow their gal to a small private booth that comes complete with a sink and reclining chair. In the booth they strip down, get their dick and balls washed in the sink, then sit down and receive their blowjob.
The price at Wood Bar is 700 baht ($21 USD) for a head job from a "nurse" and 1000 baht ($30 USD) for the same service from a "consultant." It's not clear to me what the difference is. Of course there are extras beyond the blowjob available at a higher rate. Customers who ask for full service pay more and get access to a bedroom.
Magic Table is a few doors down from Wood Bar. It's an old go go bar with elevated stages surrounded by stools. Customers who sit on these stools quickly realize what makes the tables magic. They're covered with mirrors and reveal that the women dancing in skirts and bikini tops don't wear panties. Oral service is available in two VIP rooms in the back of the bar for 1000 Baht.
Afterskool is a full fledged go go bar on the Soi Cowboy strip that is also known for extras. In exchange for several lady drinks and a tip of around 1000 Baht some of the women on staff are known to blow customers discreetly in the bench seats or over in the "naughty boy corner" next to the bar.
Lolita's on Sukhumvit Soi 8 is another well known hands-free bar in Bangkok. It's been around for a while and the going rate for a suck and shoot there is now 800 Baht ($24 USD) up from 600 Baht just a few years ago. The women at Lolita's wear plaid skirts and uniform tops and stand in front of their shop waiting for customers. The bar inside is usually empty. Service is provided on chair with pull around curtains in a room upstairs. The bar is easy to see with a neon sign and it is located between the On8 Hotel and a busy 7 Eleven.
Only steps away sits Kasalong on Sukhumvit Soi 6. Opened by a renegade who left Lolita's the bar is much larger than its nearby competitor and comes complete with a pool table though that doesn't ever seem to be used anymore. The many women who work at Kasalong wear light blue skirts with matching uniform tops and wait in chairs out front for customers. Service takes place in several private booths upstairs that come complete with sinks and couches that at this point have become pretty worn out. For years Kasalong asked 100 Baht less than Lolilta's but today it also charges for 800 Baht.
Som's Haven on Sukhumvit Soi 14 not far from the massive and modern Terminal 21 mall was another BJ bar that was started by a former Lolita's employee. After many years in operation it closed in late 2018 only to reopen nearby as Duangporn's Haven. The many women on staff usually sit out front waiting for customers. Customers can hang out with the gals in the lounge just inside and enjoy cheap drinks. Or they go upstairs to one of the many private cubicles where oral is offered. Som's is one of the least expensive bar of its kind in the capital city since it charges a mere 800 Baht per session.
A less popular bar called the Lollipop 1 was located on Sukhumvit Soi 10 next to the Paradiso Hotel until it closed in 2018. It did not reopen anywhere. Both the Lollipop 1 and the Lollipop 2 are now out of business so there are no more Lollipop blow job bars in Bangkok.
Kimochil BJ on Thonglor Soi 3 bills itself as a new kind of blowjob bar. It's actually more of a massage parlor. Off the beaten path the place has a large lobby where customers are presented with a menu offering various services including a 40 minutes massage and oral happy ending for 1400 Baht ($42 USD) and optional facial ending for 500 Baht more. The private rooms upstairs are a lot less luxurious but perhaps fitting for the situation. They include mattresses on the floor and in suite showers.
There are also some Asian oriented blowjob bars in the Sukhumvit area of Bangkok that tend to hire more attractive but less skilled ladies. They also charge more. Bit Style has gone through several iterations but today it bills itself as a fantasy massage shop. Oral service is still available on benches in private booths at 1300 Baht ($39 USD). The increasingly popular 7Heaven on Sukhumvit Soi 33 looks a lot like a Japanese pink salon and has a lot attractive Thai women in their early 20's on staff. They charge 1300 Baht for a session with one lady and 2500 Baht ($75 USD) for a double.
Star of Light on Patpong 2 offers a similar service to the Sukhumvit bars though there is a lot less privacy. This little shop contains nothing more than a short bar, two booths and a tiny bathroom. The mostly veteran staff sit outside waiting for customers. They perform their services for 700 Baht either in the bar on the booths or in the bathroom.
One floor up from Star of Light sits the little known The World which is also variously known as Kob's Place, Linda's Place and Linda Place. The World is larger than Star of Light but even more worn down. There are only a handful of women on staff including a bartender. Action is variously priced and seemingly negotiable and service takes place either in the bench seats along the wall or in a small curtained off area in the back.
There are two more blowjob bars one street over on Patpong 1. Both are upstairs and have street level entrances guarded by doormen who ring bells to let everyone inside know when someone is headed up the stairs. Rose's is one of the oldest blowjob bars in all of Bangkok and the staff reflects that. The shop has some bench seats along the walls and a decrepit old bar and not much else but suck jobs are offered right inside for 1000 Baht. Kangaroo is a slightly more modern bar and has a television in the corner playing porn. The handful of women who work there offer oral service for 800 Baht but they are less likely to perform in public. They prefer to use a small room in the back out of the prying eyes of other customers and the ladyboy bartender.
There are no other blowjob bars in Bangkok today that I know of though there were several other blowjob bars in years gone by.
Pattaya, Thailand
There are many blowjob bars scattered around Pattaya, with big concentrations on Soi Full Love Inn and the open sex market known as Soi 6. They often have names that reveal their purpose. Places like "Pump Station" let you know exactly what they are about. "Kittens" doesn't have such a straightforward name but the services are identical.
There was a time when customers could enter one of these shops, grab a drink, pick a girl, and get sucked off right at the bar, in a booth or in a semi-private room for a few hundred baht. The public suck stuff seems to have greatly died down though in a few cases it has actually just moved a few feet over.
These bars usually have a bevy of women sitting outside of them waiting for customers. They range in looks from average to over the hill with a few stunners mixed in for good measures. Once in a while a real beauty will work in a Pattaya BJ bar but most of the best lookers are working in go go bars where they can make big bucks.
Soi 13/2 which is also known as Soi Post Office is home to several old beer bars that double as pickle polishing pubs. Golden Girl had a long history on the street before it shuttered in 2014. Two other bars on the street called The Pump Station 1 and The Pump Station 2 operate in similar fashion though they have more women on staff. They charge 800 Baht for oral in private rooms above the bars. Neither of those bars operate like the original Pump Station which had a bar with curtained covered cutouts underneath so customers could get blown while imbibing their beers!
Kittens on Soi 13/2 is a newer bar with a younger and generally more attractive staff. The women are mainly in their twenties. Although they don't always bring it up immediately like their counterparts at Wood Bar, they do offer oral services in private rooms upstairs for 800 Baht.
Pattaya's Soi 6 is home to several short time bars that offer oral services including My Friend You, Full Moon and Click Bar. The price is typically 800 Baht. At My Friend You and Click Bar the services are rendered on couches inside the bar that are only surrounded by flimsy curtains. At King Kong the action takes place in a private room accessed through a secret door in the wall. Customers who want service in a private room above any of these bars have to pay an additional 300 to 500 Baht for the privilege though that also usually includes full service as a matter of course.
The aforementioned Lolita's in Bangkok once has aspirations of being a blowjob bar chain as evidenced by the Lolita's on Soi Chaiyapoon in Pattaya. This Lolita's opened after another Lolita's on LK Metro closed when the owner passed away. The women on staff wear uniforms like the ladies in Bangkok and offer oral in private rooms with reclining chairs upstairs for 700 Baht. There is also a large bar and a pool table inside the bar that only occasionally gets some use.
The Telephone Bar on Soi Batman and its sister bar Bar de La Poste on Soi Lengkee offer an interesting take on the blowjob bar model. They have locked doors so customers have to ring a bell to gain entry. Once inside every customer who enters or leaves is greeted in unison by the women on staff. When a customer buys a lady drink, the gal drops her top and gives the customer access to her breasts. Oral services are available in private areas for 650 Baht ($19.50 USD) and occasionally right at the bar.
Bliss Lounge on Third Road is a blowjob bar in a converted restaurant. Because of that it looks very nice inside with well decorated walls, a big bar and a quality pool table. The women on staff wait for customers in a small room in front of the shop. They offer oral services in private booths upstairs for 700 Baht.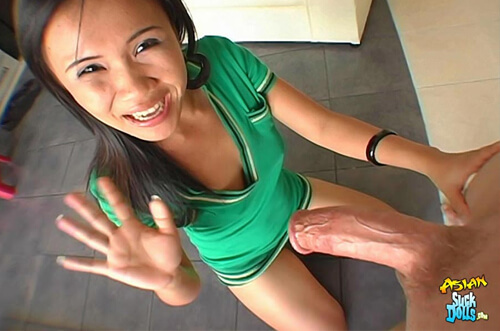 Soi Full Love Inn has become a sort of blow row in recent years as several Gentlemen's Clubs have opened in one concentrated area. These clubs are staffed by attractive women who usually wear uniforms of some kind. They are clean and modern and have big bars and lots of semi-private booths. They also have private rooms upstairs. The front doors remained locked until customers rings buzzers to be let inside. That allows for all sorts of activities to happen right on the main floor. Prices are usually 700 Baht for oral on the ground floor or 1300 for more private action upstairs.
At one point there were only two bars of this type on Soi Full Inn. That has changed. The Gentlemen's clubs on the strip today include Pirates, Club 4, 007, Club Sin, J Club, and the new Carre Blanc.
Other bars around town like the popular Excite Club and Club M also operate on a gentlemen's club model with oral services available on premises and similar prices.
Tipping at Thai blowjob bars is not expected. But some customers do hand over extra cash whenever they feel it is deserved.
Hong Kong
Hong Kong has plenty of prostitution that ranges from the legal to the gray market and beyond. But there is only one blowjob bar in the territory. That's the Dragon Bar which is a go go bar staffed by a handful of Filipinas. There are benches in the two front corners of the bar where women on staff suck off customers in exchange for lady drinks that cost 250 Hong Kong Dollars ($32.25 USD) each.
The service is meant as a teaser to get customers to take women out of the bar at exorbitant prices. Though customers who request it can be finished off by mouth in the bar for a negotiated rate. Needless to say this is not cheap. Especially when compared to other suck shops in Asia.
The Philippines
The day of the blowjob bar seems to have passed in the Philippines. Angeles City used to have a short street filled with short time bars that used to be referred to as "blow row." But it has for the most part all been shut down.
Customers will still occasionally get oral service inside a go go bar on the Walking Street portion of Fields Avenue. But it is much more common further up on Perimeter Road. Even there the service is never a sure thing. Increasingly common bar raids probably have a lot to do with that.
Vietnam
It used to be somewhat common for customers to get oral sex in private areas of Ho Chi Minh City's hostess bars but that is no longer the case. Most of Saigon's hostess bars are today nothing more than places for customers to drink in the company of women which the exception of a few places like Bar 29 that appear to be hanging on by a thread.
In Vietnam blowjob barbershops are much more common. Although there are some adult oriented cafes including a few where the staff offers oral to customers the blowjob barbershops locally refered to as hot toc om or cat toc om are much more common.
To be clear, not all barbershops in the country offer oral relief. Most do not even if they have good looking women working in them. Some are legitimate hair salons. Others are hand job shops. And some are just places local guys go for eye candy while getting a trim or an ear cleaning. The salons that offer oral range in scope. Some employ only one or two middle aged lady in pajamas. Others are staffed by dozens of skilled and attractive women in their early twenties.
All blowjob barbershops follow a similar model. Customers walk inside and select one of the available women on staff. They then walk to one of several private booths or rooms with a massage table and a sink. They strip down and sit on the table while the gal they've selected goes off to collect some wet naps and mouthwash. When the gal returns she washes the customer's hands. Then she pulls down her top and her panties and commences to give the customer oral.
After the session completes the customers get dressed and head back to the front where they pay their tab. Most of the blowjob barbershops charge customers between 100,000 and 200,000 Dong ($4.40 – $8.80 USD). The customers are also expected to tip their service providers. Most give an amount equal to the house fee though some will give more.
The blowjob barbershops are completely oriented to local guys but they all accept foreign customers too. The women on staff rarely if ever speak any language other than Vietnamese.
Blowjob barbershops exist all over Vietnam but Ho Chi Minh City is probably home to the most. A short list of these shops includes Benny's, Phu Ngoc and Tuan Tam. The popular Thien Phu is no longer in operation.
Cambodia
At one point in the not so distant past there were a few bars in Phnom Penh where oral services were offered at incredibly low rates. Those bars have all been closed for years now but they were so legendary that they are still talked about today.
At a semi-secret bar called Sofie's customers could get a sample suck job while enjoying their beers for a mere $1 US. The bar was sort of hidden from full view of the public. But that didn't prevent it from getting shut down apparently as a result of complaints from the neighborhood.
Cambodia's commercial sex scene is largely over scandalized by the foreign press. All in all the country is still very conservative. Millions of women there continue to save themselves for marriage. Porn and even sex toys are illegal.
Customers occasionally receive hand or blowjobs in Phnom Penh hostess bars or karaoke parlors but it is somewhat rare. There are definitely no specialized suck shops around even if there may be one or two bars with a special room in the back that gets occasional use.
Indonesia
There are no blow job bars in Indonesia but there is a large and vibrant commercial sex industry. That's true even though the new governor is trying to shut down one of the biggest sex saunas in the country and despite his predecessor closing one of the largest red light districts a little earlier.
While most of the prostitution in Jakarta is aimed at locals, the infamous Blok M is full of bars that are mostly patronized by westerners.
The bars all look like they have seen better days but occasionally they do still draw a crowd. Clearly Blok M is on its last legs. Some of the most popular businesses on the Blok have closed. Others have changed immensely.
D's Place is maybe the most popular of all the Blok M bars, probably because they have a stage where some pretty ladies in bikinis dance around poles. Or it could be because there is a semi-secret room in the back. In that room and even in some dark corners of the bar some of the older women will occasionally perform hand or oral service for customers willing to pay. Because of that I have seen D's Place described as "Indonesia's only blow job bar." I wouldn't characterize it as such at all. But I am not the only voice in the world. And the room gets less use now than it ever did. Some new customers are apparently told it doesn't even exist.
Public oral service is also sometimes offered in some of the bigger sex clubs like Malioboro when guys tip big money or buy a lot of lady drinks for dancers. Since it's not the focus of those places, I wouldn't call them blow job bars either.
Japan
Japan's blowjob bar scene is perhaps the most notorious in the world. At the very least, it's the most widespread. In the megalopolis of Tokyo, and a number of other areas, these "pink salons" (or pinsaros) are ubiquitous. Legend has it that all blowjob bars can trace their heritage back the the pink salons of Japan. But further research would be required to confirm that.
Pinsaros were originally created to get around laws that officially outlawed only penis-in-vagina penetrative sex. Japan's plentiful suck shops offer quick oral relief at a relatively low cost.
Japan's pinsaros typically don't offer private rooms. Apparently this too is a part of not being labeled an adult shop. Or it at least shows that there are no knocking rooms inside.
Most pink salons play cheesy music but at a level much lower than the average night club. The places are open enough that customers can see the backs of other customer's heads. It's also common for customers to catch a glimpse or two of a girl walking by or servicing another guy. Occasionally you can even hear an overly enthusiastic woman sucking away like a Hoover vacuum cleaner.
People in Japan are generally very polite and privacy minded. Customers in pink salons don't look at each other any more than the average guy peeps at a public urinal. That's not necessarily because they're not interested in seeing blowjobs though. Look at the many pink salon themed Japanese porn videos! They just have manners and understand the protocol.
Pink salons are pretty straight forward and all operate on the same model. Customers walk in and pay a set fee to a manager at a front desk. They then get led to one of several restaurant style booths in a dimly lit shop. Customer's who know a service provider by name can request or "nominate" them for an extra fee.
After waiting for a while in their booths the customers are greeted by their service provider. The women usually wear some sort of sexy outfit though pink salon staff members aren't really known for their good looks.
After a bit of small talk customers are asked to take their pants off. Their services providers then strip down before washing off their customer's cocks with a wet nap or moist wash cloth. After that they go to work delivering the oral services they specialize in.
Some service providers go the extra mile and allow customers to touch them all over. It's not unheard of for them to get into the 69 position and do mutual oral sex either. But for the most part straightforward head is the norm. Suprisingly, they are not all expertly skilled in the art of suck jobs. Some are just calling it in to get paid.
Prices vary from one shop to another but the rate is usually around 4000 Yen ($36 USD). Characteristic of Japan the level of service at these places is really unmatched. For example, a lot of shops will offer specials like 2 girls sucking for the price of one. Others run "buy one BJ, get one free" specials. Some shops even have point cards. After customers come ten times they show their point card and cum again free. It may sound odd to the outside observer. But some of the cut-rate places will have lines literally out the door when they offer big discounts.
Although they mostly look and operate in the same way the different such shops in Japan have different setups. Some have themes and accompanying uniforms. Others employ beautiful young women. A few even employ housewives. Many simply employ anyone they can get.
Although pink salons are all over the place only a select few are open to foreigners. In other parts of Japan's commercial sex industry this is usually explained away by saying that foreigners have more diseases or wouldn't understand the system or the shop owner's instructions. Rumor has it that a lot of pink salons are owned by people who seriously dislike foreigners.
Since Ichigo Kurabu changed names and officially banned foreigners, there are now only four suck shops in Tokyo that accept guys who aren't from Japan. They are Jan Jan, Hinomaru, Dio/Emotion and Academy which despite the name is worked by ladies of a certain age.
As with anything else in Japan tipping is not expected at the pink salons. In most cases it probably wouldn't even be accepted.
South Korea
There is no specific blowjob bar scene to speak of in South Korea. Granted there are special karaoke rooms where the women on staff suck off all of their customers at the end of the session. But those aren't specialized suck shops. And they aren't accessible to most non-Koreans either.
South Korea does have its own unique type of shop called a lip cafe however. These shops are technically a form of kiss bang where customers are supposed to pay a set fee to make out with an attractive woman who is usually still in university.
At some kiss rooms individual women occasionally offer oral sex to customers for an extra fee. At the lip cafes oral sex is basically a given and all the women on staff offer it.
The lip bangs are somewhat underground and mostly rely on the internet to advertise. They rarely post their locations publicly. Instead these shops prefer to have customers contact them with smartphone chat apps like the local favorite Kakaotalk. That way they can screen customers. They can also meet customers in person on a public street before leading them to their shops.
Many will not accept foreigners especially if they don't speak Korean.
Switzerland and the UK
All of the blowjob bars in the world are concentrated in Asia. This gives credence to the tales about all suck saloons originating with the Japanese pink salon model.
But back in 2016, stories started appearing in the press about plans to open a pickle polishing coffee shop in the Swiss capital city of Geneva. According to these reports the place was set to have women available to blow customers while they enjoyed their cup of joe.
The ambitions of the people who wanted to open their cock sucking cafe were quickly scuttled however. Not long after the initial reports emerged word came that the place would run afoul of rules against pimping.
Of course no Swiss fellatio cafe ever came into being. Stories about a similar shop staffed by robots being set to open in London seem to have been nothing more than hot air even though there is a website already in place.
Suck Job Safety
So what about safety? With all the man meat and salty semen going into the mouths of the blowjob bar workers there must be major risks, right? Maybe not.
Apparently it's fairly rare for a man to catch anything by receiving oral sex without a condom. I-Base calls it "likely to be zero or close to zero" risk for HIV. There is a risk of gonorrhea transmission but it is not all that high either. There may also be a low risk of chlamydia transmission through this route though at least one respected physician says there is no risk at all:
"You'll find lots of information on the web and elsewhere saying chlamydia is acquired by oral sex, but it's wrong — even though such statements often come from apparently authoritative sources, such as public health departments. But the research is clear that chlamydia rarely infects the throat and, when it does, rarely is transmitted by oral sex (if ever)."
Herpes can of course be transmitted from mouth to penis. Syphilis can also be transmitted through oral with or without a condom if a rash or sore is present. Yet this is still described as an "uncommon occurrence" by most medical professionals.
Now please don't take this to mean that customers at blowjob bars cannot contract any illnesses. That would a ridiculous assertion to make. I am simply relaying a summary of what research based information I can find.
I am also going on anecdotal evidence which isn't scientific but is there nonetheless. There are a lot of women working in blowjob bars and related businesses. Accordingly, they give oral to several men a day sometimes for years on end. Obviously they are not coming down with any life threatening diseases in large numbers. If they were the shops would have closed long ago. This website and life in general has also brought me into contact with many fans of blowjob bars. I don't know any of them who have come down with any serious illnesses either.
Women giving oral sex can get gonorrhea in the throat. Though that usually seems to resolve on its own when it does occur. Since STD tests almost never include any throat swabbing that makes sense. If no one is testing throats for gonorrhea how could they be prescribing medicines to threat gonorrhea of the throat?
According to some sources the risk of a woman getting herpes on her mouth from giving oral sex is very low. And according to other sources the risk of a woman contracting HIV from giving oral sex to an HIV positive man is 4 in 10,000.
While nearly anything a guy or gal would get from oral sex would be easily curable with a dose of antibiotics there are some strains of infection popping up recently that show strong resistance to normal treatment. Most seem to have emerged in Asia. Does the existence and popularity of blowjob bars have something to do with this? I doubt it but I can't be sure.
Few if any suck shop service providers would deride a customer for requesting a condom. Although it is rare, some shops do use them as standard practice. Some women working in these places also have their own policies.
Of course I don't suggest or recommend anything. I am just a reporter. This website is meant for entertainment only. I write to bring readers enjoyment and nothing else. You are responsible for your own life and the actions you take. Like anything else you have to balance the risk and the reward. At the end of the day, it is as the Thais say, "up to you".
So there you have it: the low down on how guys get their swords swallowed for a few bucks in a plethora of locations, updated and modernized for today's discerning reader.