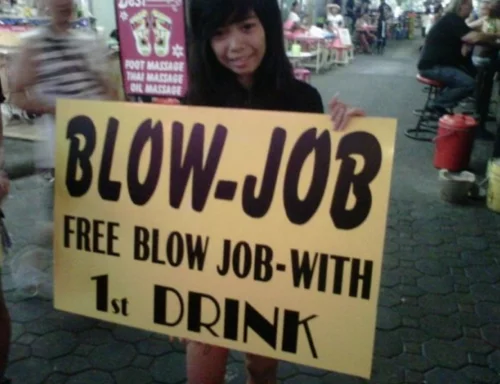 This entry consists of a condensed version of the information available in the book "Blowjob Bars: What They Are, How They Work, How To Find Them." Those interested in visiting a blowjob bar in person should refer to the book.

In many parts of the world blowjob bars in one form or another are a standard part of the pay for play scene. Though they share some commonalities that stretch across borders, they also have differences, at both the individual and nation levels. In this entry I will try to explain how blow job bars work in different places.
A blow job bar is exactly what it sounds like: a bar where a guy can go to get a blow job for a set fee. In some places this happens in a private or semi-private booth, in some places you go into a private room, and in some places it happens right out in the open (though these seem to be disappearing).
Theoretically, the women who work at blow job bars should be better at sucking cock than most others. This is often the case, but more than a few times it isn't. Blow job bars can also be a place for women too unattractive or old to work elsewhere in the sex industry or those in need of a quick buck. Surprisingly, the women working at these places in nearly every country they exist tend to be quite friendly, even more so (and more genuinely so) than a lot of strippers you would encounter in the United States.
Thailand
In Pattaya and Bangkok, both infamous for their pay for play scenes, there are plenty of places to get your hog swallowed with little to no hassle.
In Bangkok, perhaps the most accessible blow bar in existence today is Dr BJ's. This relatively new shop is set up a bit like a dentist's office. Walk in, chose a girl (available in two price ranges), go to your booth, sit in your chair, and get serviced. The price is 700 baht (23 dollars) for a suck job from a "nurse" and 1000 baht (33 bucks) for one from a "consultant." It's not clear to me what the difference is. Of course there are extras beyond the blow job available at a higher rate, but if that's what you're looking for there are many more options around. Why visit a BJ bar for sex? It's like going to a burger joint for coffee.
Lolita's on Sukhumvit Soi 8 in Bangkok is another option. It's been around for a while and the going rate for a suck and shoot there is 700 baht. Star of Light on Patpong 2 offers a similar service at the same price.
There are many blowjob bars scattered around Pattaya, with big concentrations on Soi Post Office (Soi 13/2) and the open sex market known as Soi 6. They often have names that reveal their purpose. Places like "Pump Station" let you know exactly what they are about. My Friend You Bar doesn't have such a straightforward name but the services are identical. There was a time when you would enter one of these bars, grab a drink, pick a girl, and get sucked off right at the bar, in a booth or in a semi-private room (the choice was yours) for a few hundred baht. The public suck stuff seems to have greatly died down, though it's actually just moved a few feet over. These bars will usually have a bevy of women sitting outside of them waiting for customers, average to not so good looking. Once in a while you'll find a gem, but most of those are working in go go bars or at least short time houses. When you approach the door they will talk to you. Choose one and go inside. You can get a drink for a few dollars or not, but before long they'll be asking you to get to business (even more if you are a regular visitor). Again, "short time" full service quickies are available in upstairs rooms, but again, why would you come here for that (unless you find a girl you've just got to have). Since the rate is a bit higher, a lot of women will suggest this. Instead, tell her you want a blowjob (or in local lingo "smoke") in the bar. You can get "smoke" in a private room for around 200 baht more, but there's really no need. All of these bars have some kind of semi-private booth where you can get serviced. Usually these are fairly large squares with leather couches or seats, very dimly lit, with beads or lacy curtains surrounding them. You can still see and hear out into the (usually empty) bars, but someone would have to try pretty damn hard to see exactly what was going on where you are (though they can guess, and often with a bit of a loud suction soundtrack to guide them). The girl will sit you down, have you remove your pants and underwear, clean you off gently with a baby wipe, then get on her knees and suck you off until you blow a load. Some are quite good, other not so much. They will all keep going until you shoot with little to no complaint. If you become a regular, they will find out what kind of action you like and adjust. In all cases it's great to kick back on a leather sofa and get blown off, watching her head bob up and down in the dark. After you squirt, she will clean you up with more baby wipes. The rate for this kind of "blow and go" service should be 500-800 baht, paid to the girl. The bar will take around 300 of that, so she's only really getting 16 dollars. Most of these girls are also available for long and short time takeout at rates that are negotiable. You will have to pay a small bar fine.
I once took one of my favorites from a slurp shop on Pattaya's Soi 6 for baht and brought her back to my hotel. She was in her 30's but great at oral with a nice body and face. She sucked a combined 5 loads out of me that night and the next morning and left with a smile, asking when we could do it again!
There is no need to tip at the BJ bars in Thailand, as it is not expected.
Philippines
The day of the blowjob bar seems to have gone in the Philippines. Even though Angeles City has a road specifically known as "Blow Row" (A. Santos Street), the bars there are mostly short time full service joints. At 700 pesos (17 dollars) for full service with a blowjob included, most visitors will just go "all in" so to speak. At the places with on premises rooms for short time, you could simply request a BJ and nothing else, though this may not be received with a cheery smile by all women.
Sometimes you will get the same kind of treatment even today though. A few years ago I was in a pretty big and fairly well known bar on Fields Avenue when I felt generous and bought drinks for a few homely waitresses. The next thing I knew, more and more waitresses were coming over and asking for drinks. When they said "I need a drink," I replied "I need a blowjob." Before I knew it, they had my cock out and were taking turns blowing me under the table, right out in the open! At first they each gave me suck jobs lasting a minute or two each, but it then became a competition with me egging them on. "You are good, but she was better," I'd say. "Oh yea," one would ask. "How about this?" This went on for some time, with five or six girls going around in a circle. The middle-aged mamasan even came over to sit at my table and laughed and smiled as it all went on. I bought her a drink. A few didn't want to suck, out of shyness more than anything. They flaked away with no problems or hard feelings. Eventually I blew my load down the throat of this real cock gobbler. She wasn't much to look at but she had a big rack and a pierced tongue that she knew how to use. I think she was a former Go Go girl that aged out. I tipped her 500 pesos when I left and everyone was happy.
Vietnam
In Vietnam, blowjob bars take on another shape: blowjob barbershops. Although there are sexually themed cafes, usually marked by tinted glass and various images of bikini-clad Asian women on the advertising, these places are overpriced and basically off limits to foreigners, especially ones who don't speak the language. On the other hand, a number of blowjob barbershops (called "hot toc" in Vietnamese) are open for business to all.
Vietnam may have the best thing going when it comes to blowjob shops. To be clear, not all barbershops in the country offer oral relief. Most do not, so don't go walking into every place labeled a hot toc with your rod out, even if they have cute women working in them; some are legit shops, some are hand job shops, some are just places local guys go for eye candy while getting a trim). But the shops that do offer it are usually staffed by dozens of young women, aged 18-25, with light skin, nice racks, and great sucking skills. Plus the rates are very low!
They basically work like this: You walk in, lay the money down on the table at the front (try to find the rate online before going; don't ask how much or you will invariably get ripped off), then go to the back where a girl will grab you by the hand. You may see local men chose the girl they want. I wouldn't recommend this for foreigners, unless you are a regular customer or have a good grasp of Vietnamese. Just be happy with what you get. She will take you to a barber chair, extend it back, and give you a half-assed shoulder/head massage. Most of these girls speak very little English, though you will get the occasional worker who is quite able to converse. No matter either way, this is a real blow and go kind of setup. After the fake rub down, often done next to one or two local guys, you'll be taken to a small booth. They will be private, but tiny. If you're tall, they may even have to reposition the reclining chair they service you in so that your head and/or feet won't be up against the wall. You'll be able to hear what's going on in other booths if they are busy, and sometimes get a bit of a glimpse through some kind of frosted glass (though all you're likely to see is a bunch of shifting blobs). You will sit/lie down on the chair, which reclines nearly all the way back, and then pull your pants and whatever you have on under them down to your ankles. Here there is no need to take your shoes off or to remove your pants and underwear completely as you would a blowjob shop in Thailand. She will then proceed to thoroughly clean your twig and berries with a series of baby wipes. She may also pull up your shirt a bit to get access to lick your nipples. She wants to get you hard so she can get you off. Usually they will then take off their panties, but not always. You will be given some roaming access for your hands, but how far it goes depends on the woman. She will absolutely pop her tits out, usually right over the top of a low cut shirt (most likely a tank top of some sort). These will almost always be a great pair of knockers to play around with, and combined with the suction service will no doubt help you get your rocks off!
Ho Chi Minh City, also known as Saigon, has a number of these shops open to foreigners. A short list includes:
Ben Ny's, 110 Dien Bien Phu, Binh Thanh District, Ho Chi Minh City. Rate: 120,000 dong (6 dollars), suggested tip: 150,000 dong (7 dollars)
My Tien, 90 Dien Bien Phu, Binh Thanh District, Ho Chi Minh City. Rate: 150,000 dong (7 dollars), suggested tip: 150,000 dong.
Make sure you tell the taxi or moto-taxi driver the correct district. The same street numbers also exist in other districts!
Japan
Japan's blowjob bar scene is perhaps the most notorious. At the very least, it's the most widespread. In the megalopolis of Tokyo, and a number of other areas, these "pink salons" (or pinsaros) are ubiquitous.
Originally created to get around the laws that officially outlaw only penis-to-vagina penetrative sex in Japan, these shops offer quick oral relief at a relatively good rate. They have to serve some sort of food to get around labeling themselves an adult shop, and thus being subject to all the regulation that goes along with that. What this usually means in that you'll get a cup of tea. In some places, you won't even get that. You also won't get a private room; apparently this too is a part of not being labeled an adult shop. Pinsaros are pretty straight forward. You walk in, pay a set fee to the manager at a front desk, then get led to one of several restaurant style booths in a dimly lit shop. There will be cheesy music playing, but at a level much lower than you would probably get in an American strip club. You will probably see the back of some other guy's head over the back of another booth, catch a glimpse or two of a girl walking by and/or servicing another guy, and occasionally hear an overly enthusiastic woman sucking like a Hoover vacuum cleaner. Whatever you do, don't stare at another guy getting serviced. Not only would that be terrible form, it would get you kicked out (and probably make it hard for any other foreigners who want to visit in the future). The Japanese customers will be minding their business and you should do the same.
After a short while, a woman dressed in some sort of sexy outfit will come to your booth and introduce herself. Most of them speak little to no English, so if you don't know any Japanese you'll have to make due with body language and the international art of smiling. At any of the places listed below the women will have seen and sucked foreigners before, so it shouldn't be too much of a deal. She will have you take your pants down and then will strip down, usually fully nude. She'll wipe your cock down with wet white towels (don't worry, they're clean). Go with the flow here and let your woman take the lead. Some will tongue kiss, put their tits in your face, you let you finger fuck them, or some combination thereof. Many will let you go down on them if that's what you're interested in, and some are up for a full 69 (which explains the occasional leg popping up over the back of the booth in front of you). Some just get right down to business. There is usually a set amount of time (around 15 minutes) that the girl has to get you off. In the places with double blowjobs, you will get 15 minutes with each girl (blow a load with both if you can and leave your pants down while you wait for the second woman to come along). Whether or not you nut, you can choose to get another girl after the fact. Just pay the fee again and go through it all again. I've done this a few times, but the original offer is almost always enough to satisfy. In the places that don't require condoms (which means most places), the girl will keep sucking you until she gets every last drop out. She will then hold it in her mouth while she wipes you up with yet another warm white towel. She will then quietly spit your load out into another towel and take her supplies back into the "office." This is your time to pull your pants back up. Wait for her. She'll return. If you speak Japanese you can have a brief chat. If not, she'll just lead you straight out to the door, where she'll wish you a warm goodbye.
Characteristic of Japan, the level of service at these places is really unmatched, even if the skill of the women working them isn't always. As an example of this, a lot of shops will offer specials (like 2 girls sucking you for the price of one, half price days, etc.). You only get these if you mention them. You can usually find out about them on the shop's website, or sometimes, ads posted in the shops themselves. Some shops, like Ichigawa in Otsuka which offers blowjobs from two women in succession for 2000 yen (25 dollars), even have point cards. Come ten times, then cum free. Imagine that! It can also be worthwhile to find out about specials if you want to avoid crowds. Some of the cut-rate places will have lines literally out the door when they offer big discounts, as weird as that sounds.
Although they mostly look the same inside, different shops have different set ups. Some have themes (like schoolgirl or office worker), some offer blowjobs from two or more women in a row, some require condoms, etc. Some employ beautiful young women, some employ housewives and some employ anyone they can get. You'll have combine online research and your own exploration to figure everything out.
Although pink salons are all over the place, only a select few are open to foreigners. Though in other parts of Japan's adult industry this is usually explained away by saying that foreigners have more diseases or wouldn't understand the system or the women's instructions, rumor has it that with suck shops it is because they are mostly owned by people who happen to have a thing against people from other countries. Still, there are a few around that will be happy to help you out, even if you don't speak a word of Japanese (though that would certainly help!).
In Tokyo, some of the shops that serve foreigners are:
Jan Jan, Sugamo, Tokyo (click here for review / click here for map). Rate: 3000 yen during the day, 4000 yen at night.
Ichigo Kurabu, Ostsuka, Tokyo (click here for review / click here for map). Rate: 2000 yen for 2 girls, 3000 yen for 3 girls. http://15-club.com
Hinomaru, Shinjuku, Tokyo (click here for review / click here for map). Rate: 4000 yen for 20 minutes. http://www.hp-hinomaru.com
Dio, Gotanda, Tokyo (click here for map). Rate: 7000 yen for 2 girls. http://www.dio.bz
Don't worry too much about finding these places. Just use the maps and get yourself to the general vicinity. You will see touts standing outside the door who will flag you down and wave you in.
As with anything else in Japan, you are not expected to tip, and if you try it will probably be refused.
Keep in mind that due to the nature of the Japanese pink industry, anyone may be refused entry to any one of these places at any time. If that happens, don't make a big deal out of it. Just move on. It hasn't yet happened to me, but I have heard stories.
Have a look at this interview with a pink salon girl for more info on Japan blowjob shop scene.
South Korea
There is no specific blowjob bar scene to speak of in South Korea. Granted there are special karaoke rooms (norae-bangs) where the hostesses blow all the guys at the end of the session, but you aren't getting into those unless you either are a Korean guy or show up with one. You could certainly walk into a lot of the pseudo-barbershops (usually in basements, marked by double spinning poles, and open much too late to be legitimate) and get a blowjob if that's what you're after, but this would be overpriced and probably performed by an old lady. Much better would be to visit one of the nice hand job shops, or any of the other various services available.
Cambodia
There was once a bar among Phnom Penh's limited pay for play scene that offered "samples" of the service. What did this mean? For a dollar, the girl of your choice would blow you for a minute or two while you sat at the bar. This bar is no longer around. Apparently the neighbors had it shut down with numerous complaints. There is some rumor of it being reopened, but don't count on it. Cambodia's adult scene is over scandalized. In reality it's very limited and is one of the most conservative in the world. There was a time when I was the only customer in a hostess bar and for buying all 5 girls drinks all night (which came to a grand total of 75 dollars when all was said and done) I got repaid by the ladies taking my dong out and taking turns beating me off literally for hours. Even the ones that wouldn't jack me would let me grope their asses and ample tits. It was a great time, especially toward the end when they were cheering me on to cum, with one beating my meat furiously and the other holding a tissue to catch the nut, but it was a rare and unique experience and probably not something you could duplicate purposely. Getting beat off is not too tough in most of these places if you buy enough drinks, but that's usually about it.
Safety
So what about safety? With all the man meat and salty semen going in and out of these mouths, it must be a problem, right? Not as much as you may think. Apparently, it's fairly rare to catch anything by simply getting blown. If you think I'm bullshitting you, head over to the MedHelp section on STDs and see what the doctors (who helped write the American government's policies on the subject) have to say about it. Now, please don't take this to mean you can't get anything. While nearly anything you would get from oral would be easily curable with antibiotic, there are some strains of infection popping up recently that show strong resistance to normal treatment (many seemed to have developed in Asia as described here; does the existence and popularity of blowjob bars have something to do with this?).
I've been to dozens of blowjob bars in what probably totals in hundreds of visits. I only picked up something once, after visiting a real suck factory in Tokyo where a total of four women were servicing over a dozen guys per hour. Nothing showed up on the tests that I had done, but I had slight discomfort and discharge for a few days. Antibiotics cleared it up, but it was a real undesirable position to be in. My doctor says it was probably just a regular infection (like a cold) that came from some foreign bacteria in one of the women's mouths (a nonspecific infection in other words). You would think that if things like this were common the industry would fall apart. But instead it thrives. There are countless shops just in Tokyo, visited by probably millions of men on a regular basis, not to mention the shops in the other countries discussed here. Like anything else, you have to balance the risk and the reward. At the end of the day, it's up to you.
No one would hold it against you if you wanted to use a condom. Some shops use them as standard practice, and some girls have their own policies. I was once asked if it'd be okay to use a condom by a chubby girl who blew me in a Tokyo pinsaro. I'm sure she would have performed without it if I insisted, but I figured what the hell. Turns out, it still felt great and she got me to blast my wad in the allotted time. If that's what you want to do, it might be better to bring some flavored condoms from home. I've heard that the typical ones meant for banging have a terrible taste.
And that's that!
So there you have it. The low down on how guys get their swords swallowed for a few bucks in a plethora of locations. Have any comments, criticisms or suggestions? Let's hear them.