Happy Hinomaru is one of the more popular foreigner friendly blowjob bars in Japan. Located right in the heart of the infamous Kabukicho, one of the largest adult entertainment areas in the world today.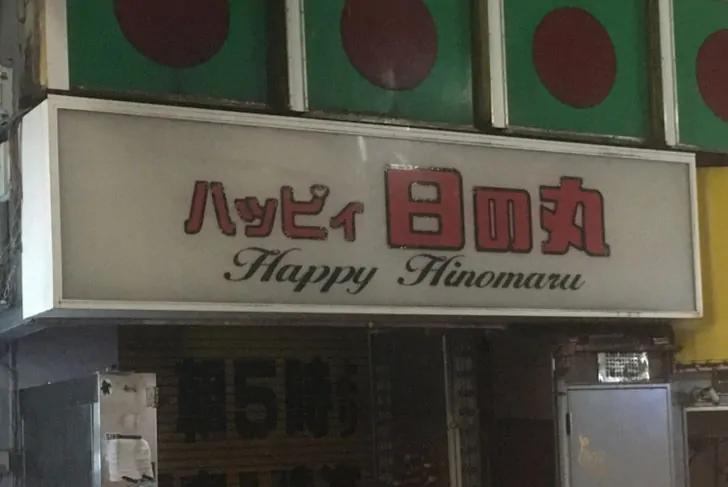 I've held off on reviewing some of the better known places thus far, preferring to report about shops that are a little more off the radar. Now I figure I should give some of the more popular places some coverage. Even the places those in the know are well aware of are probably still unknown to most people.
Although Kabukicho is filled with sex shops of all kinds, most of the venues do not accept foreign customers. There are a few exceptions like Asian Relax and Asian Feeling, New Hot Point, Happy Very, and the shop under review here.
Happy Hinomaru in Kabukicho
Happy Hinomaru is just a short walk from both the Shinjuku and Seibu-Shinjuku train stations. There is a map on the Happy Hinomaru website that shows the location of the shop in relation to the train. The front of the shop has a lot of bright yellow lights and a sign that says "4000 Yen". They also have a tout who stands in the street and urges guys to enter. So it's not difficult to find, even in the neon madness of the area's crowded and narrow streets.
The entrance is actually up a set of stairs. Once you enter the facility you are shown a board with pictures of the available women. The photos are heavily edited and do not reflect the actual looks of the women on staff. The woman shown on the top row are immediately available. The women shown on lower rows are already busy with other customers.
The fee is 4320 Yen ($40 USD) for twenty minutes of service at Hinomaru. There is an add on charge of 2000 Yen more for each additional 10 minutes. This is up from a price of just 2000 Yen for 20 minutes a few years ago.
You pay up front as you enter. There is a guy who works the front desk. He is curt but not impolite by any means. His English speaking ability is basic. The guy on the microphone warns you as your time is about to run out if you haven't finished. Adding more time is done by simply handing the necessary money over to the service provider.
Suck job service
After you pay the guy from the front desk takes you to your station. Happy Hinomaru is basically a dimly lit room with two rows of booth type seats all pointing in the same direction. There is a walkway in the middle. Upon entering you only see the backs of heads and possibly a little action out of the corner of your eye. On the way out you often catch a lot more. Blowjob bar etiquette says everyone should mind their own business. Staring is frowned upon in venues like these.
Not long after you sit down a suckstress from staff shows up. If you nominated a lady she appears. If not you get whoever is next in line. The ladies start by doing some greetings and small talk. Then they pull down your pants and undress themselves. Finally they wipe down the dick with a wet napkin to prepare for the bareback blowjob to come.
Customers typically have a lot of range when it comes to permitted activities at Hinomaru. Along with the standard blowjob, customers can suck tits and pussy. Finger banging and 69 is seen with some frequency too. A few members on staff are reportedly even open to ass play.
There have even been reports of full action going down in the past but that's not on any official menu whatsoever these days. Any guy who tries for it will likely just cause a lot of problems for himself and any foreigners that follow.
Foreigners who don't speak Japanese are limited to going with the flow at this place. Body language does wonders. But I don't know how someone would request anything extra like deep throating without use of words. No matter the language spoken, most guys seem to just lay back and enjoy the oral as it is offered.
After you ejaculate or run out of time, the provider cleans you up with more alcohol soaked napkins. They they go in the back and rinse out their mouth. Finally they come back to wish you farewell and escort you to the front door.
Staff and summary
The staff is a little toward the older side, but unfortunately that doesn't necessarily translate into improved skill or experience. This is no surprise. Pink salons don't always have the most beautiful women. And Japanese sex shops that are wide open to foreigners tend to attract an older and arguably less attractive staff.
Happy Hinomaru is an old standby, but that seems to have more to do with convenience than anything else. They do seem to have a lot of repeat customers. But to be honest I am not sure why. Maybe I'm just missing something.
I personally prefer the New Hot Point shop nearby. I can't think of any situation that would prompt me to revisit Hinomaru. To be honest, I think it is one of the worst shops around. Not because the place cheats people or anything like that. It's just my opinion based on the reality of the area. But when you stop and think about it, Hinomaru is still a place where a guy can drop in with no notice and get a nice no strings attached blowjob. And they deliver as promised. For that reason I give Happy Hinomaru an average score of two-and-a-half stars.

---
Note: Happy Hinomaru has closed.
Happy Hinomaru. 2-chome-36 Kabukicho, Shinjuku City, Tokyo, Japan. Click here for a map. Open every day from 12:00 PM until 4:00 AM. Phone: +81 03-3209-0088. Website: http://www.hp-hinomaru.com