Madame Claude is a new blowjob bar located in Bangkok. With its staff and specialized menu the shop aims to be a cut above the rest of the competition. But does this new go at an old model stand up to scrutiny?
It is not often that I get to write about a new BJ bar in Bangkok anymore. These days it is more common to write about a suck shop shutdown. And I have never reviewed a place billing itself as a "premium blowjob bar". So I was pleasantly surprised to come across this place.
Knowing that Madame Claude opened in the aftermath of the long hard years we all went through makes me hopeful for the future. But it is always easier to have a positive outlook on things with a pro pickle polisher between your knees.
Madame Claude BJ bar
What's in a name? Renoir famously painted a Portrait of Madame Claude Monet. Famous French pimptress Fernande Grudet was also known as Madame Claude. A French film from the 1970's called "Madame Claude" was based on her life. Another movie of the same name, and about the same woman, was more recently released through Netflix.
I am not sure if any of that inspired the naming of this particular business. All I can tell you is that this Madame Claude is a more upmarket version of the same BJ bar model that has functioned in Thailand for many years.
Madame Claude is located on Sukhumvit Soi 26. It is a side alley off the left hand side when coming from Sukhumvit Road. The alley is just after Paradise Massage. The discreet fence-fronted bar is just a short walk from previously reviewed places like Don Quixote and EZ Massage 1.
The bar is actually located in a sort of row house. That is not a bad thing however. It is a nice and comfortable environment for oral and other services. Especially when you take into account the surroundings. Nice touches like wall art and pottery fills the space. And the sucking happens on specially designed shrink-style sofas that are expertly upholstered.
Does Madame Claude's suck?
The layout and decor are always something to consider. Otherwise you might end up in a place with nothing but badly painted thin wood cubicle walls that don't even go up to the ceiling. Still that only matters suck much when we are talking about a blowjob bar. What really matters for most is the ladies and their level of skills. And rightfully so!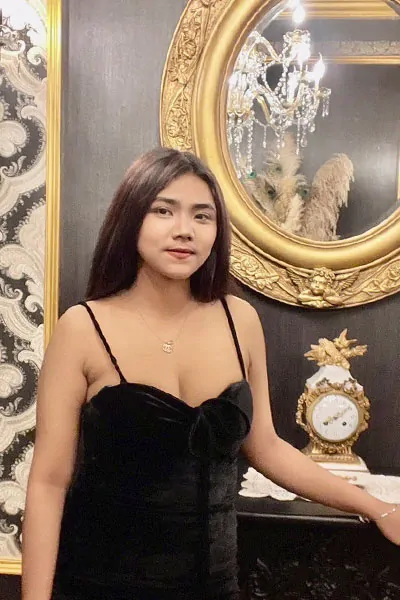 There are several women working at Madame Claude. They range in age from mid-20's to maybe mid-30's. They are all relatively attractive. Of course beauty is in the eye of the beholder.
I don't know whether the gals at Madame Claude are that much better looking than the average blow job bar worker in Bangkok even if Takky and Tawan are particularly sexy. In any event all the babes at this bar dress the part. So you are likely to see a gal with done up hair and cosmetics at Madame Claude where the ladies at some other similar venues tend to look like they just rolled out of bed.
Skill is arguably more important than any of that however. All of the ladies here are proficient at working out a wad. Some are a lot better at it than others with a few even having the ability to do deepthroat. To the shop's credit none of the women working at Madame Claudes are todger dodgers.
Service, prices and summary
Madame Claude has a wide variety of services and that is certainly different from other BJ bars. I'm not sure how much the use of chocolate enhances a customer's experience when receiving oral. But I do think it's nice that such a thing is on offer. The same goes for the footjob option for those who are into it.
Any place aiming to be high end is going to charge premium prices. That's true at Madame Claude too. But thankfully they have not gotten out of totally hand with the rates. A blowjob here costs 1300 Baht ($37 USD). That is almost double what some BJ bars like Kasalong charge. On the other hand it is the exact amount charged by 7 Heaven on Soi 33.
Madame Claude is frankly a much nicer place than 7 Heaven. Though at least the moment 7 Heaven probably has the edge when it comes to the looks of the ladies. For some that doesn't matter. As many will quickly tell you the tops of most heads look the same. But there are guys who value the looks of the ladies above all else. Or at least heavily.
There is usually a trade off between looks and services. Older and more experienced women often give better blowjobs than younger better looking women. But of course that is not always the case. Forget about fuel economy. Situations like these are the basis of the old phrase "your mileage may vary"!
Experiences can change from one person to the next. Especially with so many options available. The Madame Claude team does handjobs, ice cube blowies, hot gel suck jobs, and even the Macau special involving alternating use of hot and cold tea! The double BJ is an old staple but it's great to see it on the menu at a discounted rate of 2200 Baht too. I'm not so hot on the surcharges for things like costumes but I guess they can't be faulted for trying it on.
I was glad to find Madame Claude in Bangkok. It is a nice new addition to the adult entertainment scene in Bangkok. The place is already becoming popular especially with East Asian clientele. I can only imagine that this will continue. Madame Claude might not be the cheapest BJ bar but it's not the most expensive either. This is a hands free bar with a luxury touch and it still doesn't cost the world. I give the place four stars.
---
Madame Claude. 25/20 Sukhumvit Soi 26, Bangkok, Thailand. Click here for a map. Open every day from 12:00 PM until 11:00 PM. Website: https://bjbarbkk.com