Seoul is the capital of South Korea and home to most of the country's population. That means Seoul is also home to most of the prostitution in the country. While sex shops can be found all over Korea the bulk are located in and around Seoul. Prostitution in Seoul is major.
There is not a whole lot in the way of Korean porn available. But that doesn't mean Koreans don't like to have sex or mix money with play. Adult entertainment in South Korea in a gigantic industry generating more than 13 billion dollars annually. Supposedly prohibited by official regulation there are nonetheless countless establishments and area throughout the country offering all manner of adult services.
Most foreigners visiting the country find that they are unable to patronize the majority of these shops due to discriminatory entrance requirements or a language barrier. Still there are a few shops known to accept foreigners. The adult businesses in Seoul that I know of that allow non-Koreans entry are listed here.
This is all to the best of my knowledge which itself comes with no guarantees. I could be wrong about one thing or everything. Obviously this site does not advocate that anyone break any laws anywhere, least of all when not in their home countries. This information like the rest of the website is published with the sole purpose of entertaining the reader.
Red light districts in Seoul
Red light districts are perhaps the most widely known types of prostitution venues on earth. But these days they are hardly the most common. Even the famed De Wallen window district in Amsterdam is reduced in size. So it is no surprise that red light districts in Korea are being dismantled and replaced on a regular basis.
That is especially true in Seoul though there are still some remnants of the red light districts around. Historically the biggest red light districts in Seoul included Miari Texas, Cheonho and Cheongnyangni 588. Most are now shadows of they once were. Women can still be found selling sex for around 100,000 Won ($84 USD) in places.
Kiss rooms and lip cafes
Kiss rooms are probably the most unique type of sex shop in South Korea. Seoul is home to several of them. These places are also known as kiss bangs or lip cafes. Bang (방) means room in Korean. Lip is self explanatory. The word cafe is just attached to a lot of sex shops for some reason.
Kiss rooms are like the Korean version of a blowjob bar. Customers typically pay for a set amount of time in a small private room. A woman joins them and they kiss for the allotted time. Of course many offer other things. Many guys are offered or fall into heavy petting or oral sex. Sometimes it is even promoted right up front. The price is normally around 40,000 Won ($33 USD) for 30 minutes. Occasionally women offer full sex for an extra 40,000 Won.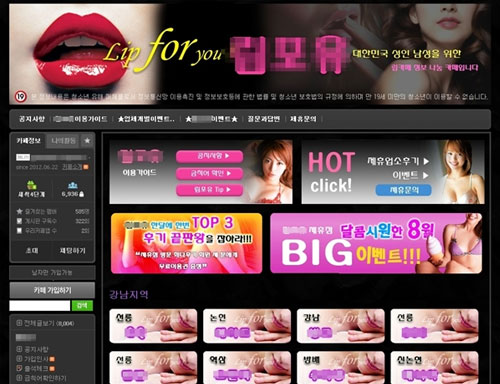 Years ago there were several kiss rooms that advertised openly and accepted foreigners in off the street. I wrote about the scene on this website way back in 2013. It drew a lot of views and hundreds of comments. These days that has all ended for the most part.
There are still several lip cafes around but they vet their customers very carefully. Normally they are found through the internet. They chat with customers over apps in Korean and avoid publicizing their addresses. Many refuse to even put up a sign outside. It has all become quite closed off and underground. Especially since the pandemic hit. Still the kiss bangs haven't disappeared completely.
Seoul escorts
According to some reports half of all Korean men pay for sex. Prostitution is common in Korea and the bulk of it goes down in Seoul. Trends change over time but there are some solid generalities that can be made.
Korean guys who pay for sex seem more likely to visit incall locations. There are female sex workers who do outcall service. Especially to hotels. But many of them are unlikely to serve foreigners. Even if they might be willing to do it the language barrier would likely get in the way.
There are several escort agencies which cater to foreigners and even maintain English language websites though. They include VIP Escorts, Petit Seoul Escort, Top Escorts and Chic Escorts. A one hour session is usually around $220 USD.
There are also some independent escorts in Seoul who mainly work with foreigners. They tend to find their customers over the internet or through references. These ladies tend to be skilled in English among other things. Some start off charging relatively low rates only to get incredible popular and increase their prices accordingly.
Juicy Bars and Hooker Hill
Juicy bars are not really unique to Korea. They operate a lot like hostess bars in Ho Chi Minh City do these days. That means guys pay extra for drinks in order to sit near these women and mainly talk. There is no barfine system in place so nothing more typically goes on. Despite that some of the women who work in the bars are quite skilled at convincing guys they will eventually "do more" at some point in the future.
The juicy bars in Seoul are mainly concentrated on top of Hooker Hill in Itaewon and staffed by Filipina women. They are mainly targeted at US soldiers in the country though the US Army apparently has rules against visiting the area.
Hooker Hill itself is lined with small bars staffed by Korean women. This was once one of the most open areas in the country for foreign guys wanting to pay for sex. Years of repression and economic impacts have reduced much of what was once on offer. There are still women working some of the bars who pop their heads out and offer passing foreign men sex for around 100,000 Won ($84 USD).
ANMA saunas
ANMA is one of the most common type of full service facilities in South Korea. The term ANMA probably comes from the Japanese term anmo which itself originates in China. The term means massage but in these Korean facilities it takes on a special connotation.
ANMA spas are large and somewhat similar to a sex saunas in Malaysia or even Macau. They are purpose built for adult entertainment with all the fittings. On the other hand the service is more like a Korean massage parlor in the United States however.
Male customers usually get greeted by a guy in a suit who leads them to a private room. There the customers get a full body wash down followed by oral and sex service. Things like drinks are usually offered too. Some places go the extra mile with features like female elevator attendants who give blowjobs to guys on board.
There are countless ANMA in Seoul and South Korea in general. But most of them simply will not accept any customer who is not Korean. One notable exception is ACE Anma in Gangnam where service costs 230,000 Won ($193 USD).
Happy ending massage parlors
Seoul isn't home to as many massage parlors as some other capital cities in Asia. There are massage parlors around Seoul but they are limited in scope. The number of erotic massage parlors that actually accepts foreigners as customers is even smaller.
There are basically three major erotic massage parlors open to non-Korean customers in Seoul. They are Cool, Jinju and Belle Massage. They couldn't be called "the big three" because two of them are pretty small. All three places are located in the famous Gangnam area. Cool and Belle are smaller places with little private rooms. Jinju is almost a full spa with shower rooms and more.
The routine at Cool and Belle is typically a massage and handjob for around 120,000 Won ($100 USD). In the past women in those places were more likely to offer oral as well. That doesn't seem to be the case all that often these days. At Jinju a typical session starts with a long thereauputic rub down from a middle aged lady. At the end she prepares the custom with some sensual rubbing. Then a better looking woman in her early twenties comes into the room, drops her top, and delivers a handjob to completion. The rate for that is 130,000 Won ($110 USD).
Incheon is another story. Incheon is officially a separate entity from Seoul. But Incheon is quite close to the Seoul Capital Area. It's easy to go back and forth between the two perhaps without even noticing. Especially on public transportation. Most people who fly into Seoul actually fly into Incheon International Airport. So obviously the two places are closely intertwined.
Just outside of Incheon International is a small area called Unseo. This area is home to numerous massage parlors. I have written about several of those massage parlors on this website over the years. The Thai Massage nearest the train station does not provide sensual services of any kind. But ladies in other massage parlors such as Sun Massage, King Massage, Hue Massage and Cool Massage routinely offer full service massage to foreign customers for around 180,000 Won ($151 USD).