Hooker Hill is a fairly well known little street in the Itaewon section of Seoul, South Korea where foreigners can get guaranteed sex at relatively low process.
South Korea has a massive domestic sex industry, probably even rivaling the massive fuzoku availability next door in Japan. Also like Japan, most of the sex shops here are off limits to foreigners. One easy way around that has long been to simply visit "the Hill" in Itaewon, the main "foreigner area" in this homogeneous country.
Hooker Hill in Seoul
Only a block away from a main road, Hooker Hill is as easy to find as it is to miss. Here is a map of the hill. The direct way to get there is to take exit 3 out of Itaewon Station, walk to the first corner, make a right up the hill, and make a left at the next corner. You are now on Hooker Hill.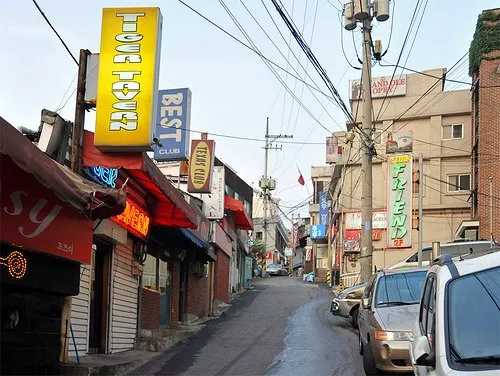 After sunset on any given night, Korean prostitutes of varying levels of age and beauty enter the small bars on this little street to meet customers. Some will wait out on the road. Others will wait behind the doors. Whenever a lonely looking guy or two strolls up or down the hill, they will call out. Sometimes they even get more forceful and grab at guys.
Their goal is to get you inside, get your pants down, get a load out, and get some money. The current level of police pressure seems to dictate how wild their public behavior will be. From your perspective, it's really no worry, as customers are never bothered. If you belong to the US military you may have a problem. From what I hear, you are banned from this area by your command. I have occasionally seen Military Police here. I guess they check people who they think are soldiers.
Hooker Hill bars
The street is short but it is jam packed with these little bars. Some are open or closed on any given day. At the very top of the hill there is a "regular" bar that is popular with English teachers. If you go beyond this you enter the realm of the transgender bars. As far as I've seen these aren't the "almost as pretty as girls" kind of transgender gals you might see in Thailand either. I don't have any more info on this. If you see it, or any of the various Muslim owned shops way up on the mountain, you've gone too far.
Take your time strolling up and down the hill until you find something you like. You may go with the first hot chick you see only to see an even hotter chick on your way home. Then again, you may walk past a hottie only to find that she's booked up for the next few hours when you try to return. Some of the women are hotter than others. Some are very hot. Some aren't great, but they are dressed well. You won't find out what's underneath until later. None are really terrible that I've seen. In any case, there are always a good number of choices. When you are ready, leisurely make your way to the bar you've picked.
The bars all offer privacy, their doors usually made of black tinted glass or even metal. They only take one customer at a time. Once you enter, the door is locked behind you to ensure the safety of everyone involved. Sometimes there will be more than one woman. Sometimes there will be a mamasan. Some may ask you to buy them an overpriced lady's drink. Most just want to get down to business.
Prices
If she can tell you are a newbie, you may be quoted a ridiculous price. Some guys say they've been asked 150,000 to 200,000 won ($115 – $140 USD). Some have even paid this. This is way above the market average. I don't know if it's because read me or what, but I've never been quoted more than 125,000 won here. And I've never paid more than 100,000.
A little light negotiation can help if it's necessary. Once I had to leave a bar when the short curvy girl working it wouldn't budge. The going rate is around 60,000 – 75,000 won ($55 – $70 USD) for a short romp. That's usually what I pay. Sometimes lower, sometimes higher, but never by much.
You can negotiate for nothing more than a blowjob or hand job if that's what you like, but the real name of the game here is pump and dump full service. Something like a blowjob and hand job finish from a hot natural young Korean woman is more readily available at places like Cool or Belle in Gangnam.
After you agree on a price you will pay up, usually to the mamasan. Then the action begins. Some of these bars will let you fuck right on premises. Some have separate rooms for that. Others will have you discreetly run across the street to a guest house style room for the action. You should never have to pay for the room. It's included in the price here.
Services
Don't expect too much in the way of service on Hooker Hill, especially if it's your first visit. The girls are all about making money, so their efforts are aimed at getting you off as soon as possible so they can get to the next customer. It's a numbers game for them each night.
A lot of guys are into that, just giving them a hard shag to blow a load then leaving. I've found though that if you are kind and gentle with the girls, and especially if you talk nicely and repeat with the same woman, the level of service will greatly improve.
One very sweet, beautiful woman in her early 20's with an amazing natural frame was pretty cold and mechanical during my first visit. I liked her so much that I complimented her continually. It seemed to have little effect. But after I repeated a second, then third time in a matter of two days, she kept me in the bar a lot longer, talked and even cuddled. By the fourth visit, she was passing me her phone number and telling me she'd like to see me outside of the bar. A little effort went a long way.
With that said, some of these girls are hardened hookers, and no amount of sweet talk is going to change that. You have to feel things out if you want to go the route I did. If you just want a wham bam thank you mam session, that's widely available any day of the week with no effort required at all.
Summary
You can be explicit in your negotiations in the bar before you agree to anything, but if you drag things out you risked being shown the door. These women deal with a lot of drunken assholes and can be a little touchy. I usually just go with the flow. I've always received at least a minimum of a blowjob and a few positions. I've been offered bareback action and anal quite a few times too.
After you do the deed, your temporary date will clean you up and then expect you to pretty speedily get dressed and head out. You'll usually get at least a goodbye. Like I said, if you put in even a little work, things can become a lot warmer.
Hooker Hill is about the easiest place there is to score in Seoul without any effort whatsoever. Some of the women lack a lot in the looks and attitude departments, but others are really good all the way around. Taking into consideration all the other available action in Seoul, even limited as it is for foreigners, Hooker Hill is notable. The Hill seemed to be losing a lot of steam in 2011, but it has since started to regain its former "glory," for lack of a better term.