I first published a list of the best Korean porn on the Internet way back in 2015. Five years have passed and frankly not a lot has changed. Porn remains officially illegal in both North and South Korea. Like prostitution, the production and viewing of porn continues on in South Korea even though it is officially prohibited there. People in South Korea keep on producing homemade and amateur sex videos. And Korean models continue to make professional porn all over the world. But tracking it all down can take a lot of work. More than enough changes and developments occur to justify regular updates of this list. The most recent update was made in September, 2021.
There are of course many famous porn stars of Korean ethnicity working in the United States. The most notable might be the incredibly busty Minka due to her famous "mega tits" and long history of activity. But there are others who have made a real name for themselves too. My previous interview of Tia Ling covered one such woman. The absence of others here indicates nothing other than a focus on women living in the Korean peninsula.
Like many, I find South Korea to be filled with beautiful women. That's true even though I haven't reported on the commercial sex scene there as much as I may like. The next best thing to being there is seeing there. So I do watch my fair share of porn featuring Korean babes when I'm in the mood for adult video. I realize that others have had trouble finding that kind of content so building on all that has come before I now present you with the following list of the best Korean porn.
Korean Erotica and Nude Magazines
While hardcore porn is outlawed in South Korea, nudity per se is not. Now more than ever movies in Korea are loaded with nudity and hot and steamy sex scenes that are probably far and beyond what one would see in films from the US where porn is completely legal.
Here's a perfect example of a Korean sex scene on PornHub that shows how not-so-creative angles and the like are used to make sure nothing but tits and some ass are shown in Korean movies. It's not hardcore porn. But it's not bad either.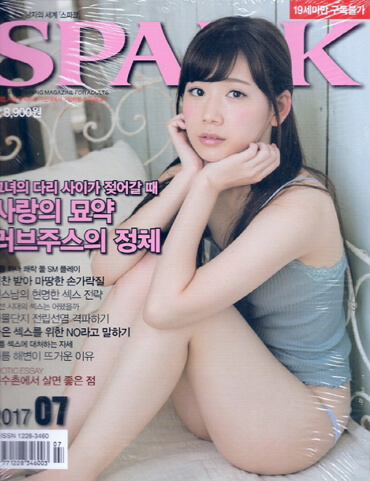 Nude magazines for men also exist in South Korea. One of the most popular is Spark. Each issue of the magazine contains multiple nude photo sets with Korean women. Their breasts and public hair is shown, but their vaginas and anuses are not.
Spark isn't the only magazine published in the ROK. But it is the most prominent. Here's a free behind the scenes video from a photo shoot with beautiful and busty Korean babe Han Ye-In that shows an example of what nude photography is like in Korea.
Korean porn websites
Korean porn, or more precisely porn featuring Korean women, can be found on a number of websites. In the case of tube sites the porn is usually free. The biggest problem is that it is often mislabeled. A lot of what is described as "Korean" actually features Japanese, Chinese or even American women! Take a look at the Korean category on X-Videos for an example of that.
Korea1818.com is the only dedicated Korean porn website I have ever come across and believe me I have looked. There are all sorts of blogs and other websites out there claiming to have Korean content but it is usually disorganized and at times even totally mixed up. One popular blog even contains pictures of famous Japanese porn star Nana Ogura on a page titled "Korean nude models."
Korea1818 in review
Korea1818 has a rather large collection of movies that are at least focused around the Korean theme. As the video preview on the first page demonstrates most of the stuff contains real Korean women. Besides the videos of super sexy Korean women who look like they came straight off of a Seoul subway the sex industry related content is also great.
The Korean1818 site has lots of videos based on Korea's An Ma massage parlors, sex barbershops, noraebong karaoke rooms, kiss rooms, and more. I have seen at least some of the content from Korean1818 on various other sites but I think it's worthwhile to shell out a few bucks for a well edited and topical collection which is one reason I still spend money on porn.
There are a lot of scams online. Especially when it comes to the sometimes murky world of Korean porn. You don't have worry about any of that with Korean1818. The site uses CCBill for its payment processor which limits the possibilities of any problems. CCBill is one of the biggest and best companies of its kind. They have been around for years so it's very unlikely someone would have a problem with them.
A number of localized Korean porn sites have become popular with Koreans on the internet over the years. Typically they are chased from one address to another by blocking and banning measures. Some have been shut down. None are stable sites like Korean1818. Nor are any as easy to navigate for English speakers.
Korean porn from Japan
Several years ago ROKit Reports published a piece proclaiming that "the best Korean porn is made in Japan". That claim was due to a number of circumstances. The Japanese porn industry is huge and many Korean women make their way to Japan each year. A long list of the best Japanese porn websites published here on Rockit Reports has become a pretty popular post on this site which goes to show that porn is not dead when it is well made or otherwise interesting.
R18.com is a huge Japanese porn clearinghouse that has been mentioned on this site several times before. It is worth mentioning again here because behind Korea1818 is the only major source of porn featuring Korean women and clearly labeled as such.
Korean porn on R18
The beauty of R18 is that it offers video on demand so that there's no need to sign up for any kind of recurring membership, though they are available for some channels and often at a great discount. It's possible or even permanently own a movie for as little as two bucks.
Back in 2015, there were around 80 porn videos featuring Korean women on R18. Today there are more than 100. Some of the newest videos are really remarkable for their quality and the looks of their stars. Quite a few of these women look like they walked out of a K-Pop video and onto a Japanese AV set. Of course vaginas and penises are censored in typical Japanese porn fashion but a lot of the movies are so good that this doesn't ruin them at all in my opinion.
Korean Porn Videos: New and Old
Some of the newest Korean porn videos include "This Beautiful Korean Female Go Player Is Making Her Amazing AV Debut", "9 Korean Amateur Girls Who Got Bashfully Excited When We Showed Them Our Rock Hard Cocks", and my personal favorite "Korean Pro Golfer's AV Debut! 19 Unbelievable Hole-in-Ones With Strongest Nympho in Korean History".
A very recent and arguably superior example of Korean porn made in Japan is "Picking Up Girls Who Love Korean Fashion In The City – Pink-Haired Babe With A Beautiful Smile Going To Beauty School Stars In Porn For Spare Cash" which shows guys picking up Korean women on Korean streets. It was released by Nanpa Japan which specializes in pick up artist style porn.
Kinky Korean Porn
The Korean sex movies on R18 come in a variety of themes. For whatever reason the most popular seems to be Korean women watching Japanese men masturbating. Of course it often turns to a hand job or more but not always. There are several of these videos available though the winner is probably "Masturbation Viewing With Korean Amateurs"
Perhaps a lot of Japanese guys get off on showing their wieners to Korean gals similar to the sick "burberry man" in their native land. I don't need to know the psychology behind it to enjoy the fruits of their perverted labor.
Japanese producers have found some of the sexiest ladies in Korea too. The woman on the cover of "Korean Style Undercover Investigator" has one of the hottest bodies I have ever seen in any sex movie ever.
For those who like the tables turned there is "A Korean Beauty Masturbates In Front Of You!" which features one woman who looks like she came straight out of a Korean massage parlor in the US.
Some of the videos like "Korean Aphrodisiac Private Tutor" have questionable themes and probably wouldn't be produced anywhere outside of Japan even though they are obviously fictional stories based purely on fantasy. There's something for everyone I guess.
Fans of Korean MILFS are even in luck. Two titles are available. The "Korea-Japan Friendship Commemorative" and longer four-hour-long "Korean Cougars PREMIUM Edition."
K-Pop Idols and Prostitute porn
Idols and stars are another popular theme. There are several videos for gutter minded K-Pop and even sports fans including "After She Flunked Out Of A Korean Girls Group Audition, This Beautiful Girl Got Addicted To Cock" and "That Famous Korean Pro Golfer Is Making Her AV Debut".
R18 also contains plenty of Korean sex work and prostitution themed movies. This is really no surprise since there is a huge commercial sex work scene in South Korea and plenty of Korean sex workers in Japan itself. A lot of the movies are pretty realistic even though the titles are totally fictional. "A High-Class Korean Creampie Massage Parlor Where You're Guaranteed To Get Raw Sex" is a good example of this. There are many more.
Obviously I can't list every Korean move available on the R18 site here. I have limited it to the best or most interesting for the purposes of this post. I'll conclude with what I think are the two best Korean porn movies on the website. "I'm Having A Creampie Fuck Fest With My Korean Girlfriend" is high quality and stars one of the sexiest Korean women ever seen on screen. The nearly hour-long "We're Going On A Trip, Picking Up Girls And Finding Amateurs On The Street!" shows Japanese scouts picking up Korean babes by asking them if they want to be "models".
Amateur Korean porn clips
The amateur sites don't come up with much in terms of Korean content. Most is scattered around the internet in an unorganized fashion. But if you look hard enough, you can always find at least some Amateur Korean content even if it isn't necessarily labeled as much. Good Korean porn is even starting to pop up on ManyVids. The CEO of ManyVids is Bella French. I interviewed Bella French years ago when she was a cam model herself.
An example is the very hardcore model AsianDreamX on ManyVids. She claims to be from North and South Korea. Either she is a super sexy defector or her description is at least partially untrue. No1sy Girl on ManyVids also claims South Korean heritage and does it all with guys and gals.
The K-Pop style model Honey Moon has a few videos on ManyVids too. What they lack in quantity they make up for in quality. The tattooed Beccapanda has made multiple fetish videos. Gentle Little Jenny has more of a cute girl next door look. She has more videos available too, including quite a few with a foreign guy.
ManyVids isn't the only place to find such clips. Panda Girl at Clips4Sale produces a lot of fetish content. And for those with a foot fetish there are Clips4Sale studios like Sole Nation with plenty of Korean performers.
Koreans nude on cam
Finally I must mention the live action option which has become the most popular or at least lucrative form of online adult entertainment over the last few years. There are some Korean women who broadcast on adult cam sites but they aren't always that easy to find.
I'm no lawyer but I imagine camming may be just as illegal as porn in South Korea. There's no question it is not allowed in North Korea but that point is probably moot since there don't seem to be widespread internet connections to the outside world there anyway. On top of that some Koreans have apparently even been punished for performing overseas.
The sex industry prevails as it usually does though. I've seen Korean women broadcasting on plenty of sites over the years but I've also seen plenty of women pretending to be Korean who obviously weren't. Perhaps they were trying to ride the Korean Wave. More likely they were just trying to obscure their identities which isn't ridiculous considering the work they do.
The best Korean webcam sites
By far the best cam sites to find Korean performs are Chaturbate and MyFreeCams. There are a few I know who are on cam regularly enough to be mentioned here like the 19 year old Korean_min or the sexy Korean_rose. Otherwise Korean women on cam come and go so often it doesn't seem worthwhile to try to indicate them here by name.
You can find the Korean performers online yourself whenever you visit you these websites with a few simple steps. At Chaturbate you can simply click the #asian tag at the top of the chat rooms page then go through the models. There are usually between 100 and 200 online. Over at MyFreeCams you can scroll to the bottom and click the "only show" box next to "Asia/Pacific Islands." This is isn't an exact science, but it's the only real way to find Koreans on adult cam sites like these for now.
Unfortunately that's all I have at the moment. This post ended up being longer than I thought it would. But yet I feel like there's so much more than can be said. Perhaps some of it will come forth in the comment section.