Chiang Mai is a quaint city in the mountainous north of Thailand. The place is best known among people around the world for things like its elephants and tourist trails. Unbeknownst to many the city is also home to quite a bit of prostitution.
Every major and minor city in Thailand has at least some adult entertainment venues offering sexual services of one sort or another. Pattaya and Bangkok are famous for their sex scenes. But other areas have them too. They just aren't as noticeable to foreigners. That is because most of the offerings are aimed at locals or Asians. So there is less in-your-face advertising in English.
More than a few commentators on the internet and bar stools have claimed that the scene in Chiang Mai is small and limited. This simply isn't the case. There are dozens of adult entertainment venues in Chiang Mai employing hundreds of women. That does not even take into consideration all of the independent sex workers, street walkers and sideliners.
The small strip of beer bars on Loi Kroh Road most known to foreign visitors represents just a fraction of the many adult venues in Chiang Mai. Here is an overview of all the rest.
Beer Bars and Agogos
Punters accustomed to the beer bars and agogos of Bangkok and Pattaya often look for similar venues in other parts of the country. If they don't see either of the two they may even think there is no local industry. Chiang Mai is home to both beer bars and go go bars. But they are only a handful of the many adult oriented businesses in town.
All of the beer bars in Chiang Mai are centered around Loh Kroi Road. There are about a dozen bars along the road and a few more inside of the Loi Kroh Boxing Stadium Complex. Most bars have just a couple of women working. Most of the women working are older gals from various parts of Isaan like Udon Thani. While this is certainly no Walking Street the gals are mostly friendly and easy going. Many will also have sex with customers for a few hundred Baht though they probably make most of their money from lady drinks.
There are three go go bars in Chiang Mai. They are scattered around the city. Though they are all inside of town. StarXix is located right off of the beer bar area on Loi Kroh Road. The more popular and shiny Foxy Lady is located around a corner and up another road. Then there is Spotlight Bar. Spotlight is the longest running go go bar in Chiang Mai. Though it did relocate a few years ago. It's also the biggest and some may argue the best of the bunch.
Karaoke and KTV clubs
Karaoke and KTV clubs are arguably the most common sorts of adult entertainment venues in Chiang Mai. Unless of course you count the little roadside bars with fairy lights on the outskirts of town. But they can't hold a candle to a place like Twenty Karaoke.
The KTV joints are big and flashy. They're also found all over the city. Though they do seem to be waning. Just a few years ago you could easily pass a dozen or more shops on a quick jaunt across the city. I still have vivid memories of all the bevies lined up outside of two big flashy clubs just past the city center. It was like an issue of Thai Penthouse came to life and spilled over onto the streets.
KTVs are an Asian entertainment staple. Women working inside entertain customers by singing, dancing, pouring drinks, serving food and sometimes more. Some will also meet guys outside for sexual activities if they come to a financial agreement. There is nothing different with the Chiang Mai clubs. Though some of them do have a reputation for ripping off customers. That may be one reason why so many clubs are disappearing. But others remain in business and have repeat customers.
Street walkers, freelancers and sideliners
"Side liners" or "side line" is a term that is used in a few ways. First there are the gals that sit on the sides at the soapy massage parlors. I will talk about that further on. In this case sideliners is a Thai term that describes women who sell sex to guys directly as a side gig. These sideliners mainly work with Thai customers. Though the sideline I interviewed says she did work with foreign guys before too. They typically advertise on Thai language forums such as CMX Seed. Sideline women in Chiang Mai usually want around 2000 Thai Baht for sex.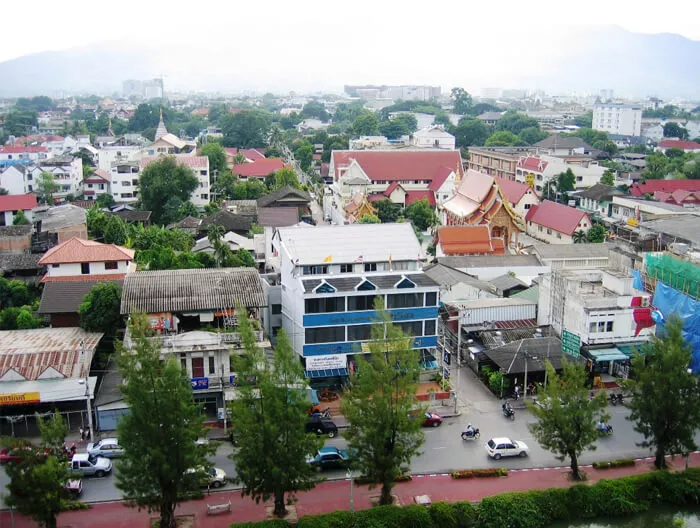 Freelancers aren't as common in Chiang Mai. These are also women who sell sex on a freelance basis. They really only differ from side line ladies in that they might look for customers at clubs or on a dating app. A few freelancers show up at bars like Zoe in Yellow from time to time. But frankly they aren't that common.
Nor are streetwalkers. Especially these days. Still there are pretty reliable spots where at least a handful of street walkers can be found nearly every night in Chiang Mai. First there is Kotchasarn Rd. Prostitutes can be found there across from the moat with a lot of regularity. The other main spot is the aforementioned Loi Kroh Road after the bars close. A significant number of streetwalkers in Chiang Mai are ladyboys. They and the females who walk the streets typically work with Thai guys and charge 300 to 500 Baht for sex.
Soapy massage parlors
There are two main soapy massage parlors in Chiang Mai these days. There were a couple more in years past but they fell by the wayside. Still the two shops that continue to operate are quite large and well staffed for a city of this size.
Sayuri is the biggest and probably the best known soapy massage parlor in Chiang Mai. It is housed in a large building and staffed by dozen of women. Sex and a shower costs between 1400 and 2500 Baht depending on the class of the women.
Celebrities is located right in the city only a short walk from the aforementioned Loi Kroh Road. Full service with mutual bathing runs 1400 to 1900 Baht depending on the woman. There are usually a dozen or so women on staff every day of the week.
Other massage parlors
Last but not least are the other massage parlors of Chiang Mai. And they are quite numerous! First there are countless "regular" Thai massage parlors were masseuses might offer handjobs or more to customers in private for a few hundred Baht. Then there are the dozens of other massage parlors oriented directly to adults. I have covered lots of those shops over the years.
Massage parlors like the diminutive Annichop and the centrally located Mossa Hue go under the radar of a lot of visitors. But these reliable shops are patronized by a number of local men. Another Thai oriented shop that nonetheless welcomes foreign customers is Raspberry Spa.
Fang VIP has a huge number of women on staff offering oral and more. Though the level of service frankly isn't too high. The nearby Little Mermaid Massage is similar but a lot better run. Anime Kawaii is smaller but better run still as indicated by the constant flow of customers in and out of the shop.
Icha Icha is like a local version of the popular Doki Doki in Bangkok. The place is clean and well run with a staff of attractive and skilled women who know how to perform an authentic nuru massage. It is also one of the pricier places in town with a 1 hour session costing 2700 Baht.
Finally there is Absolute Paradise. This place is one of the more unique venues in Thailand. It's run out of a room in a somewhat run down hotel. Customers pay and select service providers in converted hotel quarters. Then they go to other rooms in the hotel where the service takes place. Standard sessions cost 1300 Baht and come with a body to body slide and a happy ending handjob. Customers can negotiate for more from there if they so desire.
This list is obviously not exhaustive. It is not meant to be. This is simply an overview of the commercial sex scene in Chiang Mai. I do not have the time, energy or resources to commit to a full collegiate-level study into the subject. But I do have enough knowledge and experience to paint a pretty full picture of what the adult entertainment situation is like on the ground. I hope that you find this information entertaining.