Doki Doki is one of the best erotic massage parlors in Bangkok. It joins a crowded field but still manages to set itself apart from the rest of the pack. When I first reviewed the place in 2018 I said it would most likely become quite popular due to its high level of service. As it turns out I was correct. In 2022, Doki Doki is one of the most popular massage parlors in Bangkok.
Doki Doki was launched by an experienced masseuse knowledgeable about the industry. She seems to have taken what she has learned and applied it well to create the new shop. Some of the women staff is also quite experienced in erotic massage even though they appear to be in their early twenties.
Anyone familiar with the previously reviewed Mitu massage or Japanese sopalands will have a good idea of the services offered at Doki Doki. The place could be described as an oily massage parlor but it is a lot closer to the Japanese soapland model. That means that the level of service offered is very high.
Location and setting
Doki Doki is located on Sukhumvit Soi 31 directly across from the Paradiso 31 Hotel. The bright red building is very easy to find even though the signage is a bit discreet. Customers enter through a set of glass doors then head to the counter.
It seems that the building was renovated for the arrival of Doki Doki Massage. Everything is very new and clean. The walls seem to have been freshly painted from top to bottom and the tile floor sparkles. The place is spotless.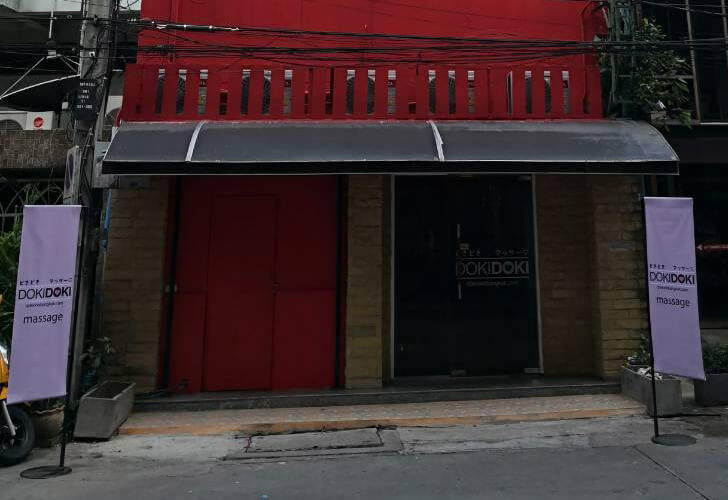 At the front desk there is a tablet device with the menu options and prices. Illustrated descriptions of the services available also appear there. Everything is pretty self-explanatory but the notes and images might help the uninitiated.
The counter is staffed by a friendly young Thai lady with a decent grasp of English. There is a good chance she can also communicate at least somewhat in other languages. In any event much in the way of communication isn't really required for customers to book a session.
The rooms are located up one short flight of stairs. The space is open and airy. Customers don't have to duck under low ceilings or climb over anything to get to the quarters. The rooms themselves are very large. They contain big high quality beds with clean linens and huge tiled shower areas.
Nuru nuru massage
The main service at Doki Doki is genuine nuru nuru massage. This isn't the sort of middling massage offered by some other shops. At Doki Doki the women are actually very well trained and versed in the art of slippery body to body massage. They even use the same nuru gel and large inflatable mats utilized in genuine Japanese soaplands.
"Nuru nuru" is a Japanese gitaigo that signifies a slippery feeling. Nuru nuru massage is thus a slippery body to body massage. Legend has it that the slimy seaweed massage was first developed in Kawasaki. Today it is practiced at soaplands and similar venues all over Japan.
Many soaplands in Japan do not accept foreign customers. That means most men who are not Japanese are unable to access a real nuru nuru massage. Some shops and services now offer nuru massage in various other countries. Honestly though very few of them are anything like the original service from Japan.
Service providers
There are several women working at Doki Doki Massage. They all appear to be in their twenties. The Doki Doki website says as much too. All of the ladies are attractive with nice bodies and good attitudes. None are overweight or out of shape.
A lot of people complain about photo editing on Bangkok massage parlor websites. Looks are often changed quite a bit. In many cases skin color is significantly lightened. This is very common even when owners of said shops don't want it. It appears to be an ingrained practice in the local industry.
The photographs shown on the Doki Doki site are somewhat discreet for reasons that should be obvious. They aren't otherwise heavily modified. The women working at Doki Doki are definitely the ladies pictured on the Doki Doki website. In some cases the ladies even look better in person than they do in their photographs. Otherwise the pictures are totally accurate.
Services and prices
A sixty minute nuru nuru course at Doki Doki costs 3000 Baht ($90 USD). A ninety minute session is only slightly more at 3500 Baht ($106 USD). These sessions include mutual showering, a very thorough nuru nuru massage on a mat, uncovered oral and full service. Time left on the clock can be applied to extended services or something like a full body massage that is surprisingly good.
At any place with multiple providers on staff there will be variation in service. At Doki Doki the person in charge is an experienced masseuse. This seems to be ingrained into the women on staff who are all quite skilled. Some offer a level of service that may even surpass what is experienced at a standard Japanese soapland today.
Some people do a bit of rubbing with gel and call it a nuru nuru massage. The body to body slide at Doki Doki is something else entirely. It is a very thorough and erotic experience. The service providers at Doki Doki can take things to an almost acrobatic level. Staff members like Alice show an incredible level of skill and dedication to their work with extended rimming appearing as a regular part of the repertoire.
Doki Doki does offer a less expensive course too. The 2500 Baht ($75 USD) fifty minute option forgoes the mat play. It includes just a bit of stand up nuru massage in a shower. That is followed by full service in a smaller room. This cheaper and shorter option will most likely appeal to the budget minded as well as those on a tight schedule. It's easy to imagine someone sneaking away from a shopping girlfriend at the nearby Terminal 21 mall for a short bit of fun.
Doki Doki Bangkok review
In a previous review I stated that Mitu Massage is the closest thing to a Japanese soapland outside of Japan. That was before Doki Doki Massage came along. Doki Doki is very much like a Japanese soapland yet it is much less expensive. Surprisingly Doki Doki even charges less than the aforementioned Mitu.
Doki Doki has a very convenient and accessible location and a skilled and attractive staff under the tutelage of a consummate pro. The women who work the shop offer a very high level of service.
On top of that the shop charges less than the closest competition in both the literal and figurative senses. Doki Doki seems primed to become a very popular place.
Bangkok is filled with erotic massage parlors and similar venues. Many of them come and go because they do not set themselves apart in any real way. Doki Doki is different. It offers a level and sort of service that is very difficult to find in Thailand or anywhere else in the world. I give it a solid five stars.
---
Reviews of Doki Doki providers
Doki Doki has now been open for several years. The shop has only grown in popularity during the time that it has been open. The women working at the shop are one of the main reasons for that.
It is always difficult to do an overview of a shop with multiple people on staff. Different people have their own looks, attitudes, and ways of doing things. But Doki Doki runs a tight ship. And all the ladies who work there are as skilled as they are attractive.
Below I review the services of individual service providers at Doki Doki. As you will see, they are all top performers.
Review of Pam (5/5)
Pam is one of the most popular women on staff at Doki Doki massage in Bangkok. She is also one of the best nuru massage practitioners in Bangkok. As there are many people doing similar work that means she really stands out of the crowd.
Nuru nuru is a common Japanese onomatopoeia. This gitaigo describes a slippery feeling. In its most basic form then, a nuru massage is a massage using slippery nuru gel. This specially designed Japanese gel is made from seaweed. And there is really nothing like it.
In fact, the practice of nuru massage is now recognized and sought after all over the world. Those who really know how to do nuru nuru massages can aptly slide all over a customers body with the aid of the aforementioned gel. It doesn't necessarily have to be erotic, but in most cases it is. And when Pam does a nuru nuru massage, it is truly top notch.
All about Pam
Pam is a Thai gal in her twenties. She has a slim body yet at the same time is curvy. That is in part thanks to some very prominent man-made enhancements. But it is easy to see that her underlying frame is also feminine and alluring.
Most guys are naturally attracted to good looking women. Of course guys have differences in opinion about the looks of ladies. But there are some general standards that most guys abide by. Pam is the kind of gal who can turn a lot of heads when she walks by. In the buff she could most likely stop even the infamous traffic of Sukhumvit Road.
Pam's nuru massage
While there has long been a nurture and nature debate, I doubt anyone believe that people are naturally born with nuru massage skills. Like other things, doing a nuru nuru massage well requires a combination of motivation, training, experience, and intuition.
I am not positive about Pam's trajectory through the world of the Bangkok massage parlors. But it is very clear to me that she was trained by someone with real expertise along the way. I am going to guess that it is was in a Japanese shop. The truly Japanese-style nuru shops in Bangkok have been providing the best in erotic massage around for years.
Whatever her history, Pam can today glide around a male body with ease and aplomb. She is truly an expert at the craft. I would say that she makes it seem like an art form. But the truth is that it's hard to analyze that or anything else when sharing an wet mat with her.
Pam does a great job at mixing eroticism into the act of nuru itself. But she doesn't go overboard. The same comes with activities beyond the mat. She is quite skilled at those too. Though keeping with the general Japanese service theme, she seems to be totally focused on the customer.
Summary
Miss Pam must be quite sought after. There are countless ladies working the massage circuit in Bangkok. Yet only a few really standout. Especially to old hands like me who have "been around" enough times to beat a well-worn path into the ground.
At some of the more modern shops like Doki Doki, customers can actually book session in advance. Of course walk-ins are also welcome. But there is always a chance that a guy will walk in with high hopes only to find a popular lady booked. It seems like Pam stays quite busy, and it is easy for me to see why.
There are many service providers in the world. Beauty is in the eye of the beholder. And different people like different things. But when it comes to adult services there are standards. Services sold as such are perhaps easier to quantify. And when it comes to delivering a nuru nuru massage services, there are few whoa re as talented as their jobs as Pam.
Over the last seven years I have reported on hundreds of venues and service providers all over the world. During that time, I have only given out a dozen or so five star reviews. Based on my varied experience I believe Pam is as good as anyone when it comes to providing erotic massage services. Five stars.
---
Review of Alice (4.5/5)
As far as I can tell Alice has been working at Doki Doki from the start. It is not her first rodeo either. She used to work at another place reviewed on this site. Though it might take a very astute eye or great memory to determine which one.
Alice is a Thai woman in her twenties. She has a pretty face set off by a big smile. She isn't anorexic or sporting a gym toned body. But she is definitely not fat either. I would say she has a nice soft feminine body that looks quite good.
A master at the craft
Although Alice has been in the game for a few years she still maintains a rather youthful look. That matches with her outward exuberance. She is about as welcoming and warm as it comes. That is not always something seen in the land of smiles these days. Especially when it comes to the adult entertainment industry.
From the outset of her appointments Alice is friendly and forthcoming. She is the type of provider to grab a client by the hand and guide him up the stairs with a look in her eye like she wants what is coming. In the room she knows how to organize and get things done without ever seeming overly professional or mechanical.
Alice starts by assisting with undressing. From there things go over to the large wet area where the Japanese silver air mat and nuru nuru gel are prepared. It is here where Alice truly excels. Many places and people now claim to do a nuru nuru or body to body massage. Alice shows exactly how it should be done. She is as thorough as she is adventurous when it comes to mat play.
Alice is very thorough working the body from top to bottom on both sides. It is almost as if she trained at one of the high end soaplands in Japan. She is that good when it comes to the body slide. To top things off, everything from her touch to her all over oral with rimming and multiple position full service are above average. She is very good at what she does.
Alice's sensual services
The adult industry worldwide is notorious for its liberal use of Photoshop. That is starting to change a bit as the number of camera phones and independents continues to grow. Still many or even most pictures continue to be heavily edited especially in Bangkok. From what I hear photographers do things like skin lightening and more even when their customers request otherwise. It is just ingrained.
I don't think the three pictures of Alice on the Doki Doki website are edited though I can't be totally sure. What I can say is that Alice is a rare example of a woman who looks better in person than she does in her pictures. I am sure she is picked out of many lineups in the Doki Doki lobby.
That is if she is not booked throughout the day in advance. I am sure that she would stay very busy if punters knew about the high level of service she provides. Perhaps most importantly she genuinely seems to enjoy her work.
I find Alice to be quite attractive and even more charming. That of course is a matter of opinion. But in terms of skill and service alone she is one of the best performers of any service provider in Bangkok. Since the city is filled with so many women doing similar work that is really saying something. Four-and-a-half stars.

---
Review of Mali (4/5)
Mali is a tanned all natural Thai gal working at Doki Doki massage in Bangkok. She is a lovely young woman in her early twenties. Her youthful exuberance is enchanting.
Miss Mali is from Buriram and her smooth brown skin reflects that. Perhaps her round bottom also does to some extent, since its not uncommon in her part of Isaan.
With jet black hair and a cute face, I think that Mali is quite attractive. Most notable may be that she is au naturel with no signs of cosmetic surgery, piercings or ink embedded into her epidermis.
Seeing all of Mali
Not so long ago, most of the ladies dancing in the Bangkok go go bars shared similar organic characteristics. These days it is pretty rare to find a woman on a stage in Nana Plaza or Soi Cowboy who isn't tattooed or sporting some combination of artificial body parts and artificial skin lightening. Meeting Mali was thus quite refreshing for me.
Doki doki is a Japanese onomatopoeia meant to describe a hard beating heart. I think my own ticker may have missed a scheduled pump or two when I first saw Mali walking up the stairs in a short dress. She only looked better in a state of lesser dress. So the name of the shop is at least somewhat appropriate in this case.
Mali's sensual services
Mali is relatively new to erotic massage. Doki doki is the first parlor she has worked. While she certainly knows what to do from beginning to end, Mali is definitely not an expert at sensual services. She is quite competent at everything from bathing to nuru massage. But there is a certain shyness and uncertainty about her. She relaxes a lot more when simply interacting on a personal basis rather than providing a set sort of service.
The phrase "girlfriend experience" is thrown around quite a bit these days. It's meaning seems to have shifted over the years. Now people mainly use it to describe a paid session with a service provider that feels more like spending time with an actual girlfriend. I hesitate to throw the GFE label around myself, especially when it comes to massage parlors. Because how many guys actually have girlfriends who will cover themselves with nuru lotion and slide around on their body for an hour whenever they want?
That said, Mali acts more like the kind of gal who you would meet somewhere in civilian life than a hardened service provider in Thai massage shop. She seems most comfortable when just relaxing and acting informally. She isn't reticent to get hands on in any event. And she definitely knows how to do work with her hands, mouth and body. Mali is certainly no stranger to going all the way.
Solely in terms of service, Mali could certainly develop her skills. And from what I hear she is actually trying to study and practice to that effect. Supposing she does become more of a nuru massage master, I can only wonder if that will her seem less like the girl next door. I personally hope she won't become hardened. I like her just the way she is. Four stars.
---
Review of Nadia (4.5/5)
Nadia is one of the most popular and skilled ladies at Doki Doki massage in Bangkok. As stated in my earlier review of the shop, Doki Doki is one of the top massage parlors in the city. In fact, it's one of the better shops in all of the country. That is in large part due to the expertise of the providers who work there. Nadia illustrates that perfectly.
Not long ago I wrote about Pam at the same shop. If she is the most in demand provider at the shop than Nadia is probably second. Her looks certainly have a lot to do with her getting picked out of the lineup with regularity. But her superior skills also make her desirable among many customers.
Nadia at Doki Doki
Nadia is a twenty-something year old masseuse with a very fit body and tight backside. Apparently she has a child but it would be very difficult to tell. Despite my vast experience with women I was only made aware of this when I came out and asked her. Nadia also told me that she works out daily. This I knew without asking, as she is quite firm.
Her big bolt-on balloons are even firmer than the rest of her. But they look pretty good on her small frame. Guys have different opinions about fake tits. But there can be no question that can come in handy when used by a skilled provider.
The above mentioned Pam also has synthetic sweater puppies but she puts them to good use when doing a body to body massage complete with tit wanking.
Nadia is nice
Nadia speaks English quite well. She certainly has a better grasp of the language than most women in her line of work. She hails from the southern part of the country rather than the northeastern Isaan region where most Bangkok masseuses originate. Though I don't know how much that has to do with her language skills.
I don't know Nadia's complete adult work history either. But somewhere along the line she has picked up some real abilities. Nadia is a definite expert both on and off the inflatable mat. She takes control of sessions from the very beginning, yet is able to react to the needs of her customers. She is totally service oriented, which is frankly not always easy to find in Thailand. I guess she has the same kind of dedication to working out, which is how she is able to do it daily and end up with such obvious results.
Nadia is very good at the nuru body to body slide. She knows her way around the infamous mat as well as a man's body. She leaves no stone unturned when she is sliding around either. Nadia is the kind of gal who does an all over cat bath. And I do mean all over. She doesn't shy away from any part of the body. She spends a lot of time rimming and she does it very well.
On the flip she is a real rider. The same goes off the mat and over in the dry part of the room. More notable than that however are her oral skills. These too are very developed. In fact she's probably one of the better blowers to be found in any shop the kind. Nadia can actually go deep too. That is something only rarely seen in the higher end massage parlors.
As all of the above should show, Nadia is one of the best service providers I have seen in a Bangkok massage shop. I wouldn't say she is perfect. Who among us is? I am certainly not anywhere near perfection myself. But I have a basis of experience and can speak with some knowledge on the subject of erotic massage. My informed opinion is that Nadia is very good at her job. Her popularity at Doki Doki seems to confirm that. Four-and-a-half stars.

---
Doki Doki Massage is located at 3/25 Soi Sukhumvit 31, Khwaeng Khlong Toei Nuea, Bangkok 10110, Thailand. Click here for a map. Doki Doki is open every day from 10:00 AM – 10:00 PM. Phone: is +66 098-569-8794. Website: https://www.dokidokibangkok.com