The go go bars in Pattaya are world famous. I have been reporting on them for a decade, and visiting them for longer still. I'm not alone in either case. But I have been compiling information on Pattaya's go go bars for long enough to matter.
I work diligently to keep this list of Pattaya agogos up to date. But things change quickly and often in the bars of the Land of Smiles. Today's dump could be tomorrow's hot spot. As always this list of the best and worst go go bars is provided for entertainment only. Your mileage may vary.
Pattaya and its go go bars
The city of Pattaya first became known internationally after US soldiers were stationed there during the war in Vietnam. After that bars started to spring up, mainly catering to male visitors. Then men started to come in from all around the world to visit the bars. Eventually Walking Street was established with all its go go bars and neon lights.
In more recent years things started to change. Walking Street became a tourist attraction visited by groups of Asian and Russian families on holiday who gawk at the bars and their staff. Family entertainment facilities were built and ladyboy shows started catering to group tours of people from countries like China. Condos sprung up all over. They're marketed as either investments or vacation homes, depending on who is pushing them.
During all of this the go go bars seemed to decline a bit. The number of ladies in the bars seemed to decrease. At the same time older and less fit ladies started appearing on stages. And there were noticeably fewer customers in many bars. Yet at the same time, prices have gone up almost universally. It's not unusual to hear of barfines in the thousands of Baht at Pattaya go go bars today. This is up from the hundreds common just a few years ago. It also approaches or surpasses places like Germany in terms of the price of sex.
Changes in Pattaya
The pandemic brought about a lot of changes in Pattaya. Many places closed temporarily only to reopen in some form in 2022. Other bars never came back at all. A few places resorted to live streaming to maintain some sort of income. As of Summer 2022 however Pattaya does seem to be coming back to life.
At this point many who live in Pattaya or regularly visit the city avoid the go go bars completely. Or they only visit them on a special occasion. Still there can be no doubt that Walking Street and its go go bars remain the main attraction in Pattaya, even if some officials wish it were otherwise.
This is not to paint a picture of total gloom and doom. I just want to give an idea of the general state of the go go bars today. Someone visiting Pattaya for the first time today may be amazed at all the bars filled with semi-clothed women who are looking to be paid for sex. Meanwhile a lot of old timers pine on about the glory days gone by. Perhaps that is just the way of the world.
In any event, these are the best and the worst go go bars in Pattaya right now.
Walking Street
Walking Street may still be the most known part of Pattaya. But is seems to be rather empty inside a lot of the bars. Sure there are still crowds of people on the street itself. At times it can even be difficult to simply walk from one end to the other thanks to all the people, street performers, beggars, and flag following groups. But inside some of the bars are nearly empty. Of course there are exceptions.
Baccara is probably still the most popular go go bar on Walking Street. It draws in plenty of guys each night. The ladies inside aren't much different than they were in the past. In fact, I've recently seen a couple of dancers on stage who were there in the past too. The gals at Baccara are often well made up, but very mechanical in bed with customers outside of the bar. Because Baccara is so popular, it can actually be tough to get a seat. The wait staff has no issue moving around inside however. They always seem to bounce from patron to patron trying to sell more drinks. These days, it almost seems as if most guys who visit just go for the show.
Sapphire might be the second most popular go go bar in Pattaya. The management are quite good at promotion. The dancers appear in an annual calendar that is even sold on Amazon in the United States! There are certainly many women in the bar. And a fair share of guys visit nightly too. Yet there never seems to be a lot of interaction between the dancers and customers. And many of the tattooed and artificially enhanced gals on staff have a very "professional" approach. These internet stars also have a habit of pushing for tequila shot lady drinks which of course come at a premium price.
Dollhouse might not be the most popular go go bar on Walking Street, but it is definitely one of the best. Downstairs the bar is spacious with some friendly and fun bikini clad and topless gals working the stage. Upstairs is even better. Cushioned seats all around the floor are spaced out nicely and give great views of the various small stages. Fully nude dancers work those stages and interact well with the guys in attendance. It helps that the dancers almost all have the kind of fit bodies and nice perky breasts that used to be common in venues of the kind.
A newer place called Panda is very well fitted out for a go go bar. As the name might suggest, this go go bar seems to cater more towards the increasing number of Chinese visitors in Pattaya. At least some of the dancers don't even seem to do barfines at all. Instead they just talk to customers and fish for lady drinks. So it's like a karaoke bar in that sense. The guys inside don't really seem to mind.
The elaborate Skyfall is another bar where lady drinks seem to take precedence over all else. I don't think I've seen such aggressive gals in any go go bar in Thailand, baring perhaps the ladyboys at Cockatoo on Soi Cowboy in Bangkok who encircle anyone who walks in and more or less beg. In some cases guys barfine women at Skyfall, then are asked to wait around a few hours for their gal of the night to make more money for the bar before she leaves. The management at Skyfall doesn't seem to have heard the American proverb about skinning sheep. Or perhaps they just don't care as there are always new tourists coming to town. Skyfall is one of the bars that still seems to be filled with customers most times.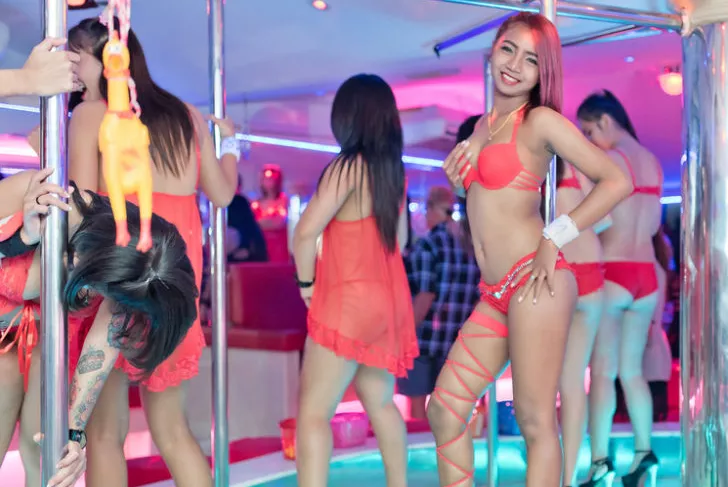 Heaven Above is a really hit or miss place. During one visit the place seemed to be filled with stunners to the point that even my weary old eyes were surprised. Yet on a subsequent visit the pickings were quite slim, but the gals not so much. On the plus side they have friendly mamasans and wait staff who are not pushy in the least. They also have topless dancing and nude oil massage and spanking shows off to the side of the room. Alas, the barfine is a whopping 2000 Baht ($65 USD) before midnight.
Babydolls is still in business. They even seemed to have picked up a few new dancers. The bar has a reputation for staffing adventurous women. That still seems to be true of the some of the veteran staffers, including one gal who has been working the place for quite a while. They have a tub for shower shows but the facilities are a little worse for wear. There is an air conditioning unit near the bath tub that drips water down onto some of the seats, and occasionally the customers seated in them!
Club Electric Blue is still running too. Though whenever I visit it seems to be very quiet. Maybe I am missing something or just visiting the place at off hours. But although there are plenty of dancers in the bar, it doesn't seem to approach the glory days of the now shuttered CEB in Bangkok. Nothing really stands out about the Pattaya Club Electric Blue to me. But that could also be because I've seen so many.
Perhaps a sign of the times, the well known Sugar Baby go go bar on Walking Street has closed up shop. Most of the ladies from that bar seem to have shifted over to Diamond go go bar across from Windmill. They're not nearly as wild there as they were in the old place. There are still some nude dancers and the occasional hands on action. But for some reason one of the mamasans rushes the babes in their birthday suits back to the stage after encouraging them to gulp down lady drinks as fast as possible.
Windmill itself on the other hand is as good as it has ever been. The place is so popular and filled with ladies that it expanded to add an upper floor. Both levels are often crowded with customers and gals in the buff, yet it never feels uncomfortable. Perhaps that's due to the party like atmosphere. Most of the women are surprisingly fun loving and eager to please. Although they are of course they are looking for tips, lady drinks, or barfines, they rarely bring these things up themselves. The bar is the last of a dying breed.
LK Metro
LK Metro has grown in popularity over the years. It is not nearly as crowded as Walking Street. Yet at least some of the bars do always seem to be filled with customers. Regular visitors to Pattaya are more likely to visit the LK Metro go go bars, though the prices aren't necessarily lower than Walking Street agogos these days.
Sugar Sugar and Champagne agogo have both been around for many years. Sugar Sugar in particular seems to have paved the way for the rest of the go go bars on the street. Both bars get their share of customers. And they both have multiple ladies on stage each night. They are basically what you expect from go go bars in Pattaya these days. Sugar Sugar perhaps stands out more due to its dancers, who are often topless. Champagne is perhaps less unique, which could explain why it is often devoid of customers.
Paradise is a large go go bar with a fun environment inside. The ladies inside are quite friendly and the management is creative. This might be the only go go bars to ever hire a guy to beat a pair of bongos in tribal regalia. That's not necessarily a reason to visit a place like this. But it is worth mentioning.
Kink is one of the newest go go bars in the city. They clearly spent some money laying the place out too. The ground floor is fairly vanilla with women in revealing clothes shifting back and forth on stage. The upstairs is modeled to be something like the Windmill, complete with a mattress type show space in the middle. The prices upstairs are higher than those below, and the place doesn't employ nearly as many dancers as Windmill.
The Office always seemed to have a fun approach in the past. After a recent remodel, they seem to pay less mind to the theme and instead just have gals dancing in bikinis. They've also added some sort of tiered barfine system with "models" requiring several thousand Baht to leave the bar. I haven't seen any gals inside who look like any models I have seen.
Destiny agogo seems to be one of the more popular go go bars on the strip. I can see why. They have many attractive and fit ladies inside. That includes a few who dance in various states of undress. The small stage always seems packed with women. And the seats fill up with guys too. There is a lot of interaction between the ladies and customers. And all the gals seem eager to get barfined.
Area 51 just outside of LK Metro was refitted and now has a number of women on staff. The place is open to the street and remains a sort of hybrid between a go go bar and a lounge with pool tables in the back and a big bar in the middle of the floor. The place never seems to get very busy.
Elsewhere
As you can see, things are still going strong in the Pattaya hot spots even if it isn't all necessarily like it used to be. Outside of Walking Street and LK Metro however, things seem to be on more of a downward slope.
Silver Star 2 is back in business after being raided a while ago. Yet the place have obviously slowed down a bit. There are still several women inside prancing around in very little, but the feeling isn't what it once was. There are noticeably less attractive women and customers inside too.
Dolls at the end of Soi 6 seems to pack in customers, though I am not totally sure why. They do have a couple of dancers who are better looking than average. But they dance in shorts and tops and seem much more interested in lady drinks than barfines. That seems odd considering that the bar is literally surrounded by suck shops like My Friend You and short time bars like Lust.
But it is what it is. Notably, the price of lady drinks at Dolls is higher than normal too. When the curtains on the windows close, some of the ladies do dance topless. But that's not necessarily special here or in many other parts of the world.
And that is the state of the go go bars in Pattaya today. In all likelihood I will continue to update on the massive go go bar scene in Pattaya in the future. That is of course as long as you continue to come here and read what I write.