Heaven Above is a long standing go go bar away from Walking Street in Pattaya. The some manages to maintain some of the old feel of Pattaya and its original agogos. This is not easy to find these days as group tours have become more prominent and business models have been shifted accordingly.
Walking Street is still lined with go go bars from end to end. And for the uninitiated they might even seem like a sort of heaven on earth. People are still doing business, making money and having fun. I simply note that some things have changed over the years. That is of course to be expected.
Heaven Above go go bar
Heaven Above was once located on Soi Diamond. The new and improved bar is located on Soi Boomerang. The location is near Soi Bukhao. It is about a kilometer from Walking Street.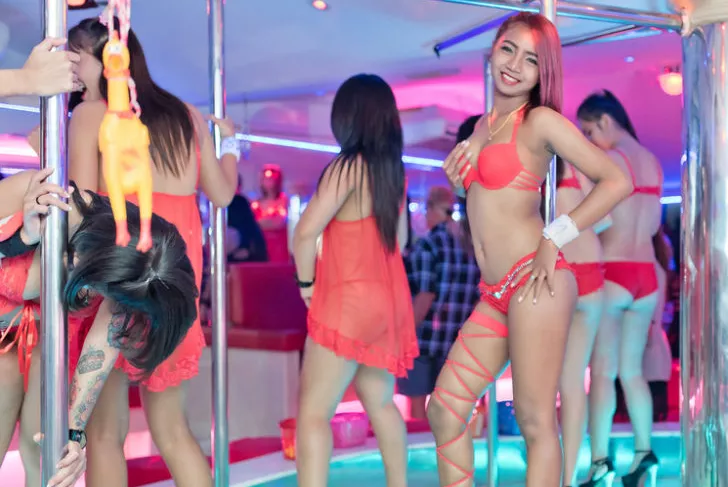 Being away from Walking Street seems to be an advantage. This bar, like some other away from the main drag, has women are not afraid to show skin and up close and personal with customers. There is a stark difference between this and modern bars on Walking Street proper where ladies labeled as models prance about in wardrobe.
The old Haven Above was actually above street level. It was quite possible to miss the place as the entrance was up a flight of stairs. The new place is a more typical go go bar setup with a bright front marked with clear signs at street level.
Inside Heaven
The new Heaven Above is nicely designed. It is bright but it is not too flashy. There is music. But it is not too loud. Most importantly there many ladies on stage every night. Many of these women look better than the average go go dancer these days too.
The Heaven Above bar is not large but it never feels crowded or cramped. In fact it feels rather spacious. Things are even more comfortable in the available VIP room. This place is a real standout when it comes to Pattaya go go bars.
This bar seems to have been designed with customers in mind. That stands in contrast to other places that appear to have been designed for the dancers or to fulfill fantasies of the owners.
Staff, prices and summary
On an average night there are at least 5 dozen women working at Heaven Above. This is more than enough for teh space. There is some variation among the dancers. But generally speaking the gals are slim and sexy. There always seem to be a few real beauties on hand too.
The women wear quite revealing bra and panty sets as a uniform. But many of the gals drop their tops while they are up on stage. One or two ladies doing an oil show also sport nothing more than their birthday suits as mentioned above. So there is quite a lot to see.
The gals dance in teams of six or so on stage. And they stay up there for quite a while. The stage is close to the seats and the feeling is very laid back. So customers are easily able to interact with the dancers. They are some of the friendliest gals around probably due at least in part to the relaxed nature of the place. The servers are even fun and the mamasan is always on hand but never intrusive.
Drinks are reasonably priced. The barfine is 1000 Baht ($33 USD) which seems to be something like a standard now in Pattaya. It is actually cheaper than what quite a few other bars ask. In addition the ladies themselves don't ask for the world. It's a lot like most go go bars used to be. And that is not a bad thing. Four stars.
---
Heaven Above. Soi Boomerang, Pattaya, Thailand. Click here for a map. Open every day from 5:00 PM until 3:00 AM. Website: https://heavenabovepattaya.com