Cherry Massage has become one of the most beloved erotic massage parlors in Bangkok. The place has made a name for itself over many years by offering reliable services at a reasonable rate. Even after relocating the shop continues to be one of the most well liked businesses of its sort in the entire city.
There are so many oily massage parlors in Thailand that a man aiming to visit them all would almost have to make a career out of it to be successful. When I review a massage shop in Bangkok it means nothing more than I visited the place. When I give it a high score however, that means that the place really stands out. Such is the case with Cherry Massage on Sukhumvit Soi 24/1 in Bangkok.
Cherry Massage is incredibly easy to find. A simple walk down the soi brings you right to it. It's near the end of the short street on the right hand side. Sure getting there requires walking past countless other massage parlors on the same street, but those able to avoid the temptations of the other shops on Soi 24/1 will be glad they did.
Cherry's current location is just a brief walk from its previous setup. It should be noted that both Cherry and the legendary Snow White Massage now operate out of this same united shop. The place has become a sort of center for PSE massage in Bangkok.
Cherry Massage in Bangkok
Cherry Massage doesn't have the largest staff, but it does have a very good one. Not only are most of the women in the shop attractive,they all go above and beyond the standard of service you may expect elsewhere.
Those visitors who would like to know which gals do and do not do whatever it is they're after will be happy to know that Cherry lists the services of each member of the staff right in the book next to their photos.
Along with the standard oral and full service, quite a few offer A+ Greek action and all over tongue massages as a part of their regular repertoire. The book also lists the language skills of the women on staff for those who like to have a bit of a chat with their rub down.
What's more, the number of pops customers receive at Cherry's is totally up to them and their capabilities. That means if a customer books an hour, they get the full hour. If they can pop two or three times during that period, they're more than welcome to do so.
This is not an occasional thing that occurs with certain women on staff but a stated policy of the shop. Many readers have written to express their concern over popping early and thus coming up short. At many massage parlors this can indeed be an issue. At Cherry, it isn't.
Another great feature about Cherry Massage is that they are honest enough to include real photographs of the women on staff at their website alongside the more standard photoshopped fare. This is very refreshing, and it allows clients to get a real idea of who they will meet when they arrive.
Staff, service, and summary
With this level of service, one may expect the rates at Cherry Massage to be higher than other shops in the area. In reality, it's quite the opposite. The prices at Cherry are actually lower than some other places around town.
A forty minute Thai or Oil Massage at Cherry runs only 1700 Baht ($50 USD). Lotion massages, longer massages and things like the addition of another lady are a little more. The increasingly popular nuru massage option is also available. The prices are all inclusive and no tips for the providers are required. Though obviously they are appreciated when given.
The wide array of pricing is all spelled out on their website. Well except for the rates on some more specialty services such as erotic massage for women and couples.
Those unwilling or unable to make the trip to Soi 24/1 on foot, by taxi or on the BTS skytrain (which stops nearby at Phrom Phong) will be happy to note that Cherry Massage also offers outcall. The rate for a two hour session is 3000 Baht ($88 USD) all inclusive, which again is quite reasonable.
While I can certainly understand the appeal of that option for some, I also understand showing up in person. After perusing the photobook and asking for a line up of the available staff, one can then take advantage of the rooms on the premises, which allow for a much needed cool down with new air conditioners, followed by a much desired heat up with mood lighting and mirrored walls (I am a sucker for the latter and always have been since the first time I watched myself go at it on a ceiling mirror many moons ago).
Combined with a very skilled staff with universal charms and warm personalities, this all adds up to something very special right in the heart of Bangkok.
When I visited Cherry Massage I met the shop's proprietor Nadear in the lobby. I'm sure a few readers may already know her but this was my first encounter with this young lady. She incredibly kind and eager to please her customers. As a former masseuse herself, she knows what it takes.
This kind of customer service is meaningful in the sensual massage industry especially, and at Cherry, it extends to every part of the operations. It really makes the place stand out in the crowd. For that reason and everything else mentioned above, I give Cherry Massage a very solid four-and-a-half stars.

Reviews of Cherry Massage providers
Cherry Massage has been in operation for many years. I have been fortunate enough to visit the place several times over those years. In order to help paint a more complete picture of Cherry Massage I have produced the following reviews of Cherry Massage masseuses.
Some of these women have become rather famous in the local scene. At times they are reviewed more than once. When such local celebrities combine and work together it can create an entirely different experience.
Of course these are simply my views. They come with no warranties expressed or implied. I write for the entertainment of the readers and nothing more.
Review of Ice and May (4.5/5)
Those who have spent some time visiting massage parlors in Bangkok, especially in the Phrom Phong area, may already be familiar with one or even both of these ladies. Ice has been in the game for some time, honing her skills all along while not losing much at all in the looks department. May, who previously went by Mony, previously worked right up the street from Cherry. That the two have come together under one roof provides stupendous potential for those who value service above all else.
It's not difficult to book a two gal session involving these two ladies. Many time it would require nothing more than showing up and requesting it. Both Ice and May seem to be available most times. On the other hand, there's a good chance one or both would be busy with a customer at any given time, so the prudent guy wanting a sure thing would probably book ahead.
Meeting May and Ice
May is still as exuberant as a young gal and has a warm smile that could light up a room. I believe Ice is a few years older than May but her looks have held up well. She has a good frame complimented by a very large rack that is either natural or one of the better tit jobs to have ever been performed. Her hooters offer much more than a handful and do not hang low.
Both May and Ice have been at this long enough to know how it goes and be comfortable in almost any situation. There's probably not a lot that could shock either or even make them nervous. That can be a great thing for veterans and those to the scene alike.
What's nice though is that neither of these ladies seems to have been hardened by their work at all. With years in, lots of experience, and a pair of implants to top it all off, May might still feign shyness when getting in the shower with a new customer before a sessions. That's just one example of the kind of variation and novelty that can keep things lively. This may not sound like much, but I think it could help put new players at ease as well as keeping things interesting for those of us who have been around the block several (or several hundred) times.
The porn star experience
Ice tends to be more straight ahead and at times even aggressive (though certainly in a good way). She definitely knows what she wants and how to get it. This contrasts nicely against the slightly more modest and playful May. And that's something else to note. While it's not uncommon for certain ladies to be put off by working together, Ice and May seem happy to go at things as a team. They may a great combination not only because of their knowledge and experience but because Ice's personality and way of doing things works perfectly with May's.
There's a lot of talk online and in numerous pubs and beer bars around the world about the "girlfriend experience" and "porn star experience." One things for sure, it's very unlikely to get a "GFE" when in a room together with the two ladies being mentioned here. But since that's not why one would book the two together there's no need to worry about that. What can accurately be called a "PSE" is not only possible with Ice and May working together, it is in fact very likely.
Ice operates like a gal out of the classic era of classic porn. Nicely put together, she's an expert at everything a normal guy could want, and much of what a freak would like too. In the oral department she really shines, with an ability to go deep and stay there, or spin a guy around for a nice tongue bath from the back. She likes to take the lead and whenever she's not somehow involved directly with her customer her hands and more will be all over any other lady in the room. When that lady is May this seems to really be the case.
I don't think a good or even great session necessarily makes up a porn star experience. At least not in its original sense. With these ladies, the real deal is possible and no holes are barred.
Enjoying the work
Some ladies are clearly in the service industry for the money. This becomes most obvious when they are providing service in a mechanical or halfhearted way. That's not to say I blame them. I could see how such work could take a lot out of a gal. Even those who don't hate what they do can get worn out from time to time, just like any one of us. When a woman in this industry likes her job though, it's definitely obvious. If May and Ice don't like what they do then they both deserve Academy Awards.
With as much experience as they have, May and Ice could be forgiven for being a bit mechanical in their approach. Thankfully for their customers that doesn't seem to be the case at all. While the standard around the world for commercial three person play (even at supposedly PSE places like Eden or Devil's Den) seems to be a wipe with a towel in between interactions with each gal, that's not the case with these two pros. This too may seem like a minor thing in the abstract, but those who've experience it know better.
As two lively ladies with a real talent for what they do, the tag team of Ice and May deserves a high score. They aren't they hottest women in Bangkok in the looks department, but both are quite sexy in their own right. Ice's big boobies are great and May's sweet smile is too. When I consider the level of service they can provide as a team along with everything else, it seems only natural that they should get a solid four stars.
Finally I'd like to note something that should be self-evident, but is worth clarifying in any event. This post serves as a review of the services of Ice and May in the professional capacity. It is not a review of them as individual people. Such a thing would be wrong in my view, and even attempting it would be shameful. Each human being has their own worth and it needn't be tied to any line of work.

---
Review of Yaya and Ploy (4/5)
Ploy is a twenty year old with a cute face and wry smile. While the photographs of her on the Cherry website are totally accurate in my experience they don't capture everything including her bust which is bigger than it appears in the pictures I've seen. She does has a bit of post birth belly which resulted from her giving birth not long ago. This didn't do too much of a number on her physically though it is worth a mention. She is affable but not the most eager woman working at Cherry let alone in the local industry generally.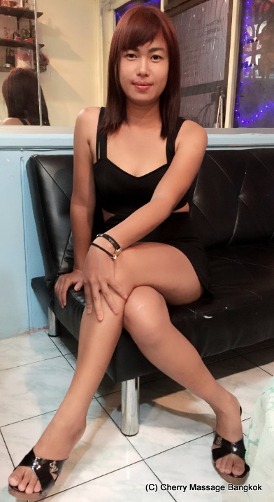 Yaya is also a twenty year old and I would say that she is actually a lot better looking than Ploy at least in my opinion. The pictures of her on the website don't do her justice at all. Her face is much prettier in person than it appears in the shots I've seen and the pics can't do her body justice either. She is one of the few massage providers I've seen in Thailand who looks immensely better than her photos in the shop. Usually it is the other way around with a healthy dose of Photoshop effects thrown in to make everyone look like a princess. As I've mentioned before Cherry Massage deserves credit for going out of their way to post doctored photographs whenever possible.
The Cherry Massage website says that Yaya and Ploy are both 45 kilograms. Since Ploy is a little taller it would make sense that she would then appear to be thinner than Yaya. In reality Yaya is the one who appears to be thinner. This is probably a result of Ploy giving birth and while she is nowhere near large it again is something worth noting.
Ploy and Yaya at work
Ploy's body is curvy and nice enough but Yaya's body is great. She's thinner and tighter than most oily massage parlor workers yet she has shape and curves in just the right place. Her bust is small but full and perky and she looks even better from the back. Her legs are long, smooth and proportioned well. She looks like the kind of sexy lady that used to be common in nearly every go go bar in the country back when the pastures were a little greener. I'd say that everything about her looks nice and the fact that you're reading this review means that you probably are interested in what I think.
Yaya is also playful, active and willing to please. She is willing to deliver most of the standard services as well as plenty of extras. She gets an A plus for that reason. Ploy is also available for the same services in theory though to be honest she is decidedly less enthusiastic about performing them.
That's not to say Ploy is all bad. She has a quirky personality that I'm sure many enjoy. She also does well in the cosmetic and hygiene departments. I spent significant time with her but I had no idea she was a cigarette smoker until I saw her having a puff outside of Cherry. She certainly isn't a gal most guys would throw out of bed for eating crackers but I do find Yaya preferable.
All in all both Ploy and Yaya are a lot of fun. Yaya in particular seems to enjoy her work or at least is able to realistically act like she does. At the very least she seems very concerned that customers leave fully satisfied. That's almost as refreshing as her appearance which as mentioned is nicer than one who has been around might expect. As a team I them four stars.
---
Review of Bell and Lisa (4/5)
Lisa is a beautiful young woman who has been at Cherry Massage for some time. Probably due to her looks she was busy every time I visited the shop for the first few months of her employment.
When I finally was able to meet her I was pleased to see that her face is just as pretty in person as it is in the pictures of her on the Cherry Massage website. This is refreshing since websites for Thai massage parlors usually post heavily edited pictures with lightened skin tones and photoshop-enabled bust enhancements.
Bell joined the staff at Cherry later. She also has a very pretty face and she's one of the most jovial women I've ever met in a place like this.
To the shop's credit Cherry posted a photo of Bell when she started that is about as accurate depiction as I have seen on any massage parlor website anywhere in the world. Early on her listed repertoire didn't include A level service but today it does. One can only take this to mean that she is becoming more open as time goes on. I don't believe she worked in a massage parlor before coming to Cherry but I could certainly be wrong about that.
Bell and Lisa are fun
Both Bell and Lisa are a lot of fun. Although Thailand is commonly called the "land of smiles" the actual act of smiling seems to get less common every time I visit the country. That's especially true in Bangkok. Not so for Bell and Lisa. They are all smiles and they love to be playful, joke around and generally have a lot of fun. This makes for a great ice breaker and certainly helps customers to relax. That's great since relaxation is after all the whole point of a massage.
There's no point going into another description of the rooms, showers, prices and other details since I've already written a full review of Cherry Massage earlier this year. Suffice to say that all those things have stayed the same over the ensuing months. The only new thing besides the addition of Bell and some other gals is that the shop now offers a bonus card that gives customers a free massage after they've paid for ten.
In summary
There's only so much that can be said about the service that the two ladies in question provide but then again there's only so much that needs to be said. They are both very skilled where it counts and they are absolutely out to please. There's no sense of hesitation and they seem open to almost anything. Together they form a great pair that knows how to take just the right kind of action when and where it counts. The fact that they both go at things at the same time rather than hanging out on the sidelines waiting for one another to finish is ideal.
While Lisa is indeed beautiful and young at age 20 I should note that she has had a child and she bears obvious signs of that. It doesn't take away from things in my book but it is something to note. Bell is older and a little bigger than Lisa (though not big in a general sense by any means) but her body is perky and responsive. Neither would be thrown out of any sane guy's bed for eating cookies.
I've always appreciated Cherry Massage for the level of service provided from the greeting in the lobby to the farewell on the way out. That's what makes it stand out the most and Lisa and Bell only build on that and enhance it.
Lisa and Bell are both great gals who are a lot of fun. If they don't enjoy their work they are great actors. Either that or they simply know what it means to make the most of it. Together or apart they know what they are doing and they should be able to leave any customer satisfied. I give their service a solid four stars. Again this isn't a review of the women themselves as such a thing would be ridiculous. I'm simply giving their skills a rating in comparison to what else is out there.
---
Cherry Massage. 6/10 Suhkumvit Soi 24/1, Bangkok, Thailand. Click here for a map. Open every day from 10:00 AM to 12:00 AM. Phone: +66 022-604-576. Website: https://cherrymassagebkk.com.