Not long ago, a woman who works at a Japanese blowjob bar, known locally as a "pink salon" (or pinsaro for short) was kind enough to answer questions submitted by users at the notoriously rowdy Japanese website 2Chan (the inspiration for the similarly infamous 4chan in English).
Pinsaros skirt the law against penetrative sex for pay in Japan (itself pretty flexible, as there are plenty of options) by offering only blowjobs. Fingering and pussy licking is usually also permitted.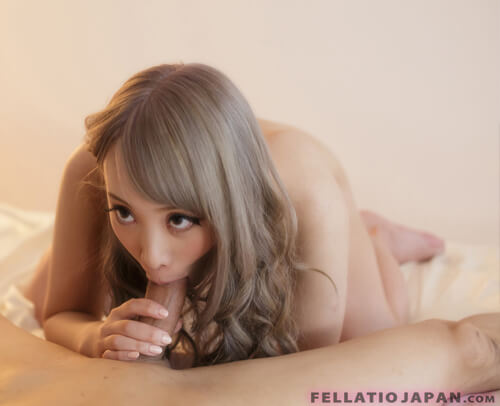 In order to be classified as a food vendor rather than a sex shop, and thus to avoid regulation, pinsaros offer some sort of drink, do not offer showers, and do not have curtains around the booths (though the lights are dim and people mind their own business).
Most pinsaros do not accept foreigners; as she states, her place of employment does not accept them. But there are some that do.
Japanese blow job bars are discussed in depth in my previous entry, "Blowjob Bars Around The World: Where They Are And How They Work". That includes a list of pink salons that accept foreigners, with directions and details.
Now on to the interview:
So just what is a pinsaro?
It is a shop where we give you a blowjob. But we also do most things apart from full sex as well.
I see. How much and how long?
Our shop charges shy of 6,000 Yen (73 dollars) for 30 minutes. Cheap places are about 2,000 (25 dollars).
So how much do you get of that?
2,000 Yen an hour, plus 1,000 for each blowjob we do.
That's pretty low!
Give us your stats.
OK.
Sex: Female
Age: 22
Occupation: Student
Location: Kanto
Height: 160
Weight: 50
Measurements: 87 cm, ?, ?
Bra size: E
Boyfriend: Yes
How many guys dated: 6
Virgin: No
First time/place you had sex: 21 in the winter, at his house
How did you feel: "Finally!"
Number of sexual partners: 1
So how many do you do in a working day?
I do about 10 in a 7 hour shift. The most I ever did was 15 in 8 hours. I couldn't get the biggest in my mouth, because it was too thick and my jaw hurt.
Your first was at 21 and at 22 you work in a pinsaro? What happened?
I was working at it when I was a virgin.
Since you were a virgin, did they finger you?
It hurt a bit but I got through OK, if barely.
Do you wipe yourself down with anti-bacterial material after each customer?
I wipe myself. There's a special anti-bacterial cloth for it.
Does your jaw get sore?
It hurts if I keep doing a big person.
Do you do "oyajikaeshi"? [Being licked by a succession of customers one after another]
No. Honestly, I just want to wipe myself whenever they lick me.
How is the taste of penis?
Dull. Cum is salty though.
Tell us the name you use.
No way!
You were a virgin but worked at a pinsaro? Why?
I needed money and I was totally desperate.
Is it fun work?
It's no different to any other part-time work.
Do you get along with the other girls?
Yes, it's really lively in our waiting area!
Do you get a lot of old guys?
Lots of guys in their thirties and forties. We get customers aged 20 to 70 though.
Does your boyfriend know?
He doesn't know.
Do you have partitions between the booths? I want to go but I'm fat, am uncircumcised and am really small so I'm a bit hesitant.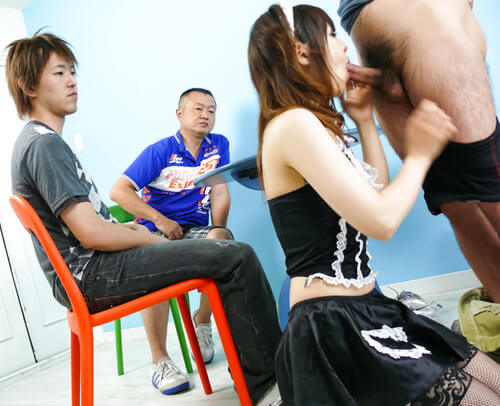 It's like an internet cafe. There are no doors though. If you are clean there is nothing to worry about.
How much do you make a month?
150,000 – 200,000 Yen.
Do people proposition you for more outside the shop?
They do, but I decline them.
Do you mind if I spend all the time fondling your boobs?
Sure, I won't mind, in fact I'd be obliged to. But if all you want to do is fondle them then you can get it cheaper at a sex cabaret club.
Do you get guys with stinky, dirty penises?
There are some guys with spicy smelling penises. Luckily you can use your fingers.
So you can touch breasts at a pinsaro?
Sure. You can touch pussy too.
How do you clean your mouth? What about eating?
There is isodine mouthwash and tooth brushes. I don't eat as much.
What do you wear at work?
A school uniform. Like from high school. I take off as much as asked. Often customers prefer I just wear the skirt.
Do you swallow?
No. I have done it accidentally though, but refuse if asked.
You ever had full sex whilst working?
It's impossible. But I have come close. Because there are guys doing rounds in the place.
You really don't? I had a girl just mount me at one place, the guy didn't even take any notice.
That shop's funny. The shop could be shut down and the employees busted.
Can you titty fuck a girl at a pinsaro?
You can. I'm a bit too flat and there's no lube so I'm not very good…
Can you do 69?
Yes.
Will I be blacklisted for burying my face in your breasts for 30 minutes?
No, but I recommend an "oppai pub" or sex cabaret for that instead.
How much have you made since working at the pinsaro?
1,000,000 Yen working on and off.
Do you think you can get AIDS through unprotected fellatio?
Definitely. It's scary.
Does your shop use condoms or not?
No. If you prefer, we can.
Do you get foreigners? Are they really that huge?
We don't allow foreigners in. There are some really amazing Japanese out there though.
Don't you think this is unfair to your boyfriend?
I don't wish to discriminate against prostitutes – I think it's a splendid trade – but hiding that from the boyfriend you're dating is just despicable. It's worse than cheating.
If my girlfriend cheated on me I might be able to forgive her. But if she turned out to have been working as a prostitute I'd go crazy. I might even kill myself.
I think it's bad. I think it's despicable. I cannot excuse myself at all.
Have you ever been cheated on?
No. Although I'm sort of cheating on my boyfriend now, aren't I?
As a woman, do you regard men who visit brothels with contempt?
I work there, and I don't. Besides, doesn't every man visit a brothel at least once?
Lately I've been wondering if I should split with my girlfriend and just go to prostitutes instead.
Why not just go to a brothel whilst you have your girlfriend? Is there something wrong with that?