This has shaped up to be one of the best years for Rockit Reports in terms of interviews with people in the sex industry. A number of interesting people from different areas of the industry and the world have answered burning questions pulled directly from the back of my mind.
While the interviews I have published don't always draw in a large number of comments they tend to be some of the most popular posts on the website in terms of views. I've mentioned this many times before but it's worth noting once more since I still get questions about my choice of topics on a regular basis.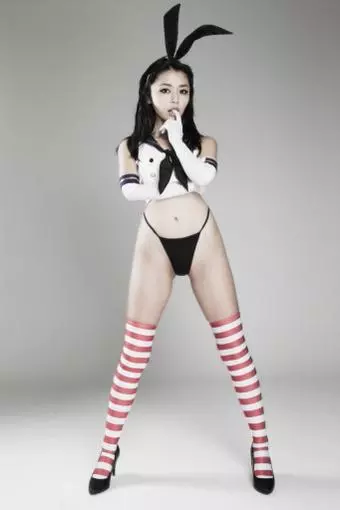 Print interviews are of special interest to me because they allow us see what people we otherwise might not hear from have to say about all sorts of things. A free form submission would perhaps reveal even more but in most cases that is simply not feasible.
While I have done numerous question and answer sessions over the years since this site went online and a half-dozen in 2015 this interview in particular really stands out. It is rather far ranging and covers a number of topics of interest.
Today I present you with my interview of Marica Hase, a Japanese porn star who traveled to the US and subsequently took the American adult entertainment industry by storm. This interview is special both because it presents a point of view rarely voiced and because I first became aware of Marica right around the time Rockit Reports was created. I am glad that Marica took the time out to do this interview and I trust that you will enjoy it.
Let's start with the basics. How old are you and where are you from?
I am a Lolita MILF, haha. I moved here in USA from Tokyo of Japan last year.
Do you have a boyfriend?
No, I don't have any boyfriend.
When did you first have sex?
When I am high school student.
When did you see your first porn movie?
I often bought porn movies after I become 20 years old, but I skipped the sex scenes. I love looking at cute or beautiful girls, and just enjoyed watching them strip and tease.
How did you get into porn in Japan?
The biggest porn production company held a huge audition to find the next girl to win the exclusive contract with them. They advertised that the winner would get many deals with big TV shows, magazines, radios, silent movies and porn "if you become next our exclusive girl".
I had been already modeling non-adult since I was 20 years old. I really loved acting in the front of camera, so I wanted the challenged and won.
How long did you do porn in Japan before coming to the US to do it?
About 5 years.
Did you visit the US before deciding to do porn there?
Yes. I came here once before I decided to do porn here, to interview agents and to learn about American shoots.
Did you have sex with any guys who weren't Japanese before doing porn?
No, I didn't.
I think you have won some awards for your work in the US. Are you now more well known in Japan or America?
I am a Penthouse Pet of USA, and I have been nominated for multiple awards like AVN, Xbiz, Sexiest Awards, but I haven't actually won any award in the US sadly. For DDF Awards in Europe, I was a runner-up, and I have won many Japanese awards in the past.
I think most of Japanese porn watchers know me and follow me. Some have watched me since I started in modeling in Japan, and others took up interest for becoming the first the Penthouse Pet of America and relocated here to work. So I have more Japanese fans, but American fans are increasing.
How did you feel about shooting porn in the US? In Japan I think you are paid more and have dedicated teams of makeup assistants. In the US things are more casual but I've heard they can be more fun.
That's exactly right.
There are many cultural differences between the Easterners and the Westerners. Everything is different from Japan; makeup, shooting style, the way you smile or pose, pay scale and the way people think about sex.
I really enjoy working in both USA and Japan. I love adventures… I always look for something new when I'm in the front of camera.
Do you prefer to watch American or Japanese porn?
I enjoy both. I don't care which country they are from. What is important is how talented the cast is.
Why aren't there more foreigners in Japanese porn?
Almost of all big Japanese companies have the policy that forbids foreign models. Only few small Japanese companies will hire them.
What do you think about fuzoku in Japan?
I don't have any problem with anyone who works in fuzoku. If they're proud of what they do, good for them.
How about bukkake?
I love bukkake. It's a traditional Japanese porn fetish act. I love being submissive, because I am an authentic Japanese porn star. It feels like a dream.
Japanese porn is popular on many websites in the US but most people don't know the names of porn stars except for some like you and maybe Maria Ozawa. Why do you think that is?
There are many reasons, but the biggest one is because of the mosaics. In Japan, they have to hide the genitalia in the videos by law so they apply the mosaic effect on the screen.
Because of this, the men got used to fantasizing about what the pussies actually look like during the sex acts. If a girl appear in a foreign porn and reveal her pussy to the world, it would be very difficult for her to go back and work in the Japanese porn industry unless she is already a huge star. The major porn makers will no longer book them. That's why very few models would try working for non-Japanese porn makers.
Your English is pretty good. Has it improved since you started doing porn in the US?
Thank you. I took me only one day to decide to come to US to do porn, so I didn't study English before I came here.
I am learning English from my every day activities in the US like working, chatting with my America fans, hanging out my America friends and my roommate.
Are you often recognized outside? What do you think of your fans?
In Japan yes. I couldn't walk outside without a hat or pair of shades by myself. I just worked a lot because I enjoyed the work, then people started recognizing me. I never thought about becoming famous or thought of myself as a "star". I really appreciate my fans, but I feel awkwardly bashful when they treat me like a star.
You've done a lot of great scenes. Some show you doing things like anal and squirting. Is there anything you haven't tried that you still want to do?
I think I have already tired just about every kind of sex act, but the great think about porn is that every day is a new challenge with different co-star and scripts. I want to do many more scenes.
What is your favorite food? Your favorite drink?
I started to work out so I can get better at pole dancing. I need to build more muscles, so my current favorite drink is Muscle Milk Protein with soy milk, hee-hee! What's great about me is that I can enjoy just about every kind of food.
How long will you continue to do porn? What are your future plans?
I want to continue to be in the porn or the related industries as long as I can. In addition to being in the porn shoot as a model, I am discussing several projects including publishing my autobiography, producing porn as well as appearing in regular (non-adult) American TV shows.
The Japanese porn industry treats girls as expendables. As the internet became the mainstream, less and less porn is sold as DVD, and girls could survive the industry for 3 years at the most today.
In America, those girls who succeed in becoming famous in porn can find many ways to make money, and the amount of money the Americans are willing to afford on entertainment is astronomically much more than Japan… it is really the land of opportunity.
I want to take on a wide variety of work in the American entertainment industry as the first international porn star from Japan, a frontier who showed new possibilities to the small Japanese porn industry. I hope my name will appear and remain in the text book for porn history long after I retire.
What advice do you have for people who want to do porn?
Don't be a porn star. Haha.
Porn is a lot harder work than it looks. There are only a handful of people who become successful. Once you appear in porn, you will be discriminated against in many occasions. If you want "an easy" job, you are better off staying away from porn, however, if you have guts and want to give it all you got with your head held high, it can turn out to be a hundred times more rewarding than doing "normal" work.
Thanks so much for doing this interview. Where can readers go to find out more about you?
marica-hase.com is my website!
Instagram: maricahase
Twitter: marica_1029
You can also check out Marica Hase on Freeones.