Elle Lee is an Asian American porn star whose adult videos have quickly racked up millions of views. So there's a good chance you have heard of her or even seen her work yourself. But if not this interview and accompanying picture will quickly fill you in on this popular erotic enchantress.
I first noticed Elle in a video she did for Net Video Girls. After doing scenes with many of the largest porn studios she decided to go the independent route. She is now churning out high quality content on her own at a very regular pace. I enjoy her newest work even more than her "professional content". I don't think I am alone.
As Elle Lee points out Asian Americans are underrepresented in porn. There are 22 million Asian Americans. Yet there are only so many Asian Americans appearing in porn. Korean porn is even more difficult to come by not least of all because adult video is officially banned in the Republic of Korea.
I have been publishing interviews with people in the sex industry for over ten years. This particular question and answer session was one of the most pleasurable I have done over the years. That's not only because Elle Lee is so attractive that porn pro Jules Jordan called her an "Asian beauty queen" either. Elle was professional and provided in depth answers that are interesting to read. I trust that you will enjoy the following.
Hello Elle. Thanks for giving me the chance to ask you some questions.
Hi Rockit and readers. I hope you guys enjoy this interview. Thank you to Rockit for reaching out to me and I hope this is a quality read for you guys!
How old are you and where are you from?
I'm Pornstar Elle Lee. I'm currently 22 years old. I was born in South Korea but moved to Phoenix, Arizona when I was very young. I experienced the whole elementary school through high school experience in Phoenix and graduated from ASU (Go Sun Devils)!
When I first got into professional porn I wanted to move closer to Los Angeles but I had a shoot in Vegas and realized that I loved it much more than L.A., so that's how I ended up in Las Vegas, NV.
Do you mind telling us about your first sexual experience?
My first sexual experience was when I was 18 with a League of Legends gamer that I had been gaming with online. He was from California and we had been playing together for a year and we had shared our interests, secrets, and supported each other through difficult times.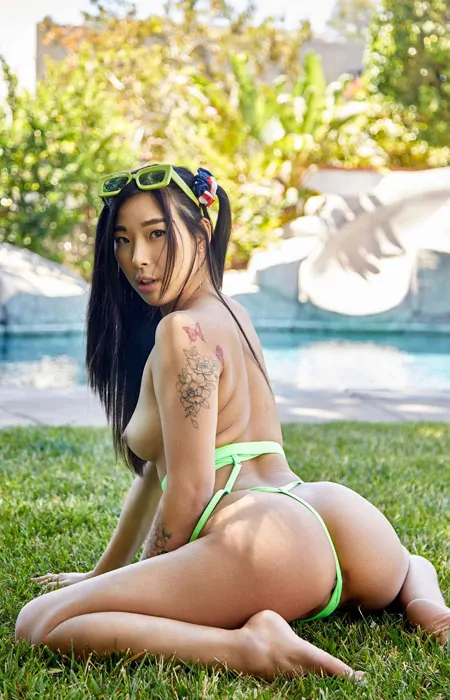 One day we decided to meet in person and planned a trip to a remote location midway between us. When we met we spent the first few hours talking, laughing, and sharing stories. One thing led to the next and we ended up having sex throughout the night in the cabin. The first time was not pleasant; it hurt; but the rest of the night felt pretty amazing.
How did you get into porn yourself?
Before porn I was a waitress and a stripper, trying to make ends meet and to support myself. I paid for college with my own hard work as I did not want to take a loan. One day, I was approached by a talent scout from a prominent porn studio, who noticed my performance and looks at the club. At first, I was hesitant and skeptical, knowing that the porn industry can be risky and exploitative. However, at the time the consistent money was too good to turn down.
Have you ever broadcast on any live cam sites?
I occasionally stream on Twitch and Chaturbate. Find me on Twitch at https://www.twitch.tv/tiffdiff (Topics: Gaming, relationships, vibing with fans, life, and just good vibes). Or Come tease and play with me on Chaturbate at https://chaturbate.com/daintybabyelle/. Many of my biggest fans come from Chaturbate!
How does doing your own thing on a site like OnlyFans compare to the "old" model where women worked for porn studios?
The decision of whether to pursue independent work on a site like OnlyFans versus working with a porn studio is a personal one, and there are pros and cons to both approaches.
Working independently on a platform like OnlyFans allows for greater control over the content that is produced and presented to fans. This is appealing to me because I love maintaining my independence and creative control. Also, OnlyFans allows me to have a more direct connection with my fans!
On the other hand, working with a porn studio may offer access to more resources and opportunities for exposure. The negatives are long hours, a lack of control over content, and potential pressure to perform acts that one may not be comfortable with. There is also a risk of exploitation and abuse in the industry.
You have some really high quality content. It is well shot and the video is clear and bright. Do you still consider yourself an amateur even though your content is so professional?
Thank you so much! I believe my content appears professional because I have experience in the industry as a pornstar, there are many techniques and tricks (angles, lighting, equipment, etc.) that I've learned that I can bring to my "amateur content" that I create on my OnlyFans. I think that this helps give me an edge over other amateur creators because my content is more aesthetically pleasing to watch; but it doesn't have that rigidness of an artificial studio script.
I've seen some of your content on sites like Twitter, Red Gifs, and some big porn tubes. What do you think about "free porn" outlets like these? Do they help or hinder?
I think sites like Twitter, Red Gifs, and Porn Tubes help amateurs or independent porn stars promote their content and are amazing! I think the world in general is moving towards entrepreneurship, independence, and this is amazing for the growth of society and brands, not just in porn. I have lots of stuff up so fans can get a sneak peak of the stuff I offer on my OnlyFans and just enjoy the free content as well, for those who don't want to pay.
I noticed that you have a video titled "sex with a fan." I find it difficult to believe that you would ever be lonely. But did you actually have sex with a fan or is this just a fantasy based title?
I do reward my biggest fans with big opportunities. Ironically, even the biggest porn stars can be lonely. Yes you're shooting with many people, there are many parties and social interactions but at the end of the day everyone is just out for themselves and it's work. I've always wanted to interact with my biggest fans, but if I continued to work for porn studios then the fans would have no personal connection with me (other than twitter or AVN conferences), and no way to show their support and care for me in a personal way. That's why I decided to start my OnlyFans in the first place!
What do people get when they sign up for your OnlyFans? How often do you add new content?
People get access to tons of exclusive content; I talk to my fans about whatever they want, answer questions, share personal and intimate moments! I post my exclusive photoshoots there that are taken from professional photographers and I offer tons of content such as: homemade BG videos, Solo Masturbation, personalized JOI (Jack off instructions), Cum Denial, Edging, Dom/Sub, Foot Fetish, Furry Fetish, Buttplugs, Sexting/Phone Calls/Skype, My First Amateur Videos, and first time anal video coming soon.
Wow. What was the most popular video you've shot so far?
My most popular amateur video is "Asian Medical Student gets Hammered Raw by Her Classmate in Scrubs Ending in Creampie". I roleplay as a medical student where I am studying with my classmate. We decide to take a study break as one thing leads to the next, I give him blowjob, he pounds my pussy in doggy style, and I get on top and ride him like the good slut I am. 
I've seen that video too! You're wearing scrubs in it.
Porn is illegal in Korea. What do you make of that?
Traditionalists argue that pornography is harmful to individuals and society, and that pornography is a threat to traditional Korean values and culture. I'll leave that up to the Korean people and Government to decide what comes in the future.
You have tattoos. Tattoos can be an issue in Korea too, right? I know that the army doesn't allow soldiers to have tattoos. But what about society more generally?
Tattoos can be an issue in South Korea because there are cultural and social stigmas associated with them. Historically, tattoos have been associated with criminality and gang membership, and people still view them in a negative light.
In recent years, attitudes towards tattoos have begun to shift, especially among younger generations. However, there are still some places where people with visible tattoos may be denied entry, such as certain public bathhouses, gyms, and swimming pools.
As you mentioned, the Korean military also has strict regulations regarding tattoos. Soldiers are not allowed to have visible tattoos, and those who do may face disciplinary action. This is due to the military's strict adherence to traditional values and its desire to maintain a certain image.
Despite these challenges, there is a growing community of tattoo enthusiasts in South Korea, and many talented tattoo artists are gaining recognition both domestically and internationally. There are also efforts to change perceptions of tattoos and to promote greater acceptance and understanding of them as a form of self-expression and art. See: K-POP Trends and myself.
Of course prostitution is illegal in Korea too. Yet the Korea Women's Development Institute says the Korean sex industry earns trillions of won per year. I've reported on the industry there over the years. There's a big scene with everything from room salons and lip cafes to old school red light districts. Why is prostitution more or less allowed to continue in Korea while porn is not?
Prostitution is indeed illegal in South Korea, but it still exists. One reason is that the demand for sexual services remains high, especially among men who frequent red-light districts and other places where prostitution is prevalent. Another reason is that law enforcement officials may turn a blind eye to prostitution or be unwilling or unable to crack down on the industry. Corruption and collusion between brothel owners and local officials have been reported, leading to a lack of enforcement and prosecution.
Additionally, some advocates argue that criminalizing prostitution only pushes it underground, making it more dangerous for those involved. There are concerns about the exploitation of sex workers, including forced labor and sex trafficking, and some advocates argue that legalizing and regulating prostitution would offer more protections to those involved.
In terms of the discrepancy between the treatment of prostitution versus porn, it may be due in part to the fact that porn is seen as a more visible and easily regulated industry, whereas prostitution is more hidden and difficult to track.
What are your plans for the future?
1. Diversify and continually improve content offerings: I try to offer as many things as possible but I'd like to offer stuff advanced tech such as VR sex where fans can imagine having sex with me in the Metaverse! I'm also always open to any suggestions from my fans as to what kind of content they want to see.
2. Partner with other content creators: I think there's a severe lack of high quality Asian American/Korean porn. There are very few Asian American pornstars and there's a high demand! If any reader is or knows any individuals or couples that want to use my larger user base to promote their content on my asiancoupleuwu onlyfans (themed for BG XXX content) please reach out to me!
I really want to thank you for doing this interview. Is there anything else you'd like to say to the readers?
Thank you so much for reading! I hope you guys enjoyed it and learned a bit. All my links are below if you want to see more: https://elleleeuwu.com