Pin Up is a well known Pattaya go go bar. Located on the famed Walking Street strip this is probably one of the most popular go go bars in all of Thailand. The place was jammed packed with pent up customers just months after the country's full reopening.
It is a bit odd that I have not already reviewed this place. Stranger still, I am not even sure that I have stepped foot in the bar until recently. I may have been inside just before the pandemic. But like the flood of bright neon light on Walking Street memories get increasingly blurry with time.
This is not to say that I am unfamiliar with Pin Up. In recent years it has often been cited as one of the best go go bars in Pattaya to find good looking women. Of course the same could be said of Sapphire and I gave that place one star. So how does this place fare?
Pin-Up Pattaya
Pin-up models fell out of favor sometime in the middle of the 20th century with the rise of nudie magazines. This is well enough since you won't find any buxom beauties on stage at this bar. But you might see a few gals good looking enough to appear on a calendar.
You will also find a bar that is filled to the brim with ladies in the 19 to mid-twenties age range. The stages are all occupied during open hours with what must be upwards of a hundred dancers. They wear an assortment of hot pants and halter tops that shows off some of the gorgeous gals nicely. The topless dancers are also something to behold. There are some average looking ladies here too. But nearly all of the women at Pin Up do have nice thin bodies.
Seating is good and the service staff is decent enough. But this place can get filled with customers to the point that it actually becomes uncomfortable. I don't expect privacy when dealing with a Walking Street go go bar. But I don't want to have people stepping on my feet or dropping cigarette ash in my drink while I am trying to flag down the attention of a dancer either.
Nor do I want to be pestered. But that is exactly the feeling that comes with wait staff asking for tips and drink orders every few minutes. Checking up on a customer is one thing. Bothering a customer is something else.
High end or just high prices?
Pin Up does its best to come off as a high end aGoGo. In reality the place isn't even as nice as the affiliated XS bar just down the street. But it does have some of the best looking women on staff. And apparently that allows the place to charge premium prices with all sorts of add-ons.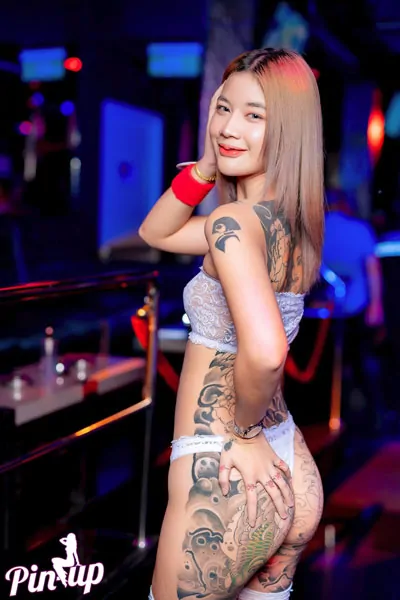 The barfine at Pin Up is extremely high. It is also tiered. So the fee to take a lady out of the bar before midnight is a whopping 2500 Baht. After midnight it drops to a still high 2000. Or is it 1500 Baht for a bar fine? It seems to depend on which lady, which mama san, which time and even which customer. When you consider that the dancers want 3000 Baht or more for a short time session things quickly add up, assuming anyone can do the math.
Then there are all the other bizarre pricing schemes. Lady drinks for models cost more than the other ladies. Bar fines increase on busy night or seemingly at the whim of the mamasans. Drink minimums are required for women before they can even accept a bar fine. It can be a real headache to figure out. Though I imagine most customers are temporary visitors who just pay whatever the bar says to spend time with the woman of their dreams.
The ladies at Pin Up are known for their looks. There is some justification for that. Though I wouldn't say they look better than the lineups at even average Pattaya go go bars fifteen years ago. The dancers here are definitely not known for their affability or abilities. And I don't know if the high prices can be justified on the basis of attractiveness alone. Ultimately that is for the end user to decide.
Frankly it doesn't matter what I think of the place. The stages are filled with women and the seats are filled with punters. Still I give my opinion as a part of my reporting. Pin Up has some very attractive if jaded lades on staff. It gets crowded and it is expensive with a convoluted pricing scheme. Weighing the good against the bad I think it's less than average mainly due to the way the place operates. Someone seeking out a stunner might bite the bullet and argue otherwise. I give it one star.
---
Pin Up. Walking Street, Pattaya, Thailand. Click here for a map. Open every day from until 8:00 PM until 2:00 AM.