Angeles City in the Philippines is one of the easiest places in the world to get laid for anyone willing to shell out a few bucks.
Another great legacy of war and the US military, the place sprung up as a haven of prostitution when the US had thousands of troops stationed nearby. Those people are long gone, but the houses of ill repute remain, mainly concentrated along one road.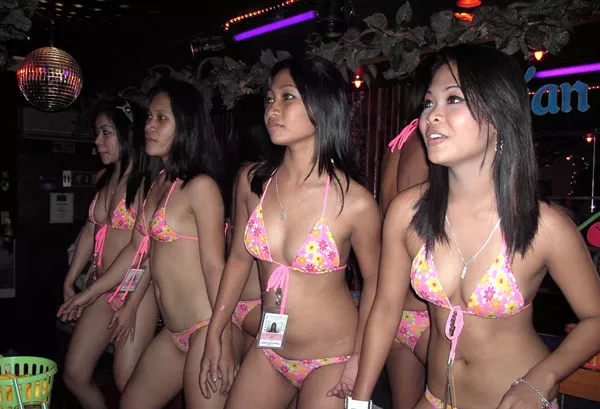 Getting there is easy. One can fly into Manila and take a taxi or bus for an hour or two, or fly directly into Angeles City via Clark Airport. There are lots of hotels available, ranging from shacks to top notch accommodation. One can easily book a hotel online before they show up, or just find something when they arrive. As long as they get set up somewhere on Fields Avenue, they'll be in walking distance of everything.
Fields Avenue is where the main action is. At one end, labeled "Walking Street" (even though lots of vehicles make their way through) there are dozens of go go bars. Unlike the go go bars in Thailand where the women on stage do nude dances, shower shoes, lesbian shows and more, the stuff here is pretty timid. Most of the staff are poor girls from far away provinces trying to make some money to send home and possibly even score a husband who can offer her some financial security. There is no sanctioned nudity whatsoever. Bars can get shut down for it. Sometimes though, customers will luck out and get into a situation where they can see some tits or get jerked or sucked off in a dark corner.
Foreign currency can be changed into Philippine Pesos at any of the exchange places on Walking Street. It's safest to do it during the day and be discreet about it. Those with US dollars who don't get a chance to convert their currency needn't worry. Most bars will change American money at a similar rate while the customer waits.
Outside of the "Walking Street" area there are plenty more bars all the way up to the Lewis Grand Hotel (which the locals sometimes call "the White House" you'll know why when you see it). Even further up "Perimeter Road" there are even more bars, often opening and closing earlier . These are usually staffed with less attractive women.
Once inside of an Angeles City go go bar customers will see a number of women on stage dancing, usually in some kind of bikini or uniform. Too much shouldn't be expected outside of the big bars like Atlantis. Mostly, it's a bored two step. After a few minutes the mamasan will usually ring a bell and the next set of girls will get up and dance. In bigger bars there may be a hundred of more women working in three groups. In the smallest ones there may only be 3 or 4.
Customers can order drinks for themselves and enjoy the show. When they see someone they like, they can either make eye contact and call her over or ask a waitress or mamasan to ask her to join for a drink. In many bars the women will have numbers on their uniforms somewhere to make it easier to indicate interest in a particular lass. When the girl comes over, customers can chat a bit, usually after buying her a lady drink. She gets some of the money for that, so it's about double the price of a normal drink.
Customers who hit it off with a gal may want to ask her to leave together. The standard in Angeles City is that she will go for a "long time" with the customer, which means until sometime the next morning. Some of the shittier hustler bars are now pushing short time, but many consider this a shady practice. Customers will pay a barfine to the mamasan (or in some cases buy a bottle of some terrible local drink instead, even though they're really just paying the barfine in an indirect way). They can then head out to grab a bite or go straight back to the hotel. Whatever they'd like to do. The hotels here are mostly all girl friendly and customers don't have to introduce their temporary guests to the staff at the check in counters.
If customers have special requests on ladies or activities, they can usually talk to the mamasan in any club. They simply tell her what they're looking for and in ninety percent of cases, she'll be able to deliver.
Barfines vary greatly from one place to the next. Unlike Thailand, Vietnam, Cambodia, or even go gos in Manila, the barfine here is all inclusive. Whatever the customer pays to the bar is all they pay period. They don't have to negotiate anything with the girl. In some of the bigger bars the barfines are now as high as 3000 pesos ($73 US) for "spotlight dancers." Normally though customers will pay 1500 – 2000 pesos ($37-$48 US) at most bars. Prices are lower on side streets and Perimeter Road.
Those looking for cheaper action often head to Blow Row where the barfines are a lot lower. On the next street over, guys can score short time action either on premises or at their hotels for a mere 700 pesos. These shops are open most any time. The women who work them usually aren't as attractive as those in go gos, but once in a while a looker will be found.
The few freelancers that work their way up and down Fields Avenue are best avoided. There is usually a reason they aren't working in a bar (transgender, can't pass STD test, etc), and whatever it is probably isn't good for the customer.
The numerous massage parlors here are to be avoided too, unless one really only wants a massage. There are no extras at these places for the most part.
Safety can be an issue anywhere in Angeles City. Those who know how to get around a new place without being a stupid asshole and will be okay. What does this mean? Those wishing to stay safe won't display valuables or walk around drunk. They will ignore people offering them drugs or medicines on the street (duh!) and they won't give money to the beggar children who often are controlled by adults. They will just walk on by and get to their destination.
Travel up and down Fields and in close by areas can be done by trike. These are motorcycles with tiny sidecars. A trip anywhere within reason will usually run you a few bucks. Those in the know negotiate the price before they get in to avoid rip offs. Taxis to and from Clark airport are easy to arrange and usually cost about $10 US. Trips to Manila Airport are a lot more.
There is a seemingly infinite amount of info about Angeles City online that you find with a quick internet search. Some of it gets into extreme specifics. This is just a basic run down.