The Fuk Machine is a sex toy like none other. You may be familiar with the term "LBFM". It stands for little brown fucking machines and has long been used in certain circles to describe women in the Philippines. Leaving aside any negative connotations it is easy to see that the term is metaphorical. There lots of large fair skinned ladies in the Philippines. And of course they are all human beings. Not machines.
The Fuk Machine on the other hand is a literal fucking machine. It plugs into a wall and pumps to the satisfaction of the user. A variety of available odds and ends can be attached to the pumping section to provide all the prosthetic dick or pussy a person could ever want.
First Time Long Time
I can still remember the first time I ever saw a Fuk Machine several years ago. I had heard of the device before. But I hadn't seen it in action. Then one day I was tuned into a cam show by a very popular MFC model called Holly Hanna.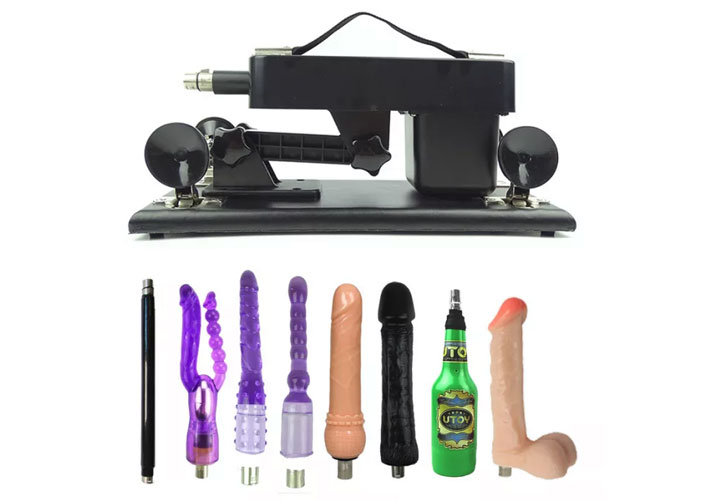 The machine had a large dildo attached. The dildo was in her mouth. The piston was firing and the large plastic phallus was blasting her face with full force. She was taking the plastic prick to the chin with stroke after stroke. It was balls deep full force deep throat action. I was astonished. The memory remains to this day.
Once I saw Holly use the machine to drill her own gullet it seemed that fuck machines started popping up everywhere. I believe I even saw one mentioned on a late night television show once while staying in some hotel.
A sex machine for everyone
The fucking machines obviously became quite popular with cam girls too. Especially those who modeled on the sites that prohibited men from appearing on screen. If you can't get a real piece of man mean to bang then why not reach for the next best thing? Viewers seemed to really appreciate the tool. In my experience the ladies getting it from the Fuk Machine received a lot more money in the form of tips then those relegated to doing it all by hand.
Of course most people who I saw using the Fuk Machine up to that point were using an attached dildo for vaginal or anal intercourse. This seems to make sense. Except for the aforementioned Holly who was an unbelievable deep throater.
Then one day I saw an advertisement for an automatic male masturbation device. I was of course intrigued. But I figured it would be just another "automatic" machine that actually requires the user to use both hands. I was wrong. It was actually a Fuk Machine style setup. The dildo was simply replaced with a male sex toy modeled on a women's mouth. Genius!
So the Fuk Machine is both a non-stop pumper for women in need of a reliable rod and a fully automated hands free stroker for men. Anyone in between can doubtlessly find use of either. With all that is happening in the world it is at least delightful to learn of all the wonders possible in today's sexual machines. Even with my vast experience and research I am honestly impressed by what is available.