Over the last few years I have reported on the commercial sex scene in the Czech Republic covering everything from Czech sex saunas to Prague brothels and red light districts. I haven't yet written about Czech porn.
Despite the relatively small size of the Czech Republic in terms of population the country produces a lot of porn. It certainly produces more sex videos than some the more restrictive and repressive countries that have many times more people.
On top of that a lot of the porn coming out of the Czech Republic is very well done. There is a lot of creative and high quality content coming out of the Ceska republika. That's not to say that it is all good though. Here's my list of the best Czech porn on the internet.
Czech Harem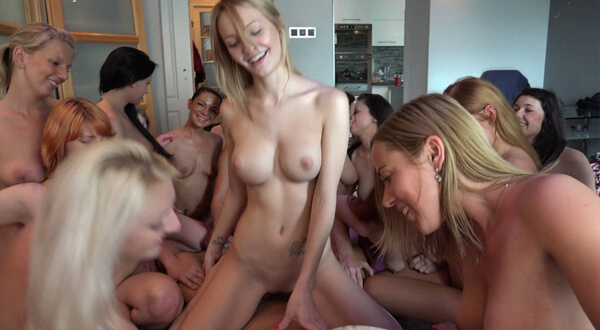 Czech Harem is probably the best Czech porn site ever created. It is even a runner for best porn site of all time in my view because of the way it is set up. It is basically just what it sounds like. You take on the point of view of a guy as he does reverse gang bangs without countless Czech women.
It doesn't hurt that some of the Czech girls sucking and riding cock at Czech Harem are among the hottest women I have ever seen anywhere. I mean just look at the picture above and tell me you don't dream of being in that guys position!
On top of that there's a lot of variety. You might not expect such a thing when all the actresses are Czech but you could be surprised. In one scene there are blonds, brunettes, a red head and even a fully pregnant chick who seems to be the horniest of the bunch.
Czech Gang Bang
If you prefer a more traditional approach you might find Czech Gang Bang to your liking. It contains countless videos of really good looking Czech gals getting worked over by huge groups of guys, sometimes with another woman on hand coaching and pushing things along.
The gang bangs go down in a variety of locations including a public bar which really helps make things interesting. If you're a fan of hardcore German porn made by John Thompson I imagine you would also like the content at Czech Gang Bang.
Czech Massage
Czech Massage is exactly what it sounds like. Or maybe not exactly but the name certainly gives you a hint as to what is going on. Women come in to get regular body rubs from a Czech masseur but sooner or later each session turns into a full fledged bareback fuck-a-thon while a camera in the ceiling captures it all for broadcast over the internet.
I really like this site. Maybe years of researching erotic massage parlors has turned the mere mention of the places into an aphrodisiac for me in the same way that some dogs go crazy when they hear a can opener start up. Whatever the cash Czech Massage is a great site.
It also features some of the hottest women I have seen in any modern commercial porn. If you're not a fan of the trend toward larger out of shape women who are heavily tattooed and sporting various hair styles and colors the natural beauties of Czech Massage might be right up your alley.
Czech Bitch
Of course Czech Bitch would be right up my alley. The premise of the site is that a guy rides around picking up Czech prostitutes on the streets then banging them in his car while recording it all on hidden cameras.
In reality the pickups are surely staged since no such commercial endeavor would be legal. Still, the idea is good and the videos are so well done that you can easily forget that it is all an act, especially when you have a fist full of phallus and you're fapping with fleetness.
Czech Streets
Czech Streets follows a similar script though it actually claims not to be following a script at all. That is perhaps more believable. I'm not lawyer but I do believe it would be perfectly legal to upload videos of women doing sex acts on video as long as they agree and sign the proper papers.
On Czech Streets the camera man chats up amateur chicks and then offers them money to do things like show their tits or slurp his rod on camera. Of course it all goes down on the streets themselves or at least in semi-public alleys nearby. Hence the name.
Czech Sauna
Czech Sauna is unfortunately not about places like Sexy Sauna Erotic Club. But it is about super sexy Czech women in the nude touching themselves and each other. Who could complain about that?
It's often said that the Czech Republic is home to some of the most beautiful women in the world. A walk around Prague or even a visit to some of the local strip and sex clubs might not confirm that but the appearance of some of the babes at Czech Sauna certainly would.
Watching these women sit naked in the steam rooms only to get worked up to the point where they have to rub each other or rub one out solo can really heat you up. You don't even need to built a wooden steam room in your house.
Czech Fantasy
Czech Fantasy is based on a scenario that I am sure many men could appreciate. Whether or not they have ever had a fantasy that played out like the scenes on Czech Fantasy I am willing to bet that they will fantasize on such things after watching the videos on the site.
The site centers on a "House of Pleasure" where the motto is "Pay, Choose, Use!". Guys pay an entry fee then gain access to a wooden house where women rest in various positions and open themselves up to public use.
The glory hole is taken to a new extreme when it is big enough for the lower half of a women to fit through. Guys line up to take their turns at a bareback bang while pictures of the women's faces are posted to the wall for good measure. There are even elevated holes so guys can get a lick in without putting undue pressure on their necks. They have thought of everything!
It's not a real place of course. Or at least it's not a venue open to the public around the clock since it is "real" in the sense that everything shown in these videos actually happened. If such a place did exist I imagine the line of customers would be longer than the queue for the latest titty touching event in Tokyo.
Czech Game
Czech Game is a sort of game show based porn site where actors and actresses go through various sexual scenarios based on the outcome of contests and such. You can see everything from naked twister to swingers and wife swapping on the site.
In one video an amateur MILF type housewife ends up blowing three guys at the same time. She is obviously shy even though she eventually goes through with it and tries to fit three Czech sausages into her pie-hole.
Czech Game proves that Czech porn can be every bit as creative and even "weird" as the infamously innovative Japanese porn that has taken the world of wiener whackers by storm. Though it may never reach the levels of Japanese AV I doubt it will be long before Czech porn will be quite popular around the globe too.
While there are a lot of people making porn in the Czech Republic there are not a lot of commercial outlets for the stuff on the internet. That may sound unfortunately for those looking to splurge on some Slavic sex tapes but it is actually a bonus in one respect.
Since all of the sex sites above are owned by the same people a membership to any of the websites on this list comes with a simultaneous membership to all of the others. So you end up getting access to 32 Czech porn sites for what should be the price of one. There's nothing wrong with that!