A few months ago I wrote a report on Blackbeard's Resort in Costambar. A mere forty kilometers down the road sits Blue Paradise in Cabarete. The self described "social club" operates on a very similar model to Blackbeard's. Neither are far from the well known town of Sosua.
Blue Paradise is an all inclusive club that caters exclusively to foreign men and couples. Located along its own private section of beach Blue Paradise could perhaps be described as a sort of high end adults only resort. The prices obviously reflect that.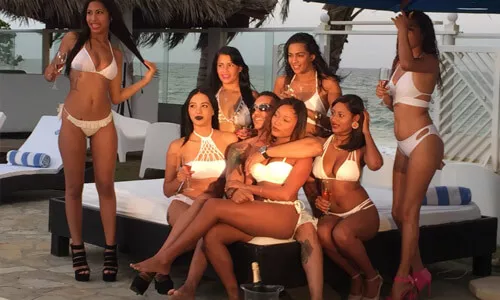 Everything from the rooms to the pool is top notch at Blue Paradise. Things are very well designed. There are all sorts of things spread around the grounds including a stripper pole and the obligatory hot tub. They also maintain a full staff that includes armed security and housekeepers who offer daily turn down services. Rooms come with stocked refrigerators and air conditions and they regularly treat the place to keep the tropical bugs away. It seems the people behind Blue Paradise have thought of everything.
As an all inclusive resort Blue Paradise offers three full meals a day to their guests along with snacks and drinks throughout the day. They also offer the accompaniment of women which makes Blue Paradise rather unique.
Most of the adult resorts in Latin America require their customers to negotiate with female service providers directly if they want to get intimate. I would imagine that is for their own safety. Like the FKK sex saunas of Europe they probably don't want to get involved in any private matters between the women and the guests. Blue Paradise on the other hand includes "overnight" and "2 hour" coupons with their various packages that customers can hand over to women at Blue Paradise in exchange for their accompaniment. The women at Blue Paradise even go as far as getting into formal attire and joining the guests at the resort for dinner each night.
I am not sure how this all works out in regards to legality as I am not a legal expert especially when it comes to the laws of countries like the Dominican Republic. On their website the people behind Blue Paradise say where they operate there are "laws which actually legally support adults only resorts." Since they've been operating openly for a decade along a coast which is also home to other adult resorts this seems quite possible.
Besides the regular grounds, kitchen and security staff Blue Paradise also employs a large number of Dominican Women to keep the guests company. The resort promises a ratio of two to three of these women for every male guest though at times there are more.
The women who work at Blue Paradise are generally attractive and their twenties. There are people of all skin tones in the Dominican Republic but the resort seems to have a preference for those with lighter skin. The resort maintains a no cash tipping policy which seems intended to prevent any of the women from hassling guests. Customers only need to hand over their coupons if they want to spend private time with one of the ladies.
Rates at Blue Paradise range from $995 to 1525 for a single night depending on the package. They accept cash, credit card and Western Union.
Blue Paradise. Playa El Roccon, Cabarete, Dominican Republic. Open every day, around the clock. Phone: 1-888-641-0211. Website: www.blueparadise-dr.com