I first reported on the sale of sex in Angeles City way back in 2012 when this website was first brought online. The passage of four years that have included raids on go go bars and a finding from a UN agency that prostitution should be legalized in the Philippines has changed but not eliminated the scene. This is how things stand today.
The Walking Street section of Fields Avenue continues to be the main entertainment area. All of the hotels in the area to continue to operate as they always have and there are just as many go go bars on the stretch now as there were when I made my initial report even if some names have changed.
Viking used to operate under another name. It was redesigned to look like a ship. The designed succeeded to some degree. Otherwise the bar is still about average. This place isn't to be confused with Shipwreck which is right across the street from Kokomos Hotel. It is still small with only a few women on staff but at times there can be some real beauties inside.
Club Asia is huge but half of it is basically empty. The staff and customer bar simply don't match with the space. I guess it's good to have room to breath but when a bar looks almost abandoned that can't be great for business. There are probably ten women dancing at any time. One line of women wears wife beaters. The other wears old style bikinis.
Arcadia is another large bar. They have more women on staff but for some reason they don't seem able to attract many lookers for their regular dancing routines. Ultimately beauty is in the eye of the beholder. There must be some guys who find these women attractive or at least affable or the place wouldn't be in business. Or perhaps they are kept afloat by the many Japanese and Korean guys always found inside who go after the handful of beauties in nightgowns. These women seem to have little interest in Western guys. Probably because they know which side of their bread is buttered.
The best thing at Acardia is probably the waitstaff. More than a few are good looking. They wear short skirts and are very attentive. Every once in a while the music drops and the waitresses participate in a big group dance that looks like something out of a Filipino prison. Someone has posted a video of Arcadia online. I don't know how long it will last.
Monsoon has operated under many names over the years. All were related to natural disasters. The place is located directed across from Kokomos Hotel. It's not large but the stage is well situated right in the middle of the floor and it is always stuffed full of women. At least two different lines of dozens of women work the stage all night long making for what is one of the biggest dancing groups on the strip. Probably half of the women would be considered good looking by most guys. Deceptive lighting can be an issue however. The few extremely overweight women are impossible to miss but some of the thinner gals hide things like stretch marks and dropping bellies with the way the place is illuminated. There are a lot of waitresses around and they are all attentive. Many also like to flirt and joke around.
Salambo has a large interior space that isn't really obvious from the street. The stage is of normal size however so much of the room is empty. Most of the ladies on stage are of average attractiveness for the area. They tend to be some of the friendliest around. The women wear clothing instead of bikinis. This seems to be increasingly common in Angeles City. Gone are the days of yesteryear when so many chicks danced nude or with only body paint to cover them. The new trend is actual outfits. At least the clothes at Salambo are on the sexy side. They reveal more than the dresses worn at some other places around. After ever line change the women on stage walk around the entire bar so that everyone can see them up close.
Lollipop still maintains the old school Angeles City go go vibe. The chicks don't get naked but they do work the little stage and play around. The managers have decided to play dance music instead of the old rock songs heard in so many other bars. Playing music the women like gets them moving around and in a fun mood. Playing songs made in their lifetimes also seems to contribute. Imagine that.
The women at Lollipop tend to be attractive but there are only a few on the little stage at any given time. A set of "spotlight ladies" takes the stage a few times an hour. They have choreographed dance moves and wear things like short jean shorts and bikini tops. They are usually pretty hot with great bodies.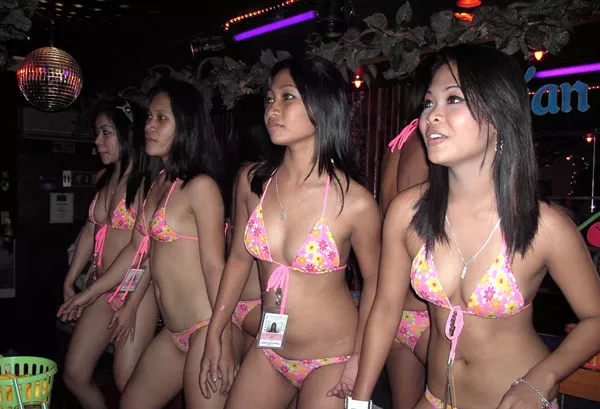 Crystal Palace looks like it always has. It's a big showy bar with a ton of women mainly dressed in small bikinis on stage. Many are attractive. A few are thin but have baby bellies or stretchmarks that are hidden by the strobe lights constantly in effect. The women usually put a real effort in to dance. Again this is probably due to the more modern music. Thankfully it is played at a reasonable level that does not level patrons temporarily deaf. The women don't seem to be as interested in sharing a drink and chatting as gals in a lot of other bars. Bar fines aren't all that common either. There are many suited mamasans around and they always have a stern look on their faces. They direct the women around like cattle with the aid of laser pointers. They aren't much friendlier to customers.
Tropix is huge and very well lit. They have some of the lowest drink prices around. For some reason the stage is small and from many seats it can barely be seen thanks to pillars and decorations. The few dancers and waitresses around are very nice but usually average looking at best. The ladies wear bikini tops and shorts. There are always more hanging around in the bar than dancing. Maybe because there's no room for them on stage. The place has had a distinct odor reminiscent of cat piss for years. This may be due to the many leaks in the roof that show whenever it rains.
The Body Shop is spacious. The bar is lined with padded seats that are better than some of the small stools other places force customers into. A stage in the middle of the bar is always filled with women dressed in things like fluffy skirts. Most are average looking. Some are obviously aged or overweight. The place wouldn't be all that bad if the smell of backed up sewage didn't permeate throughout the establishment. Unfortunately this is pretty common in both Angeles City and Pattaya. There's a dream job for a plumber in all of this somewhere.
Red Bar is a newer place. It's obvious that some real money and thought was put into the place but it resembles a swanky bar more than a go go bar except for the dancing girls. The stage is pushed to the back wall and from some seats it can barely be seen. The music is very modern and the women really seem to like it but the speakers are set on permanent hearing damage levels. Impromptu speeches and announcements of drink specials made through an overmodulated microphone don't help especially since they can barely be understood. The bar does deserve credit for keeping things clean. The dancers dress in bras and thongs which is also a cut above much of the competition. A lot of the women who work the stage are hot.
The Walking Street hawkers and beggars are still in full effect. There are probably more guys working the streets selling fake Viagra and cigarettes now than there ever were.
The dancing is still as limited as it ever was too. Most women outside of the show bars just shuffle back and forth while on stage. A few don't even do that. I guess this is understandable considering the long hours they work night after night but it is different from go go bars in some other places where women really get down. Places like Lollipop are an exception.
Moving away from Walking Street the infamous Blow Row on A Santos Road as well as the short time bar scene on Raymond Street have been all but eliminated. There are only two bars left on A Santos and they have been reduced to nothing more than low level go go bars that open early in the day with very limited staffs.
The bars further out on Perimeter Road haven't changed as much as those in the thick of things. Wild action in the bars isn't as common as it used to be but it still takes place in certain establishments at times.
Eruptions opens early in the day. Around a half dozen women dance at any given time. Many show obvious signs of child birth. Some are truly overweight. They wear dresses that cover up quite a bit considering that the place is a go go bar. The pool table is rarely used.
Pony Tails probably isn't up to the level it was years ago. There are still around a dozen women on stage at any given time. There seems to be less in the way of waitstaff and customers. It is quiet.
Drill Shack opens early in the day. It maintains the flavor of the old Perimeter Road scene with a handful of friendly but not overly attractive ladies working the stage. Drinks are reasonable and the atmosphere is laid back.
Nitro Bar is strange in that it's a sort of "regular bar" amidst the madness. The women wear plaid skirts and polo shirts like the ladies at Kasalong in Bangkok but they do not offer similar services. In fact they offer no service at all. The place serves food and has wifi. They also have a lot of televisions playing sports. A pool table in the back is often used by local guys who are never seen in any of the go go bars around town. For some reason they sell lady drinks.
Det5 has a stage on one side and a set of seats at the back. Considering the location there is a pretty large staff that can have quite a few lookers at times. For some reason girls with big round bums seem to find there way here to dance.
Candy next door is spacious with a long stage in the middle and seats along both walls. The place is kept bright with white lights that don't hide things like some of the red and black lights used elsewhere. Around a dozen women work the stage at any given time. The women wear bikini tops and jean shorts. Most are average in looks.
A lot more karaoke bars aimed at mainly Korean and Japanese customers have opened in the years since my original post went online. These are scattered throughout the city. None are located on Walking Street. They proudly proclaim on signs advertising job vacancies that pay high wages and don't require women to do barfines.
That said women at most go go bars throughout Angeles City can still be barfined. The rates range from 1500 to 4000 Pesos ($33-86 USD). Some Perimeter Road bars have maintained rather low rates under 2000. Spotlight dancers at places like Lollipop demand 3000. Some bars still use the "party animal" trick. They sell customers a big bottle of liquid for the total amount instead of charging a barfine. Then the lady just coincidentally happens to go out with the customers for free. Other bars don't worry about this. They simply take the money as is and release the lady in question for a few hours or a full night.
There are still from freelancers around but they are few and far between. Nightclubs bring some in each night. A handful of gals and some ladyboys also hang around the Western entrance to Walking Street at night. I don't know much about them but I would guess there are reasons they don't work in bars. They may not be able to pass the health exams or they may have negative histories with bar owners. There are also rumors that some have not yet reached the age of consent but I have never seen any evidence of that at all. The women I've seen in the street look to be approaching thirty years of age.