Rio Spa is perhaps the most well known of all the Macau saunas. I don't know if that's because the Rio Hotel is so visible, because the facilities are so large and lavish or because the sauna has such a large and diverse staff. If I had to guess I'd say it's probably a combination of all of these things.
Rio is possibly the easiest to find of all the saunas in Macau. Well, at least the building that houses it is. The Rio Hotel boasts a large neon facade that can be seen from quite a distance, day or night. It also helps that it's located on the edge of a park, which makes it even more visible. The sauna inside isn't exactly well advertised but it's not hidden either. When you enter the Rio you simply head to the elevators and press the button for the fifth floor.
Rio Spa is without a doubt one of the nicest saunas in the Special Administrative Region of Macau. That really means something since all the saunas are basically top of the line when it comes to male entertainment. Rio is comparable to most other saunas but it has a sort of executive or first class feel about it. The prices definitely reflect that feeling. Rio is also one of the most expensive saunas in town.
You do what Rio what you'd do at any other sauna. Drop your things in the locker, take a shower, take a dip, and head into the lounge. There's nothing special to mention about the attendants who help with these things.
The lounge room on the other hand is a little special. It's not necessarily any different or even any better than other sauna lounges, it's just gigantic. There are plenty of rows of reclining seats. What's great is that they face televisions and walls rather than other chairs as is common in Macau saunas. Despite the layout and size of the place it can get quite crowded, which I find off putting. I remember visiting once on a Tuesday night at around 10 pm and the place was almost full. I had a Japanese guy seated directly to my left and a Chinese guy sleeping and snoring directly to my right.
Personally, I'd much prefer it if every place I visited was completely empty. I'd love to be the only customer everywhere I go. Of course I realize that this is the direct opposite of what the businesses want. I'm usually happy with something somewhere in the middle and I believe it would actually help business too. A full room can really cut into the "executive imagine" I referred to earlier.
Don't get me wrong. Rio isn't always crowded. There are times when it's almost empty. In either case there are lots of services available and plenty of people to render them. Most of the hands-on attendants are Indonesian or Vietnamese. Like the other saunas, these attendants were special colored outfits to indicate their work.
The light green outfits are worn by the women who do foot massages. The light pink outfits are worn by the women who do other massages. The light red outfits, which look a lot like the light pink outfits, are worn by the women who do the "thigh massages." Those who have read my previous sauna reviews or who are otherwise familiar with the scene will know that your thighs don't get nearly as much attention as your dick and balls do during these massages.
Thigh massages at Rio happen right in the lounge. An attendant recently told me they are no longer allowing them in private rooms as some customers were going for the cheap happy ending then heading out the door. Since they would have to pay a sauna fee in that case (which is waved when you take a full service girl) I don't see what the big deal is, though I can understand why they would want to get the maximum revenue out of each customer.
I don't really have any complaints about any of the services except that on exceptionally busy nights (like the Tuesday I mentioned) it can take a few minutes to find an attendant to provide the service you're after. This may sound like a small complaint but when I'm shelling out hundreds of dollars I expect a certain level of treatment. I don't want to have to track people down. The prices are a little high. A round of pecker priming is 237 Hong Kong Dollars ($31 US), and the other services are 193 HKD ($25 US).
The food at Rio is good but not great. Since it's free I don't really have anything to say about it. Rio does have a pretty extensive paid food menu that's larger than any other I've seen. I've ordered from it a few times but I didn't get anything that much better than what's given at no cost. The portions were just a little larger.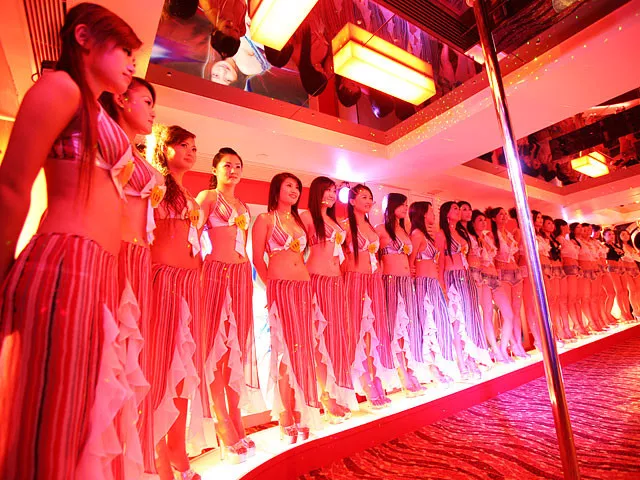 The line up is where Rio really shines. There can be a hundred or more women on call at any given time and all it takes to see them is to ask for it. The management usually tries to find at least one other customer to make it more worth their while but they'll go on if it's only you. The line up is done is the pool area. I prefer when they're done right in front of your lounge chair as they are at places like Famile Nobre and Golden Sauna but I understand why it's done this way at Rio with so many women working here.
The full service staff at Rio is as diverse as it is plentiful. On my last visit there were Vietnamese, Chinese, Taiwanese, Korean and Japanese women available. Nearly all were attractive. Quite a few stunningly so. There's also a large number of busty women here, both of the natural and the artificially upgraded variety.
Once you pick your woman you will head back to the full service rooms. These seem to have slightly lower ceilings than some of the other full service rooms around town but they also look a little nicer. They have big bed and large shower attached shower rooms. The standard flat screen television with porn on channel ten is also there, along with a few mirrors. The shower table is of the more expensive variety. Rather than just a flat table, this style is a sort of a shallow tub that allows some of the water to stay in the table while you lay on it. It's comfortable enough, even without the "milk bath" that the attendant may try to sell you after you chose your lady (I'm all for quality upgrades but this is just some white stuff mixed in the water).
The full service is pretty standard, which in the case of Macau saunas means great. Things always depend on the provider you get and the chemistry between the two of you, but you can be sure that you will leave satisfied. While each lady has their own way of doing things I will say that I've nearly always got the old tongue lashing up the backside at Rio, even though it usually doesn't last that long. When it comes to the oral action, both the hot and cold (sucking with a mouth full of warm tea followed by sucking with a mouth full of ice water) and minty (sucking with a mouth full of mouthwash) varieties commonly make appearances.
After showering you get everything you would expect. More sucking following by strapping up and going at it. This is followed by another shower, with your girl washing you up and drying you off a final time before showing you back to the lounge.
To give you an idea of the prices at Rio I can tell you that a sauna session including two dick and ball massages, two foot massages, two head and should massages and a round of full service fun with a Chinese gal will come out to be about 3650 Hong Kong Dollars, which is the equivalent of $470 US dollars. That's quite a chunk of change. If you get into ad-ons like the private lounge room and milk baths it's going to be even more than that.
Rio Spa's best features are its size, the level of luxury, and the number of women on the full service staff. Negative aspects are the prices and how crowded the place can get (which also makes the service slower). Balancing the two against each other still leaves you with an overall positive experience.
Rio Spa really is an amazing place. Compared to almost anything in the world it's really up there toward the top. On the other hand, when compared with other saunas in Macau and considering things like the price and how busy it can get, it doesn't seem as spectacular. In giving Rio a score I wanted to make sure to be as fair as possible while taking all of this into account. After some consideration I came up with a solid four, which I think is just right.
Rio Sauna, 5th Floor of the Rio Hotel, Rua Luis Gonzaga Gomes, Macau. Open seven days a week, 24 hours a day. Click here for a map of men's entertainment venues in Macau.