I've never put much stock into the all the hysteria over sex addiction. That said, I must admit that sex is the subject that is most on my mind. Bedding hundreds and hundreds over the years hasn't put a damper on that. In fact it's probably increased my sex drive even more. I've never tracked how many times fucking or related thoughts pop into my mind over the course of a day, but it happens quite a lot.
It's not often that I'm far from some available action, but I don't always have the opportunity, motivation or money needed to pursue it. During those times, porn and adult webcams (which I've already covered here) offer a welcome solace from the pains of being pussy-less. Maybe it is a sign of some kind of addiction, but I also often find myself looking for this kind of online entertainment right after finishing a session with a favorite provider.
There's so much free adult content now available online that even a perpetual pervert like me would need several lifetimes to get through it all. At the rate that new content is being added, I'd never be able to catch up even if I converted to a religion that promised reincarnation. With all of that around and so easy to access without having to shell out a single cent, you might wonder why I would still pay for porn. Well I do, but only in rare instances.
There are a few websites that provide enough interesting content for me to justify the modest membership or purchase fees. Here is my list of porn that's still worth paying for in 2014.
1. Asian Sex Diary – In my opinion Asian Sex Diary is one of the most interesting developments in recent porn history. It could almost be described as a more explicit version of my site, though with a lot more emphasis on detailing the actual action. It's the video diary of one man who travels through Asia finding new women to bed on a regular basis. Updates are frequent, the videos are done really well and there is even some information given about where to have fun in a particular location. With a format like this you want to stay tuned on a regular basis so it makes sense to sign up as a member.
2. Clips4Sale – This is basically a porn broker. Clips4Sale let's content providers sell their videos to the world. It's a great place to find unique, amateur and fetish content that can be tougher to locate elsewhere since it allows small operations to get their videos out to a large audience. Granted I'm not into some of the stuff available here. For example, I will never understand the appeal of videos of guys getting kicked in the nuts or "giant women." But to each his own. Some of the most popular pages on the site are also understandably some of the best (Klixen's Handjobs comes to mind). Recently there seem to be more pages filled with the kind of generic porn you can find freely all over the web. It's easy enough to ignore it, but it can be a bit of a pain when you're trying to find the good stuff. The site also seems to be a little behind in terms of technology but it's nothing that gets in the way of my enjoyment. Clips are purchased one at a time at Clips4Sale, in ala carte style. Prices start at $2. If you really like a particular page you can sometimes save money by signing up as a member of that particular producer and viewing all videos for a set period of time.
3. Toticos – Toticos is filmed on location in the north coast of the Dominican Republic, an area that has become infamous for it's commercial sex scene. Like Asian Sex Diary, this site is based on the adventures of one man. It's not updated as frequently as the aforementioned site, but it does include a lot of information on navigating the Dominican sex scene, with proof of concept in the form of very interesting videos shot with sexy Latinas.
4. Asian Candy Pop – There is a lot of Thai porn content out there. Some of it is good, most of it is amateur. Asian Candy Pop finds some of the most attractive women in Thailand and features them in super high quality videos that match the most professional content you can find. After you view some of these incredibly edited, high resolution videos, you may have a hard time going back to the grainy cellphone camera footage. They upload enough of their own stuff to the free tube sites to keep you wanking, but a membership to the actual site gives you a lot more. As the site's director Morshe said in this interview I did with him, "We've worked really hard on Asiancandypop and I hope you guys appreciate it. Even if you can't put any money to the cause, we just want to make Asian porn better. It really is a labor of love."
5. Massage Parlor – When you've had as many amazing massage parlor experiences as I have (ranging from Korean massage parlors and Chinese massage parlors to Macau saunas and Seoul jack shacks), you begin to develop a longing for the sensation of sexy women sensually washing your body off before rubbing you down and giving you an amazing release. For those times when you can't get out to an actual massage shop for whatever reason, massage parlor porn can really come in handy. Massage-Parlor.com and it's sister site Soapy Massage provide really professional content with incredibly attractive and skilled women. This level of production is worth paying for even in this age of adult entertainment abundance.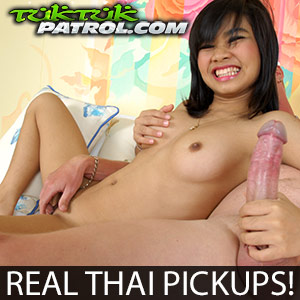 6. Tuk Tuk Patrol – Tuk Tuk Patrol is another quality site focusing on Thai women. What makes this site stand out is the way it's done. Updates are constant and videos come with entertaining back stories and information. It's interesting to watch these guys move from one pussy to the next, documenting it all on high resolution video for the rest of us to see. There's something special about this site that makes it more than worth the rather inexpensive membership fee. For guys who punt around Thailand or just wish they could, it's certainly something to see. To get a better idea of what goes on behind the scenes, make sure to read my interview with the guy behind Tuk Tuk Patrol.
7. Trike Patrol – As you could probably guess, Trike Patrol is a sister site of Tuk Tuk Patrol. Whereas tuk tuks are common forms of transportation throughout Thailand and other parts of Southeast Asia, the "same same but different" trike is the main method of getting around in the Philippines. This site is very similar to Tuk Tuk Patrol, but it features Filipinas rather than Thai women. Since variety is the spice of life, I maintain memberships for both. No word yet if the producers of these sites have any plans to produce a "Motodop Patrol" site for cheap charlies.
And there you have it, enough online entertainment to empty your wallet and your nutsack simultaneously.