London Dolls Escorts in London, England
Thursday, November 27th, 2014
So far I've covered various aspects of the sex industry in sixteen countries. Many commenters have written in to express gratitude or even amazement that I have been about to write about such a wide variety of areas in a period of only two years. For others though it's never enough. Without fail I receive regular comments and correspondence asking when I'll report on this or that location. Believe it or not I actually appreciate this as it lets me know that people are interested in what's being written here. Today I will expand the coverage a little further by reporting on an escort agency operating in London, England that I just found out about.
While I have been to London a few times I have never researched the scene there in enough detail to pen reports on it. Website statistics and direct feedback from readers has shown me that many are interested in the subject of escort agencies as well as the city of London. Add in some beautiful Thai ladies that any man with a pulse would be interested in and you have the impetus for the following report.
London Dolls is an escort agency that staffs absolutely gorgeous Thai women. When I say they are absolutely gorgeous I am not exaggerating in the least bit. I'm sure anyone who takes the time to look at the pictures on the London Dolls Escorts website will agree with me. This is definitely one time that an escort service is accurately named as all the ladies truly resemble living dolls.
Vietnam is home to countless beautiful women but it's not always an easy place for foreign visitors to score with local ladies. It's often said that guys looking for Vietnamese women are better off heading to Macau or Malaysia than Vietnam itself, and for many that is probably true. Of course there is no shortage of available pay for play action in Thailand but it's certainly not easy to find women who look as good as those at London Dolls so it may now be fair to say that one of the best places to find beautiful Thai women is in the United Kingdom!
One of the reasons for the good looks of the Thai women working at London Dolls seems to be competition. There are a lot of escort agencies in England though I'm not sure how many have women approaching the good looks of those I see here. Another factor must be the money which is a bit higher than what is paid back home in the land of smiles. Notice I say a bit since the prices aren't actually that high at all when everything is taken into consideration.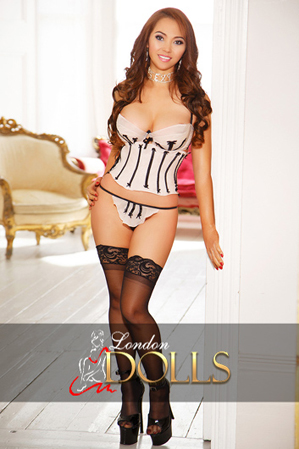 The rates at London Dolls aren't much different than what one would pay for an equivalent "model level" Thai woman at a Bangkok soapy massage parlor. The ladies are all located along Notting Hill Gate and a half-hour of their time goes for 100 pound sterling ($157 USD) for those who visit them in person. Longer sessions are also available up to ten hours as is outcall starting at 200 pounds ($313 USD) for an hour.
There's even a Thai ladyboy working at London Dolls named Gina, which is great for those who are into that sort of thing. Those who aren't don't need to worry as she her profile is clearly marked to prevent any confusion. Although she operates out of a location on Bond Street, Gina's rates are the same as the "regular ladies" she works with.
All in all London Dolls seems like an absolute great place and quite possibly one of the best escort agencies in London. It certainly has some of the hottest Thai women I've ever seen on staff. The next time I make my way through The Swinging City I will most likely give London Dolls a call.
London Dolls Escorts. London, England. Website: http://londondolls.com Phone: 02071936557. Email: booking@londondolls.com