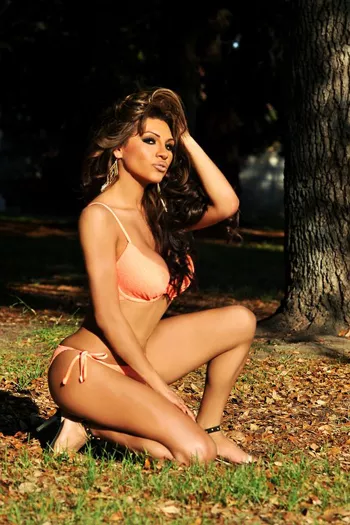 Interviews with people in the sex industry continue to be a mainstay of this website and will be for the foreseeable future. I have already interviewed some of my favorite on screen performers along with plenty of other people in the industry. So finding new interview subjects now can require more effort. On the other hand more people have shown interest in doing interviews for this website as it has grown in size and scope.
Today I am pleased to present my second question and answer session of the new year. Transgender porn star Jessy Dubai was kind enough to answer any and all questions. The results follow. I hope you will enjoy.
How old are you and where are you from?
I am 26-years-old and I'm from the beautiful country of Mexico.
When did you first have sex?
Oh wow… Straight to the point I see. I was 16 when I first had sex but I was 15 when I started experimenting with some of my classmates.
I'm not really up on the issues of transgender people. My exposure is basically limited to the ladyboys in Thailand where I have spent a lot of time. The word ladyboy may even be offensive though it has widespread usage there. What should I know?
Well me personally, I don't like the world lady-boy. I know some other girls don't like that name either. I want to be treated like a woman. I don't want to hear the words "boy" or "man" when people address me.
What did your friends and family think about your transformation?
I think my family always knew. When I was little I was so feminine that when I started transitioning my family just accepted and learned to live with it. It was a bit harder to get my dad on board but finally after a year he accepted that he had a new daughter.
What do they think about your chosen career?
It's a hard and very competitive career. But I want to make it clear that I didn't choose it. IT chose me. And I am happy with the way it has all turned out.
How did you get into porn?
The movie Zack and Miri Make a Porno put the idea in my head. I was 19. When I was 23, I was arguing with my boyfriend at the time abut the porn we were watching. I said, "I don't like this porn." He replied, "Well why don't you make your own?" So I did. I applied to work for Kink.com and other companies. Soon enough I got the call that changed my path in life.
How often do you watch porn now?
Haha. Because of the people I follow on social media, editing my videos, helping other performers with their content, researching, and many other reasons, I watch porn almost every day. I probably watch porn while masturbating, probably three out of ten times.
What kind of porn do you like?
I like a variety. I can watch anything: gay, straight, orgies, gaping, you name it. I'm open to watching any porn at least once. It's also a great way to do research. Haha.
A lot of people say porn is dead though I think there is still plenty of porn worth paying for. What do you think? Have you seen any major changes since you entered the industry?
It's hard to say as I've only been in the industry two years. But porn is definitely not dead. I think there is still a lot of money to be made in porn. I feel that if performers, producers, and fans united, they can keep this industry growing.
What kind of work did you dream of doing as a child?
Being an actress has always been my dream. That's one reason I've been okay with being an adult actress. We all start somewhere. I still want to cross over and fulfill my dream.
What are your thoughts on Caitlyn Jenner's public transformation?
I think it was the perfect time to do it. It gave the transsexual community a new platform to be noticed. I also think she proved that you are never too old to live your dream and that no matter how much you try to suppress your true feelings, sooner or latter the truth will come out, and when it does, you will be much happier. Just look at old pictures of Caitlyn before her transition and look at her now. She was always meant to be this beautiful woman
What do you think about prostitution?
That's a hard question to answer. I would for sure not want my daughter or my sister to resort to it for many reasons, but if they did, I would understand and wouldn't judge them because I know from personal experience how hard life can get sometimes. Sometimes we have to do what we have to do to survive. I also believe a person is free to do what they please with their body. We all prostitute ourselves in some degree. We use our looks or flirt to get something in return. It happens in the office, restaurants, schools. People thinking "Maybe if I flirt with the manager and fuck him, he'll give me a raise, a better position, or just some extra cash."
What advice would you have for someone who wanted to get into porn?
Be 110 percent sure of your decision. Porn will change your life. Think about the good, the bad, and the maybes. Keep in mind if it's hard for you to have a relation outside porn, it'll be much harder if you do porn. Porn also can help you to love yourself more. It can teach you to be comfortable in your own skin. Also, get the crazy fantasies of leading a porno lifestyle out of your head: parties, drugs, unprotected sex… At least if you actually want to make it somewhere in this industry. Those things will just keep you distracted, and you'll spend money instead of making it. Focus on making good content. Show up on time to your shoots, tell yourself you are not a diva, at least not yet, so don't behave like one. You have to be professional just like in any business. Be nice to whoever you work with. And if there is something you don't like, it's okay to speak up and let the company, producer, actor etc. know what's going on.
What advice would you have for a guy who is interested in transgender women?
If you think about it dating a TS could be like dating your feminine buddy.
Thanks so much for doing this. Is there anything else you would like to say? Where can readers find out more about you?
Oh no sweetie, thank you for letting me do this. It was fun answering all these questions. Readers can find more of me by checking my twitter, instagram, and tumblr. Also that can check my award nominated website jessydubai.com.